This post is sponsored by LIFEWTR, but all text, images, and opinions are all my own. Thank you for supporting the brands that keep Thou Swell running!

(Photography by
Visi Photography
)
At the beginning of March I had the amazing opportunity to escape the winter storms of the Northeast and cross the country to attend a blogging conference in Los Angeles. I've attended this conference twice before in Atlanta but not on the West Coast. With an amazing line-up of speakers, the incredible change of setting and my bright LIFEWTR bottle I got a triple-dose of inspiration on my trip. Between meeting industry leaders and hearing from some of my favorite design firms, I stayed hydrated and creatively inspired by the artwork on my LIFEWTR bottle. It was the perfect companion for my trip, reflecting the modern L.A. aesthetic and the saturated color palette of Southern California.


It was so easy to pickup a LIFEWTR bottle from my closest 7-Eleven - I was staying in Studio City and could easily stop at the location right around the corner on the way to the conference in the morning. The bottles are also so easy to spot in the refrigerator - the colorful artwork featured on their packaging makes them so unique! It was hard to choose which design I liked best, but I went with this bright geometric pattern that brought a bit of bright neon to my day. The Series 4 LIFEWTR bottle designs are centered around "Arts In Education", and you can learn more about their initiative to bring art back into schools here!
There were so many great places to hang out around the hotel in Beverly Hills, and the patios were the perfect place to regroup after hearing so many amazing talks. My head was spinning with all of the ideas presented, so I was able to unwind, rehydrate, and soak up some vitamin D each day outside in the sun.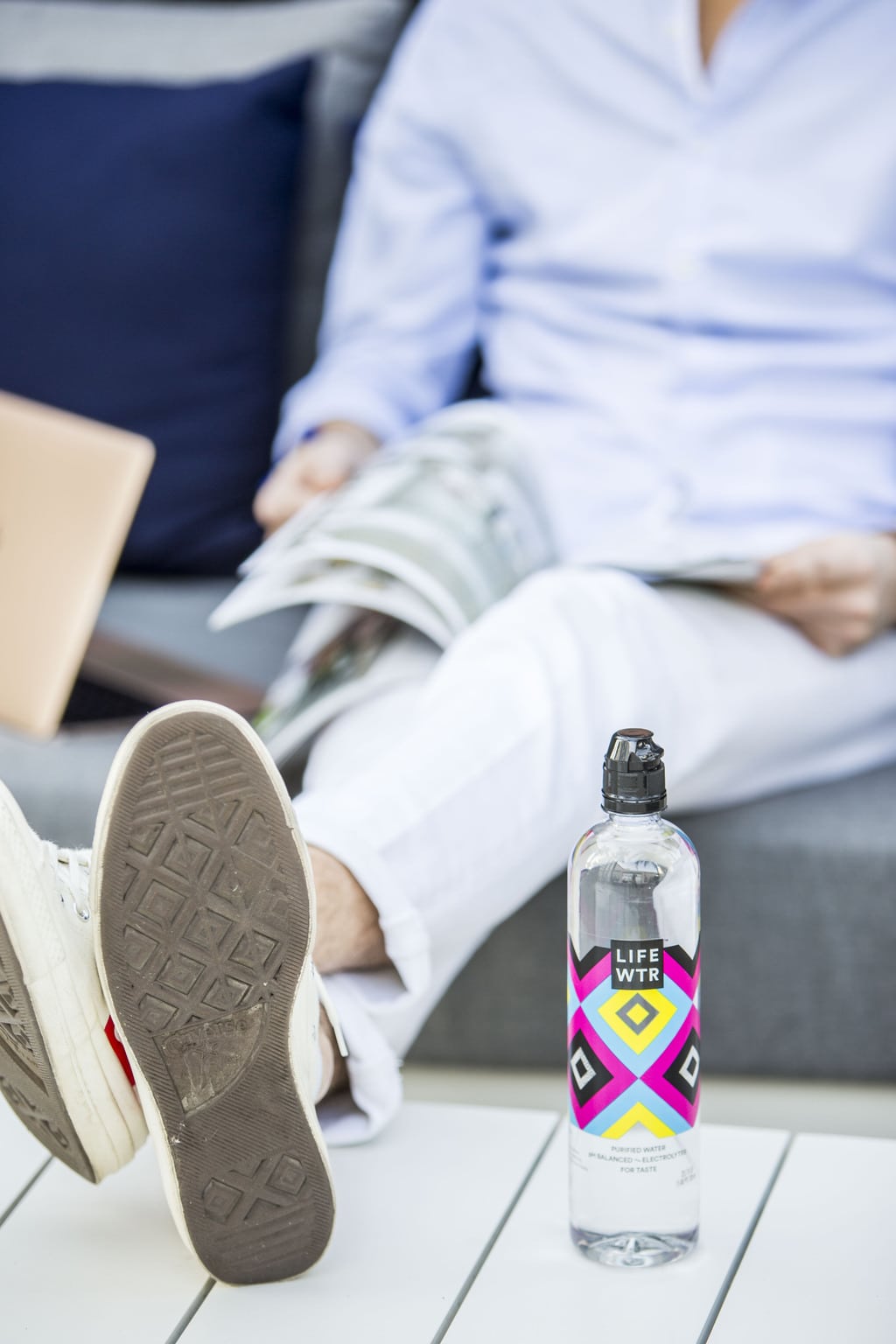 The artwork on the LIFEWTR bottles is constantly changing, so I'm really excited to see what their next bottles look like - the theme is 'Art Beyond Borders'. These Series 5 bottles will be released soon, so make sure to stop by your local 7-Eleven to pick up your favorite design! LIFEWTR refreshes your mind and body with their partnerships with artists on each bottle design. Stay tuned for another fun adventure featuring these artistic bottles, and in the meantime find more LIFEWTR inspiration here!