This past weekend I had my last chance of the semester to get away before the last two weeks of class leading up to finals week so I took a completely spontaneous road trip to our northern neighbor with my close friend and roommate Olivia! At first, we thought we would just drive to Niagara Falls to check out this natural wonder but after finding out Toronto was just 1.5 hours north, we decided to make it all the way up to check out the city's great food, nightlife, and hospitality. Luckily, I was able to book us at the chic Broadview Hotel, and we spent 24 hours exploring the city, inspired by the design and spirit of the hotel. I put together a quick-and-dirty city guide with some personal recommendations from our stay. Check it out below!

As a hospitality and design student, I love seeing beautifully designed hotels with great service and fabulous food and beverage outlets. The Broadview killed it in all of these areas, from the gallery walls on each floor and record players in the rooms, to the accommodating staff and beautiful rooftop bar, restaurant, and cafe. It's all located in a 127-year-old building, so the architecture itself was amazing from the inside out. We enjoyed a drink on the rooftop before dinner, and then spent time in the cafe bar before going out and again in the morning for a delicious brunch!
Before I share all of my suggestions, I thought I would give a quick run-down of our actual itinerary:
FRIDAY


4pm | Check-in to the hotel and settle into our room
5pm | Explore the hotel before heading to Graffiti Alley
6pm | Walk down Queen Street West and grab a snack
7pm | Head to the rooftop terrace for a drink and a view
8pm | Get dinner at vegan favorite Planta
9pm | Pyschic reading and another drink in the hotel cafe bar
10pm | Head out to Love Child Social House for night on the town

SATURDAY
11am | Enjoy a delicious brunch at the hotel cafe
1pm | Check-out and head out to Yorkville to explore the shops
3pm | One last meal at acclaimed Cafe Boulud
4pm | Head back down to America!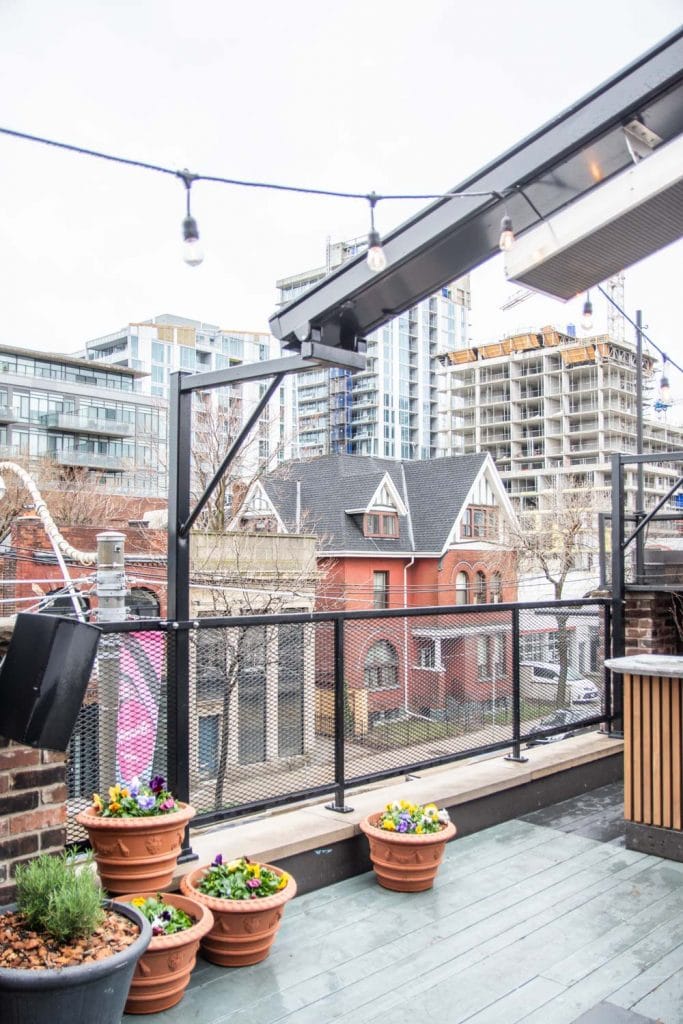 WHAT TO DO


Art Gallery of Ontario for Frank Gehry architecture and the largest collection of Henry Moore sculptures
Aga Khan Museum for over 1,000 pieces of art, pottery, manuscripts, and drawings from Islamic culture
Evergreen Brickworks for a model of urban sustainability with nature trails, exhibits, and markets in the city
Graffiti Alley for a stretch of legal graffiti-covered alleyways perfect for a super colorful Instagram photo-opp
St. Lawrence Market for one of National Geographic's Top food markets, with a farmers market on Saturday and an antique market on Sunday
The Distillery District for a pedestrian-only historic area with art galleries, shops, and restaurants
The Royal Ontario Museum for an extensive permanent collection and engaging rotating exhibits
Yorkville Village for upscale shopping and cafés

WHERE TO EAT
Alo for French cuisine in a Victorian building
Cafe Boulud for Daniel Boulud's famous French fare
Cava for modern Iberian cuisine
COC for coffee, oysters, and champagne in a pink and gold setting with secret restaurant À Toi below
Grey Gardens for a seafood-focused menu in a relaxed setting
Momofuku for David Chang's NYC export with ramen, steamed buns, and Milk Bar below
ONE Restaurant for eclectic dishes and a tree-lined patio
Planta for inspired plant-based dishes in two trendy Toronto neighborhoods
SoSo for a Chinese concept with neon lights and share plates

WHERE TO DRINK
Bar Raval
BarChef
DBar at The Four Seasons
Cocktail Bar
Cold Tea
Mahjong Bar
Paris Paris
The Rooftop at The Broadview
Lounge at The Drake Hotel

Let me know – where are your favorite places to go in Toronto?