Homes may have a drain cover that's mostly visible in the garden. For some, the covers are protruding so much that they're extremely visible. It's like a nuisance on what would've been a beautiful garden. For other properties, the drain covers are more subdued yet can still catch attention on the sewers.
When you're keen on having a pristine and seamless garden, it's inevitable that you're going to want to take the extra step of blending your sewer cover with your garden. There are many ways to go about with it from covering them with plants to birdbaths, garden art, and even a water feature.
You can give your garden that much-needed makeover by hiding unsightly sewage covers through ideas like:
1. Create A Garden Mosaic
Garden mosaics are said to be commonly found in classic gardens from the past. Today, however, you may still be able to find artists who still do garden mosaics. 
There's no uniform approach to the design concept you can do. Typically, this will depend on your preference and the look you're going after in your garden. Also, your mosaic artist can choose whether they'd like to cover the original cover and keep its size or have a bigger mosaic to cover a bigger area including the drain.
If your current drain cover is getting too old for you, visit EasyMerchant among the many other stores you can shop from for a wide selection of bigger and better manhole covers.
steel manhole cover in green garden
2. Use Faux Rocks And Other Garden Objects
One of the easiest things you can do to hide your sewer covers is to cover them with faux rocks. If you can find suppliers for real garden rocks, those are even better. There are so many designs and colors you can choose from such that you only have to take your pick according to the design and look that you're after in your garden.
The great thing about rocks is that when it rains, water can still seep through them. This means it won't keep the water stagnant. Rainwater can keep flowing through them while still doing the job of keeping your drains and sewer covers hidden from plain sight.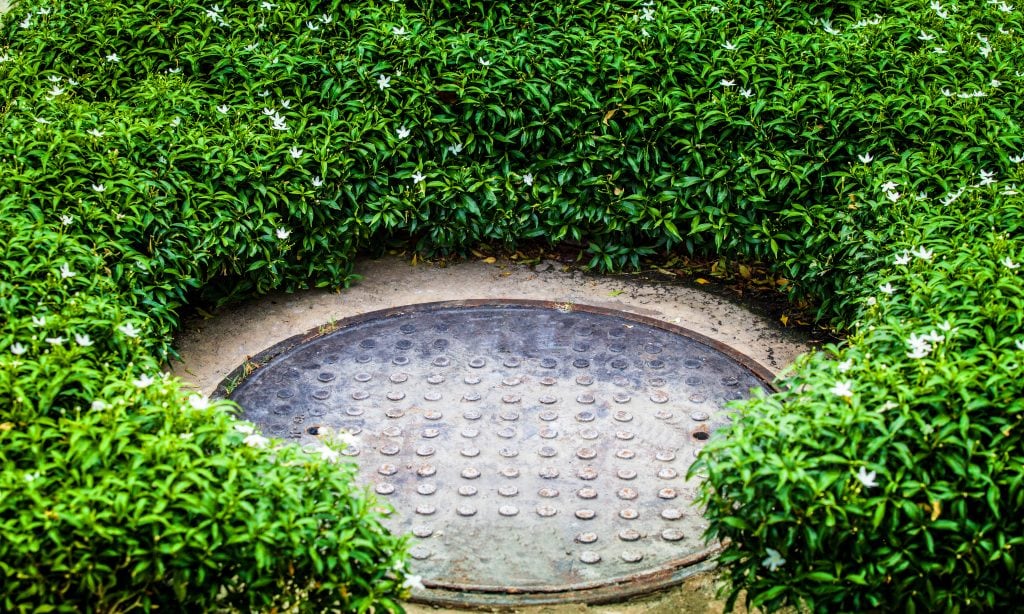 3. Employ Plants To Disguise The Cover
Depending on the size of your sewer cover, you may even be able to put a plant pot over it to cover it. That's another very quick solution. Plus, when you need to open the sewer cover when it's time to clean it or drain your sewage system, all you have to do is simply move the pot.
For bigger sewers, you can also opt for bigger plant arrangements in plant boxes, vegetable beds, or even with landscaping planters. Gardens will always look great with beautiful plants and surely your garden will look great with added features to the plants you already have.
4. Camouflage Pipes And Covers With Paint
Another creative solution is to paint your sewer covers and even the exposed pipes. Think of what you'd do to pipes inside your home that are exposed. Surely your fix is to paint those up with the same color as your walls. The same can be done to the exterior pipes and sewer covers.
There are many ways you can go about with this, beginning with the simplest: paint the covers in the same color as your grass and garden. If you're an artist or you don't mind having more color in your garden, you can even opt for mural-like paintings on your cover and pipes. This can add more personality to your garden. This latter option is also great for gardens where you have kids' toys and play gear in, as the colors will blend well with the kids' garden toys.
5. Make Use Of Grass Lid Options
If you can find a supplier for artificial grass that looks very realistic, a grass lid is another good way to hide an ugly-looking sewage cover. Artificial isn't so bad now, with so many better options of more realistic grass. You just have to be sure to choose artificial grass that looks the closest to the grass that you have in your garden.
If you want to go for the real deal, you can always have a tray-type cover on your sewer lid. Then, add soil and grass. With the tray-type cover, the sewage cover can still be opened whenever it needs to be and there's real grass to make it look more pleasant.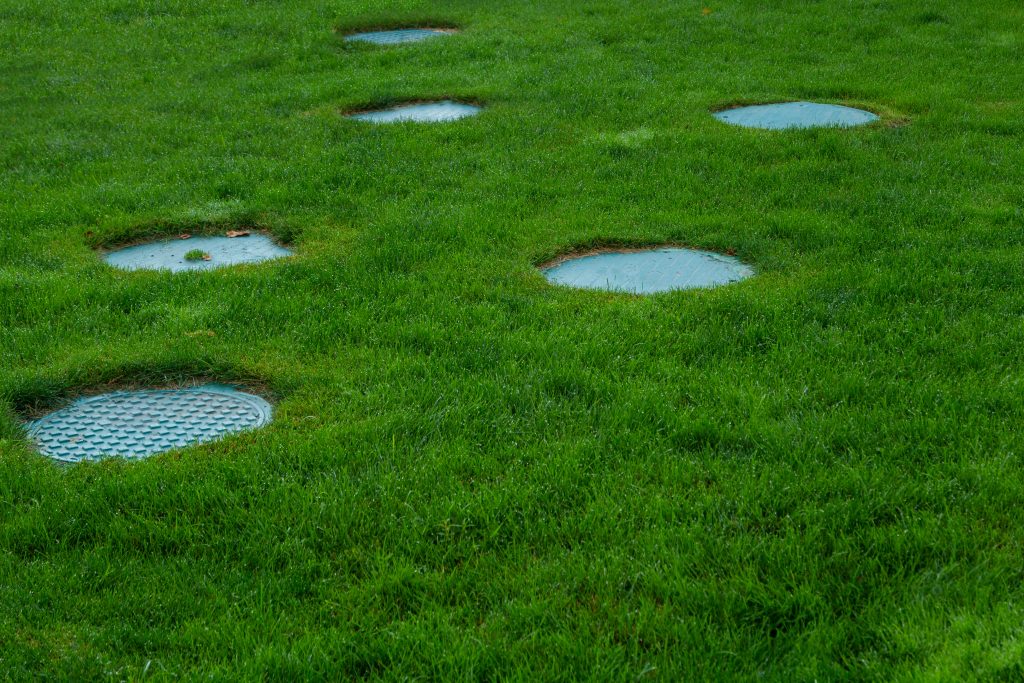 Conclusion
With the abovementioned creative ways of covering drain covers that you now know of, finally, that drain cover in your garden that's been bothering you won't have to feel like such an eyesore anymore. What was once an unsightly spot is now something that's worth looking at. 
It's up to you to choose the type of covering which you prefer for your garden. Undertaking this project is something worth doing for your home makeover this year. Just be sure that whatever option you go for, you're doing it the right way and you have the permission to do so. It's not worth sacrificing the functionality of your sewer cover in exchange for convenience.