Over spring break I had the chance to get to know Atlanta's new Bon Ton restaurant, a "NOLA-style spot with a Vietnamese twist" in Midtown. The restaurant is a collaboration between Darren Carr, who previously operated Top Flr in the same building, Eric Simpkins of The Lawrence, and Hieu Pham of Crawfish Shack on Buford Highway. Inspired by the influx of Vietnamese immigrants to New Orleans during the 70's, the restaurant marries Pham's Vietnamese flavors with Cajun seafood dishes for a modern twist. This narrative also inspired a fictional backstory for the restaurant, which in turn shaped the eclectic design of the space. Wanting to bring a sense of history and a layered design to the space inspired by the old, storied buildings in New Orleans, Carr brought designers Christopher Knowles and Jacob Anderson onto the team, who brought the backstory to life. Knowles describes the restaurant's aesthetic as "layered, nuanced, and bizarre." Take a tour and learn more about this new restaurant after the jump.
SHOP THE LOOK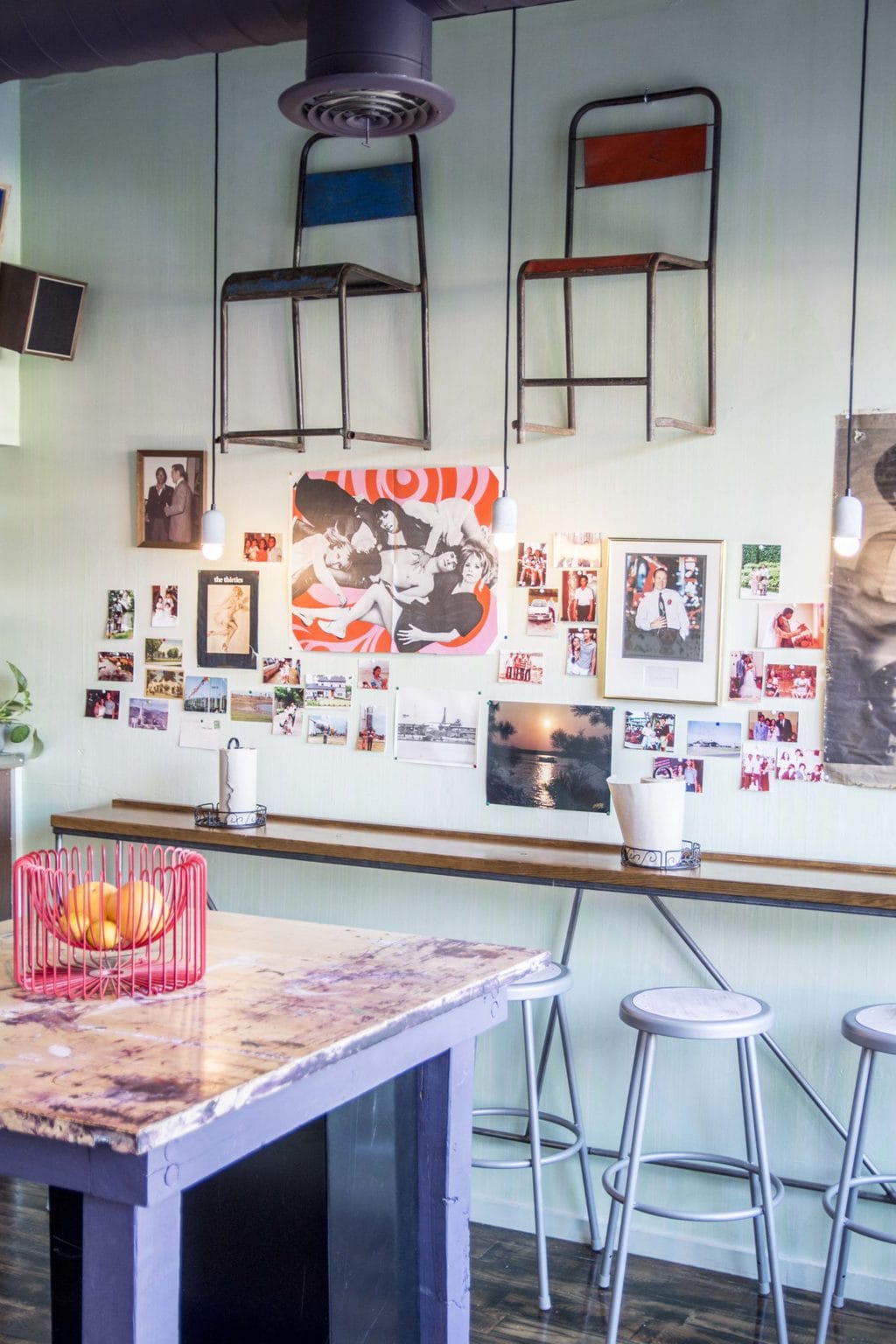 You enter the restaurant through a small nine-seat takeout counter – the original, no-frills restaurant space originally owned by Hoa Nguyen, the fictional Vietnamese immigrant in the restaurant's backstory. When the gentlemen's club next door closes down, Nguyen expands into a full-service restaurant. This part of the backstory is where Hieu Pham inspires the story. Crawfish Shack on Buford highway started small like Nguyen's take-out counter, but after a New York Times write-up and a visit from Anthony Bourdain, he expanded into a larger restaurant. In Bon Ton's case, the fictionalized 'expansion' brought two new narratives to the restaurant.
In the restaurant's main dining and bar space, the design started with the story of the building. With it's New Orleans inspired design, this story starts in the 1920's with a speakeasy. Vintage French-inspired elements like tin tiles cover the backsplash and ceiling above the bar, and wall moldings frame the window booth and left side of the bar. The designers then drew inspiration from a gentlemen's club, with the "service" neon side (below, fancy was added when Nguyen expands into the space), and then drew on 70's inspired decor and seating booths with a vintage mix of accessories that create vignettes throughout the restaurant. "There's nothing brand new" in the space, says Knowles, besides a few modern light fixtures and accessories.
By exploring what Knowles describes as a "chronology of space versus a chronology of character," the restaurant design resulted in a multifaceted aesthetic that carries a bizarre – yet very convincing – narrative through its curation. "Somehow through all of this, the authenticity of the place comes through" says Knowles, and I would agree. Such a detailed and imaginative backstory truly set the stage for a memorable design experience at Bon Ton – not to mention delicous food!