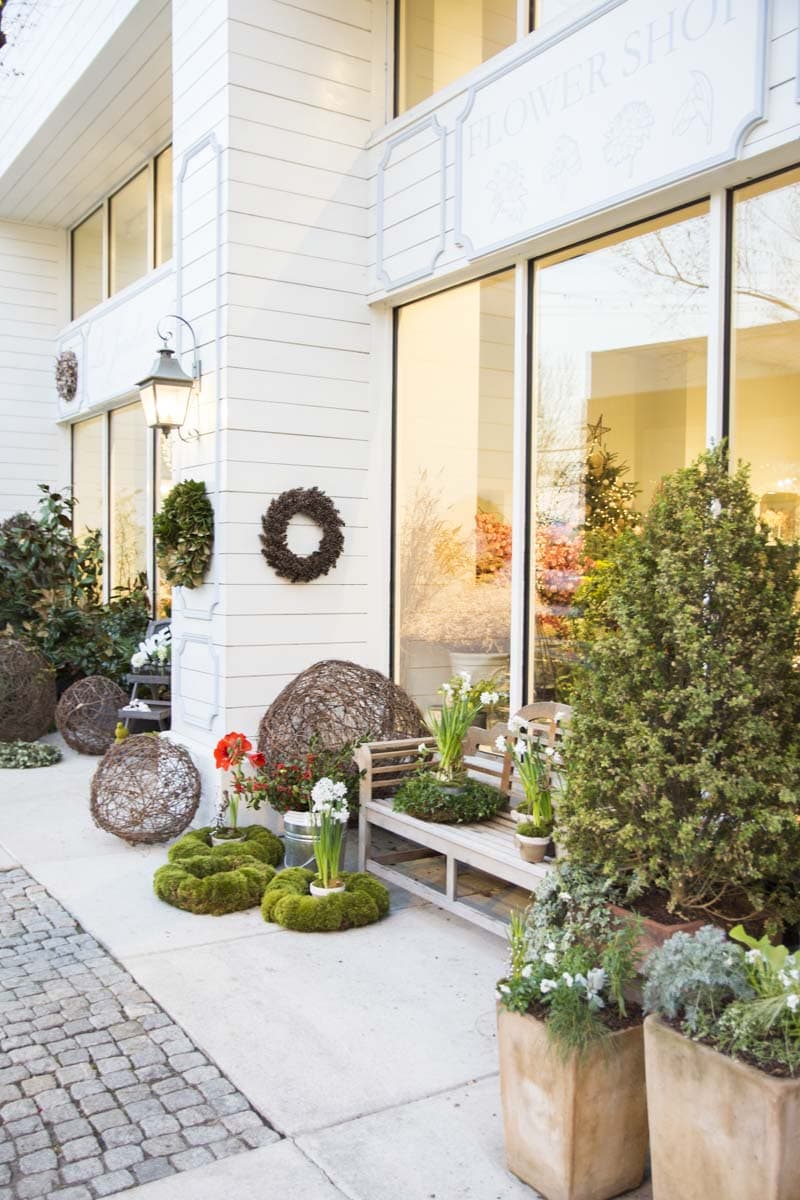 (Pictured: Le Jardin Francais)
Unless you're super strong and can bike anywhere in the city (like my dad), Atlanta's a hard city to get around in without a car, partly due to our urban sprawl and partly due to an underdeveloped public transportation system. But needless to say, cars and car insurance are a pretty important part of living in Atlanta. Luckily, it's easy to have peace of mind on the road with car insurance coverage you can count on – like the 24/7 customer service, mobile app, and money-saving features from Esurance. It's nice to know that your auto insurance isn't a hassle and that you can afford it too while spending so much time behind the wheel. My little sister Grace and I took some time this week to explore some of our favorite places in Atlanta to visit, eat, and shop during the holiday season. We stopped by Shops of Buckhead for a walk with Milou and a visit to Cacao and Corso Coffee, then swung by Westside Provisions for a peek into Le Jardin Francais. Inspired by the holiday spirit in the air, I pulled together some of the top activities, restaurants, cafés, and shops to explore this season in Atlanta. Although the holiday traffic may be bad, it's reassuring to know that Esurance has your back with coverage you can rely on. Get a free quote for auto insurance here, and enjoy my holiday city guide after the jump!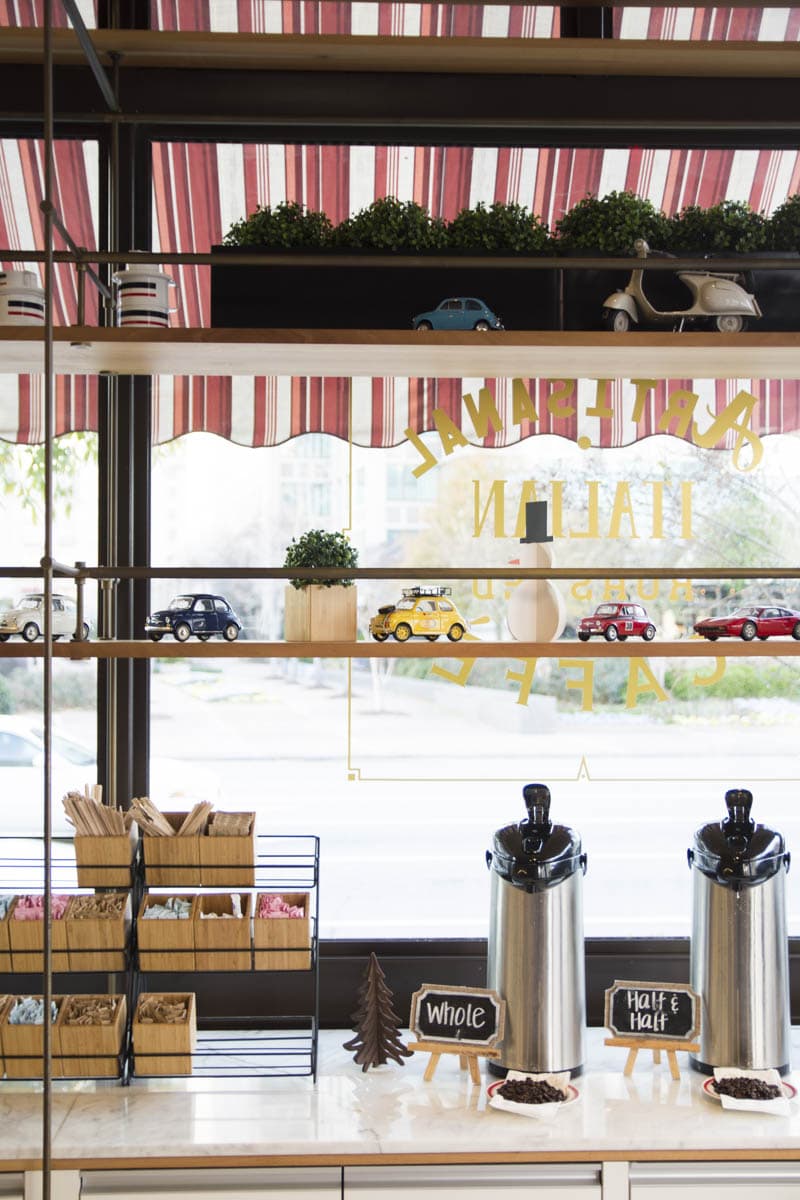 (Pictured: Corso Coffee)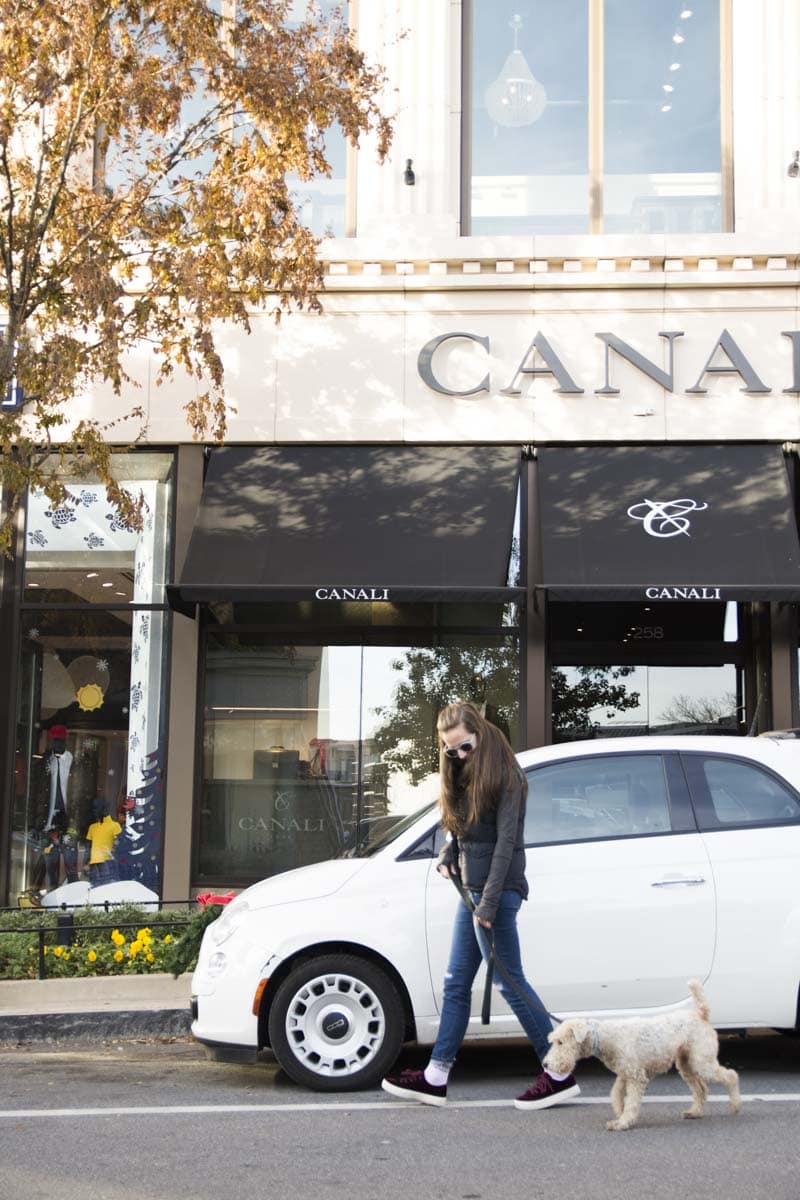 (via Instagram: one, two, three)
WHAT TO DO
ICE SKATING / Despite the relatively mild winter weather, Atlanta has quite a few options when it comes to ice-skating rinks. For a luxe, intimate rink, head to the St. Regis, and don't forget to make reservations in advance. Their rink-side hot chocolate and s'more roasting is also an added bonus! For a fun midtown rink, head to Park Tavern at Piedmont Park, where you can cozy up inside the restaurant and bar or enjoy the patio rink with views of the park. For a downtown location, Centennial Park has a large rink, and you can always hop on the Ferris Wheel or view their Christmas tree and holiday lights if you're looking for something else to do.
PRODUCTIONS / Visit the historic Fabulous Fox Theatre for Atlanta Ballet's annual production of The Nutcracker, or see Scrooge discover the Christmas spirit in the Alliance Theater's A Christmas Carol. For an adventure just outside of the city, you might also check out the seasonal play from Serenbe's playhouse!
GARDEN LIGHTS / The Atlanta Botanical Garden lights up each year with huge displays throughout their gardens, creating a dazzling tour for those looking for a holiday light show. Just make sure to bundle up before you head outside!
HOLIDAY HOME / Although the showhouse is over by now this year, the Atlanta Home for the Holidays designer showhouse and marketplace is a fantastic showcase of Southern design each year, with fresh designers transforming a gracious home to create an inspiring tour. I covered the 2015 home here!
MURAL TOUR / Find a sunny day to visit one of Atlanta's latest attractions – it's growing collection of murals and street art bringing city walls to life. Plan a self-guided tour with a map of all the murals created through Living Walls on their website.
(Pictured: Cacao Buckhead)
(via Atlanta Magazine: one, two, three)
WHAT TO EAT
RESTAURANTS / For a convenient guide to the best restaurants in Atlanta anytime of the year, make sure to reference Atlanta Magazine's Top 50 list. Some of the coziest spots on the list – perfect for cold winter nights – include Atlas, for great food and a staggering art collection, BoccaLupo for a classic Italian meal, Restaurant Eugene for a sophisticated Southern meal, The General Muir for lunches in particular, Bread and Butterfly for a Parisian experience, Bacchanalia because it's an Atlanta staple, and One Eared Stag for a creative menu.
CAFÉS / If you're looking for a good espresso, fresh pastry, or warm workspace, there are some great cafés and coffee shops all over the city. Some of my favorites include Alon's bakery and market in Virginia Highlands, Brash for the tiniest coffee shop in Westside Provisions, Condesa for a friendly and modern design, Corso for a chic stop in Buckhead, and Octane's Grant Park location for coffee and pastries from Little Tart Shop.
CHOCOLATE / For an easy gift or holiday treat, pick up "origin-driven" chocolates and gift sets from Cacao's locations in Buckhead, Virginia Highlands, or their factory store near Westside Provisions. New to Atlanta is another chocolate purveyor – you can find Xocolatl small-batch chocolate in Krog Street Market.
(Pictured: Le Jardin Francais)
(via Instagram: one, two, three)
WHERE TO SHOP
ann masburn & sid mashburn / Sid and Ann Mashburn are one of Atlanta's most stylish couples, each exuding their modern Southern styles' through their flagship Atlanta stores, both of which have expanded to Houston, Washington D.C., Dallas, and most recently Los Angeles. Their stores have a beautiful selection of apparel and a thoughtful assortment of gifts and accessories.
citizen supply / This collective in Ponce City Market features some of the best in Atlanta's local makers, from furniture and home decor to shoes and apparel. You'll find handmade, local, and sustainable businesses in their spacious store.
le jardin francais / This French-style flower shop never ceases to blow me away with their decadent arrangements and tables overflowing with dried foliage, fresh flowers, and green terrariums. Their shop is full of wreaths, bulbs, seasonal accents and decor for the holidays.
star provisions / While Star Provisions may be known for their incredible sandwiches, coffee shop, butcher and cheese counters, and Bacchanalia in the back, they also have a great market of unique gifts inside. Plus, a gift card here makes a great gift… making it easy to pick up truffle burgers from their butcher on a week night!
steve mckenzie's / I shared lots of fun collaborations with Steve McKenzie's over the summer so it's no secret they're one of my favorite home decor shops, but really in truly their selection is full of easy giftable items for most everyone on your list.
sugarboo & co. / I discovered Sugarboo & Co. at Ponce City Market last summer and I fell in love with their quirky selection of gifts, accessories, and home decor, many of which is designed and produced exclusively for the store.
the merchant / This boutique is chock full of gifts, from paper goods and games to jewelry and decor. Visit it in Krog Street Market on at ther new location on Howell Mill.
warby parker / Not only is it fun to try on glasses, but the free photo booth in the Buckhead location always make it memorable to visit the Warby Parker store (also located in Westside Provisions). Give the gift of new glasses or simply a gift card that can be used towards prescription or sunglasses.
youngblood boutique / Youngblood is a craft and design shop supporting independent makers in the U.S. and beyond. You'll find lots of unique gifts and handmade items in their location in Virginia Highlands.

From quote to claim, Esurance is working to help you make smarter, more efficient choices with your home and auto insurance. Using state-of-the-art technology, they offer a seamless online and mobile experience along with intuitive tools that help take the hassle out of insurance.
This post is sponsored by Esurance, but all text, images, and opinions are all my own. Thank you for supporting the brands that keep Thou Swell running!