January is a great time of year to focus on your sleep quality! After all, it's foundational to reaching any other New Year's intentions or resolutions you're considering. I've struggled sleeping well over the years, so I've got some pretty high standards when it comes to my bedroom and creating a great environment for sleep. Two of these essentials include my mattress and pillows that are key to (literally) supporting healthy sleep. I bought these essentials when I moved into my apartment last January, so after a full year with them, I knew I could share a solid review. Find out what affordable mattress and pillows I found online, and why I chose them below!

Shop the Look

I did a bit of research before buying a mattress because there are lots of confusing buzzwords and labels for different mattress types. The online mattress marketplace has exploded, and I was tempted to go with one of these new companies with their cute names and sleek branding. Unfortunately, most of these companies are memory foam, one of the three main mattress types, which had some downsides for me… Here's a quick breakdown:
MEMORY FOAM:
Memory foam mattresses are soft and squishy, but are prone to hold heat more than other types.
INNERSPRING:
Spring mattresses are firmer, with metal coils providing bouncier support. Unfortunately, coils can wear out quicker than other mattress materials.
HYBRID:
Hybrid mattresses combine a memory foam top layer with coils below, giving you the best of both types for medium firmness.
The best type of mattress for you depends on your desired firmness and how much you like to sink into a mattress, whether you tend to sleep hot or cold, and your budget. Since I like a little give but don't like to feel stuck in my mattress, and I sleep hot, I discovered that the hybrid type would be best for me. If you want some help figuring out what type would be best for your sleeping habits, this quiz is super helpful!
Note: When I was considering a memory foam mattress, I found the Nectar mattress to be the best option for a mid-range price, and this "cool gel" mattress by Classic Brands was the best affordable option as recommended by the New York Times.
I took the findings from the brief research that I did and landed on Overstock for my mattress hunt, using the "hybrid" keyword to guide my search. I didn't pay much attention to the mattress height because you can always get a taller or lower box spring. I also looked through customer reviews and looked for listings with more of them, reading through a handful to get a sense of the pros and cons of each.
[ezcol_1half]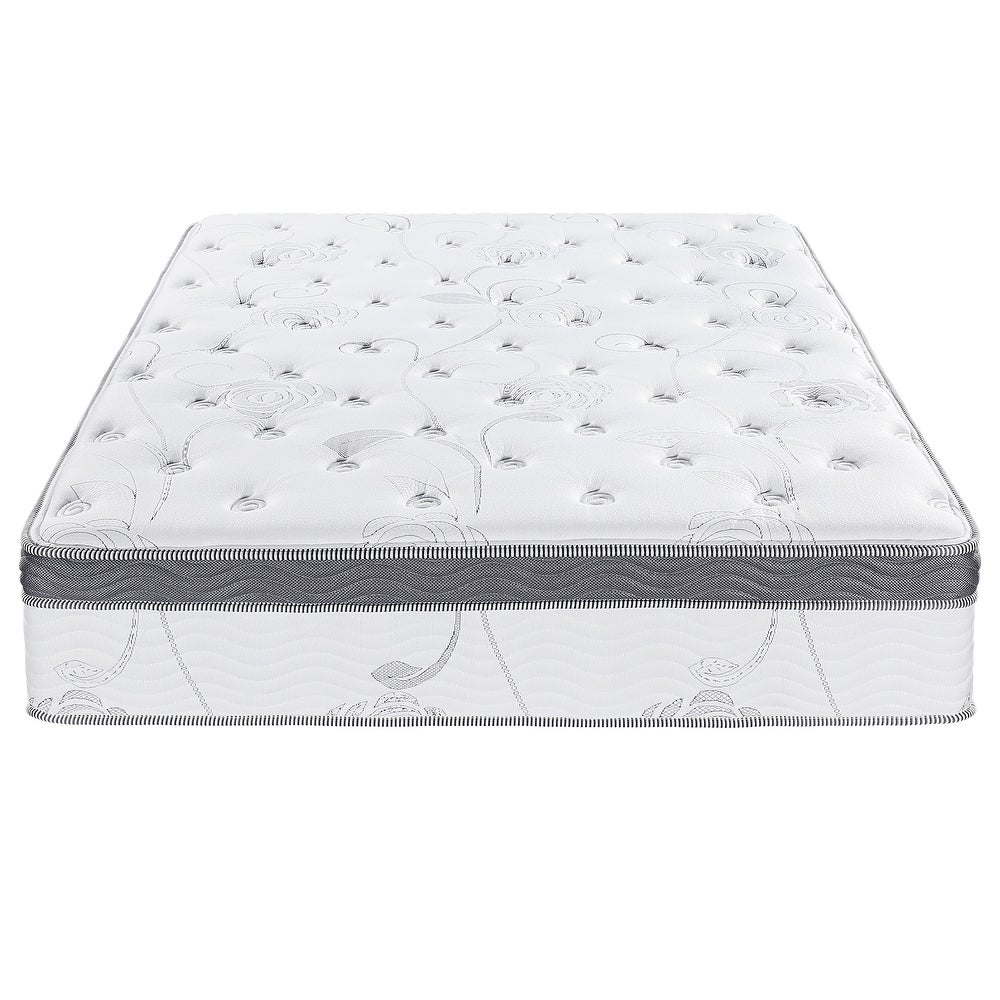 [/ezcol_1half]
[ezcol_1half_end]I ended up finding a highly-reviewed mattress with over 4/5 stars, under $400, in a King size with a hybrid construction! This super affordable mattress was definitely worth the hunt… After all the expenses of moving, I was so relieved to get off of my air mattress without blowing through the rest of my decor budget for the bedroom! And after a year of sleeping on it, I can honestly give my recommendation for this hybrid mattress.[/ezcol_1half_end]
[ezcol_1half]
[/ezcol_1half]
[ezcol_1half_end]Since I was upgrading to a King size bed, I also needed the right size bed pillows. I had thought a lot about what kind of support I needed from my bed at this point, so I realized instead of feather (which I had my whole life) I needed something with less give… I chose the #1 best seller on Amazon, this Beckham Hotel Collection gel pillow with a combination of gel fiber and down alternative for really plush support. Not only am I in LOVE with these pillows, but so is my boyfriend! And at $60 for a set of two, it's an unbeatable deal.[/ezcol_1half_end]
I love to do lots of research and consider all my options when I'm buying something I'll be using every day like a mattress or pillow, so it was very rewarding to discover these great deals and be more than satisfied with their quality! If you're looking for a reason to throw out your yellowed, mismatched pillows and recycle that tired mattress – let this be it. After all, getting better sleep is one of the best things you can do for your health and happiness after what has been a universally stressful year!