(via Architectural Digest, photography by Simon Watson)
The Southern countryside of France seems to have the best of both worlds, with both a luxurious and laid-back style, like the proliferous lavender that dots the landscape. While the dusty-purple lavender buds are a simple, natural presence in Provence, their scent is rich and sophisticated. The interiors of this villa, home to Frédéric Fekkai and his family, are thoughtfully designed with an eclectic and rustic look that pairs high-design with the easy-going nature of Aix. Many rooms feature items with considerable patina, lending a worn element to the home that alludes to the age of the 17th-century property. Modern statement pieces are often the light fixture in the room, such as in the room above. I love scale of the chandelier!
SHOP THE LOOK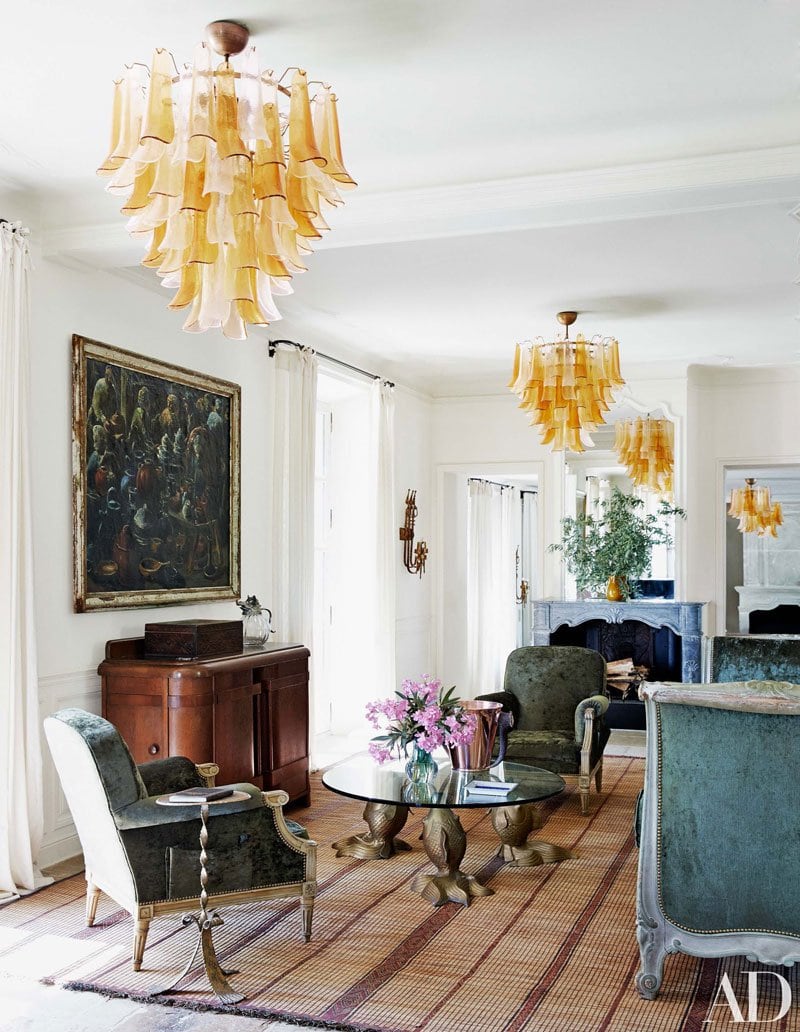 The entryway above and kitchen below are much more neutral spaces, which let the stone floors bring a warm base to the rooms. A dazzling chandelier and a sun motif bring a collected spirit to the entry, while the kitchen features reclaimed elements that date as old as the home. I do consider the kitchen the heart of the home, and it seems fitting this one gives an authentic reflection of the use this room receives through the generations.
The canopy bed in this room was crafted in Morocco and made with traditional Berber fabric, which brings a lively stripe to the saturated room. The combination of warm colors brings a carefree, cozy look through each layer in the room. The covered patio below is enviably inviting, with sunlight filtered through the vines and woven shades above the dining table.
Low-lying hedges of thick lavender and tall cypress trees line the allée up to the house – an entrance that must smell incredible. The warm, lazy breezes of late summer often have me dreaming of escapes like these!