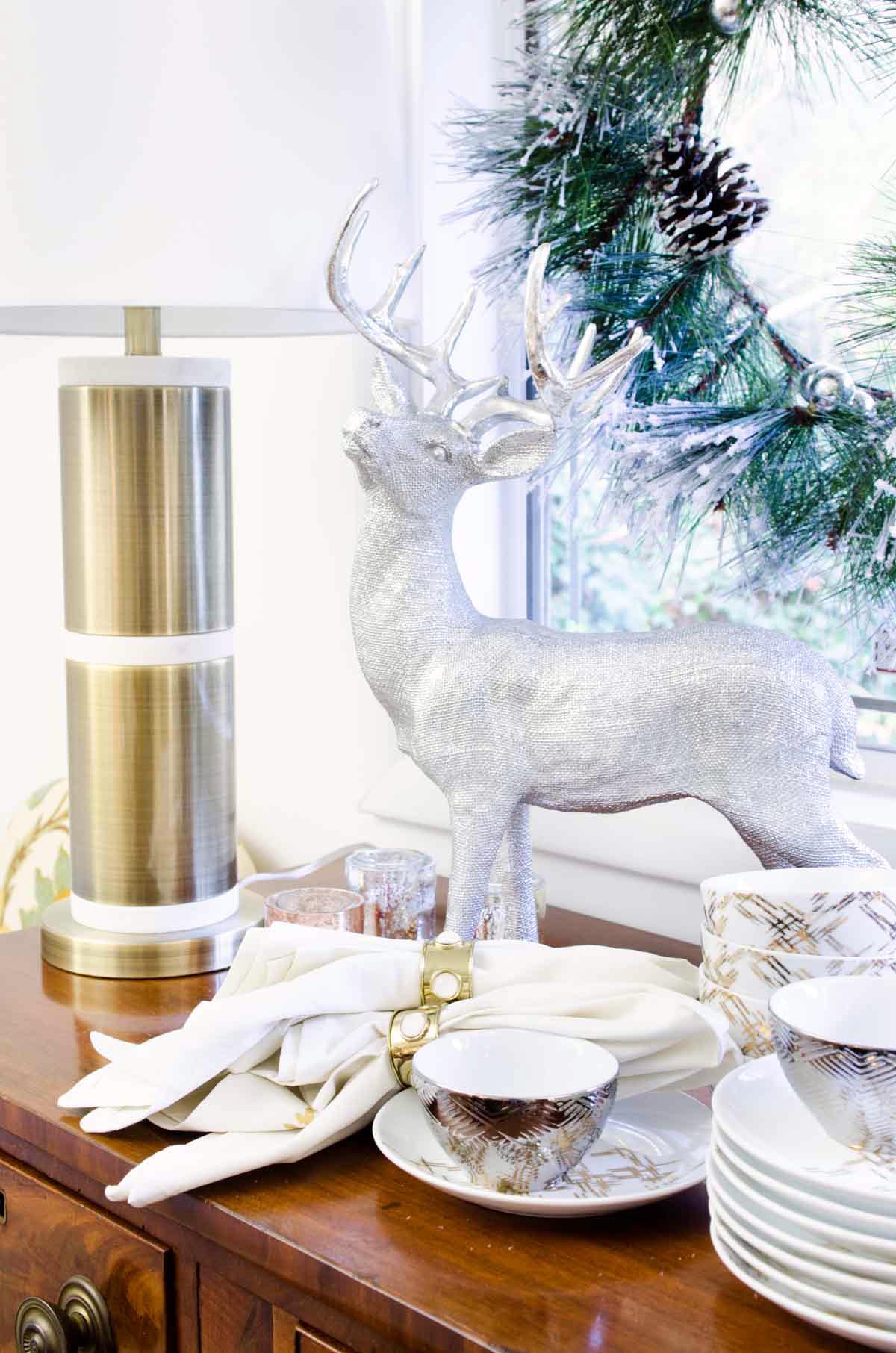 There's a fine balance between decking the halls and over-doing it. I love holiday decorating, but I believe there's something to be said for the addition of subtle touches that add a festive sparkle to each room. For easy holiday décor ideas, I've created two holiday equations to put together merry vignettes in your home. Find three more equations in a fun video by Nikki Minton from My Style Diaries at the end of the post!
The first equation is for a warm metallic vignette on the buffet in our dining room. Accent lighting + festive figurine + entertaining essentials = holiday dining room. Now that it's actually dark when we eat dinner, it's nice to create a cozy atmosphere with table lamps on the buffet and candles on the table. With a mix of tall, tapered candles and mercury votive candles, we can enjoy a flickering glow on the table while table lamps provide more general light that's not as harsh as our chandelier. We love putting a larger reindeer in front of the dining room window to create one fun focal point rather than a collection of small things. And to be ready for holiday guests anytime, we like to keep a set of extra napkins and plates, making it easy to add a plus-one to the table.

For our entryway, we already had plenty of gold, so I added blue and warm silver to the equation to balance the existing décor. Faux fur + ornaments for all + whimsical lanterns = an inviting entry. I love the idea of letting your guests take part in your traditions if they want, so keeping a bowl of ornaments in the entry invites them to add something to the tree and adds a glittery centerpiece to the table. The look is completed with the yellow glow of the ceramic house lanterns, which seem like an appropriate piece for the entry as they welcome you into the home. Throw a furry pillow onto a side chair for a fuzzy touch, and finish the look with a set of blue and grey bottle-brush trees.

Don't forget to enjoy free shipping and returns at Target.com through Christmas day! Want more inspiration? Check out the holiday equations Nikki Minton put together for Target below:
Holiday Home Equations from Mode Stories: Videos on Vimeo.
Find your style @TargetStyle.

This post is sponsored by Target but all text, images, and opinions are my own. Thank you for supporting the brands that keep Thou Swell running!