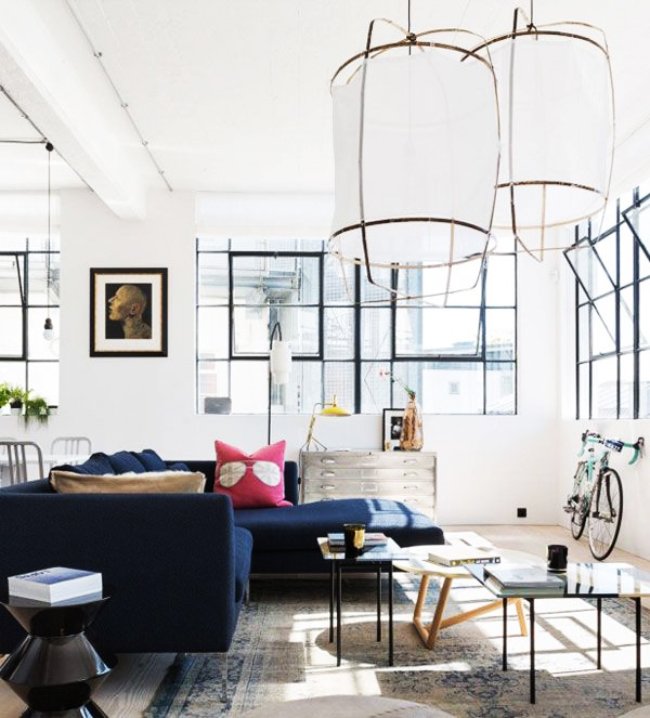 (via Apartment 34)
I know, I know, I skipped a week in the One Room Challenge! I hated to miss out on the Week Two action, but I wasn't ready to share my room's product details yet. But this week I am ready, and excited to unveil my proposal for the space and a great company I'm working with to pull the room together. Let's start with the palette, shall we? The tiled floor has a little teensy bit of blue in the corners of the tiles, so I wanted to pull out the blue in the tiles and balance out the warm terracotta color – but not get into that predictable blue and white territory (hence the aqua). For the rug, I can't even remember why I decided on a zebra skin, but it was one of my first thoughts and I just stuck with it. I like the exotic take on black and white stripes it gives to the room, similar to the first inspiration photo in my Week One post. I think a rectangular rug would feel too squarish and formal in this space, don't you think? The sofa was originally going to be a grey mid-century style sleeper sofa but that sold out so I went with another Urban Outfitters sleeper sofa that's blue and velvet and tufted. Very different from the mid-century idea but I think it adds a good dose of color and variety to the space!

I'm excited to partner with Move Loot to bring four amazing pieces to the space! I was originally trying to sift through Craigslist listings for sofas when I came to a listing that lead me to their site, where I became obsessed. Unfortunately, the green sofa sold but I found two side chairs and a glamorous pair of lamps that add a touch of character to the room. The prices on Move Loot are amazing and it's so much easier to find nice gently-used furniture and decor on their site than sifting through Craigslist or eBay. Check it out!
The one thing this room needs is some original artwork, which means I better get painting! I've been itching to do some painting recently and the One Room Challenge is the perfect opportunity to get my brushes out. Can't wait to share that progress… Also missing from the space: PLANTS! Can't wait to add that green as well. Until then, check out the other awesome link-up participants in the challenge here.
You can find most of the products by clicking the black boxes in the image below, but is the entire product list: Kyoto throw pillow, blue velvet throw pillow, embroidered throw pillow, blue tufted sofa, white/wood side table, gold table lamp, zebra rug, concentric side table, regency side table, reed side chair, white/wood armchair, bronze side table, moroccan pouf
FEATURED PRODUCTS