(via House & Garden UK)
It's week two of the One Room Challenge (see my week one post here), and we're finally starting to get to the good stuff. Orders have been placed for new products to come onto the scene, and I can't wait to share the new layout we created to open up the room. First off, the product board below is a bit misleading, as it doesn't show the existing furniture, so just imagine the chaise, armchairs, and ottoman from the before pictures in the mix. You can also get a preview of the room's palette below, with the amazing teal of west elm's luster velvet on the new sofa and a pink (Behr Marquee Stolen Kiss) accent wall behind the bar beside the fireplace. The bar set-up will also include a black parsons table that we pulled up from the basement with a pair of gold garden stools below and the globe pendant light hanging above.


Figuring out this new layout took a while, even though we've been living in this space for two years now. It took some sketching and then some furniture shoving to get started, but the diagonal tilt to the chaise didn't come until after we had already tried two arrangements. It really allowed the space to open up, and the hide rug makes perfect sense with the more circular layout. It's amazing how different the room feels, and it seems as though we are truly using the space most efficiently now!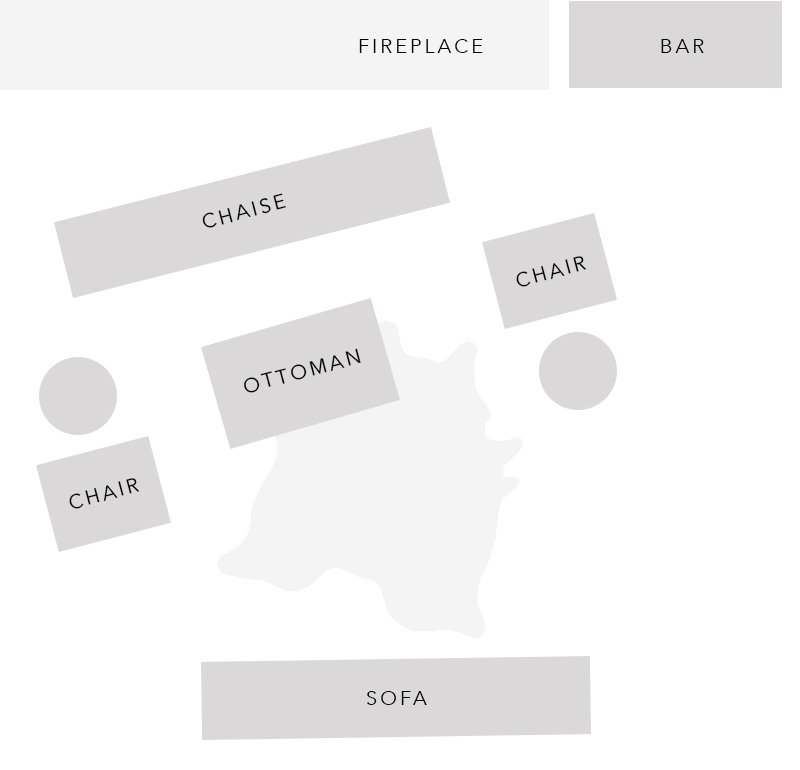 What do you think about placing furniture at an angle? It leaves a bit of awkward space in the corner, but I'm thinking a fiddle leaf fig will do just the trick to round it out… Check back next week for my mid-challenge update, and see what the rest of the link-up bloggers are up to on Calling it Home!