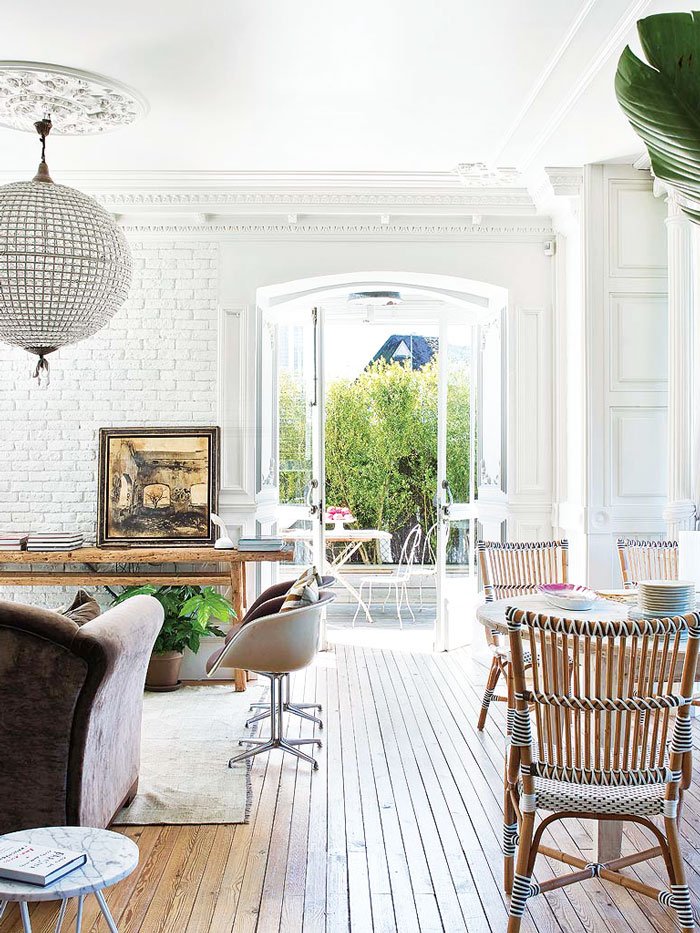 (via Nuevo Estilo, photography by Alfonso Quiroga)
The open-air design of this eclectic home in Spain feels unique and expressive. From the mix of styles (that I often find in Spanish home tours) to the mix of period architecture and a loft-like floor plan, the space is full of interesting contrasts. This home feels like a last hurrah to summer breezes, especially with the coastal vibes of the dining area. I love the wicker dining chairs and the woven pendant light combination. The kitchen also has a fresh, rustic-modern look with open shelving, all-white finishes and wicker counter stools. Continue reading to see the rest of the home!
SHOP THE LOOK

The dining area is one of my favorite parts of the space, with the warm tones of the unpainted brick and large wicker shade. The architecture framing this alcove is very super ornate, and there's a pair of curtains that could close off the space with a smaller table.
Though the kitchen is small, it's bright and inviting and just cozy enough with open shelving and a simple black-and-white pattern on the floor tiles. Exposing the ceiling beams also elevates the space, keeping it from feeling too small. The bedroom below is also a super vozy room, with dark navy walls feeling both cool and inviting. I love the metallic finish brought to the room by the chrome pendant light!
One of the best features of the home are all of the shuttered French doors, illuminating all of the rooms with natural light. The bathroom is no different, feeling airy and spacious with a tall ceiling highlighted by ornate crown moldings. The colored glass in the interior windows also adds unique detail to the room. What's your favorite detail in this home?