Now while yours truly is still technically a stylish teen, this gift guide (the first of the season!) is actually inspired by my little sister Grace. You may remember her from her very brief stint as a style contributor to TS. A few weeks before HP reached out to me about their new HP Sprocket photo printer, Grace actually emailed me with this very printer as a not-so-subtle suggestion for what to give her for Christmas this year. When I was invited by HP to share their Sprocket on the blog, I knew it would be the perfect centerpiece for a gift guide inspired by Grace's top picks this year. The HP Sprocket is a mini photo printer that connects wirelessly to your phone and allows for super easy printing of 2×3 images with the Sprocket app. You can quickly choose photos from your camera roll or Instagram feed to bring your favorite memories to life! I printed some of my favorite memories with Grace to try out the Sprocket, and I love how fun it is to take the images from digital to physical. Plus, the back of the photos can be peeled off to make them sticky (perfect for a mini gallery wall). Click through to see the rest of Grace's gift guide!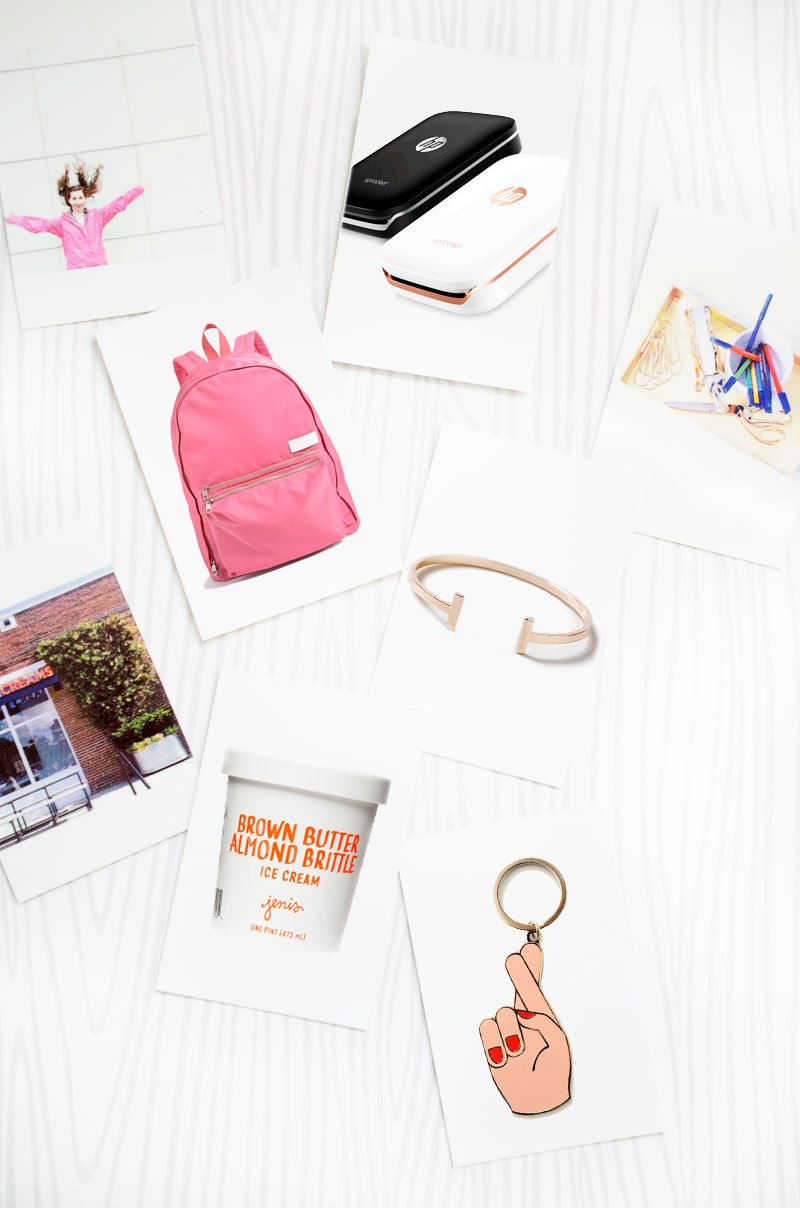 1. The HP Sprocket is Grace's first choice because she loves printing her photos. Her wall already has tons of photos on it, but it's a pain to load photo paper into our regular printer to print them for her wall. The Sprocket makes it easy to print favorite memories with family and friends and make it part of a little gallery wall, or even add it to a holiday card or as the tag on a present.
2. This blush backpack is second on the list. One of Grace's favorite colors is pink, and the ultimate accessory for a high schooler is their backpack. Grace recently found State Bags and love's their simple, stylish design!
3. Grace loves this minimal metal cuff from Topshop. It's the perfect modern addition to a jewelry collection because it can be paired with almost any piece, and makes a great everyday addition to an outfit.
4. One of the photos I printed from my Instagram feed is the front of Jeni's ice cream in Atlanta. Grace and I are huge Jeni's fans, and this Brown Butter and Almond Brittle flavor is to die for. Just sneak it from the freezer to the present pile the morning-of!
5. Since Grace is turning 16 this December, she'll be needing a keychain soon to hold her car keys! She'll be rocking our little Fiat (lucky duck) and this cute fingers crossed key chain from ban.do would make a unique gift.
I love Grace's choices, and I might be surprising her with a few of these items this Christmas! Are there any teens you need to find gifts for this year?

This post is sponsored by HP, but all text, images, and opinions are all my own. Thank you for supporting the brands that keep Thou Swell running!