The Home Depot provided me with product and compensation. The opinions I have shared about the products are my own.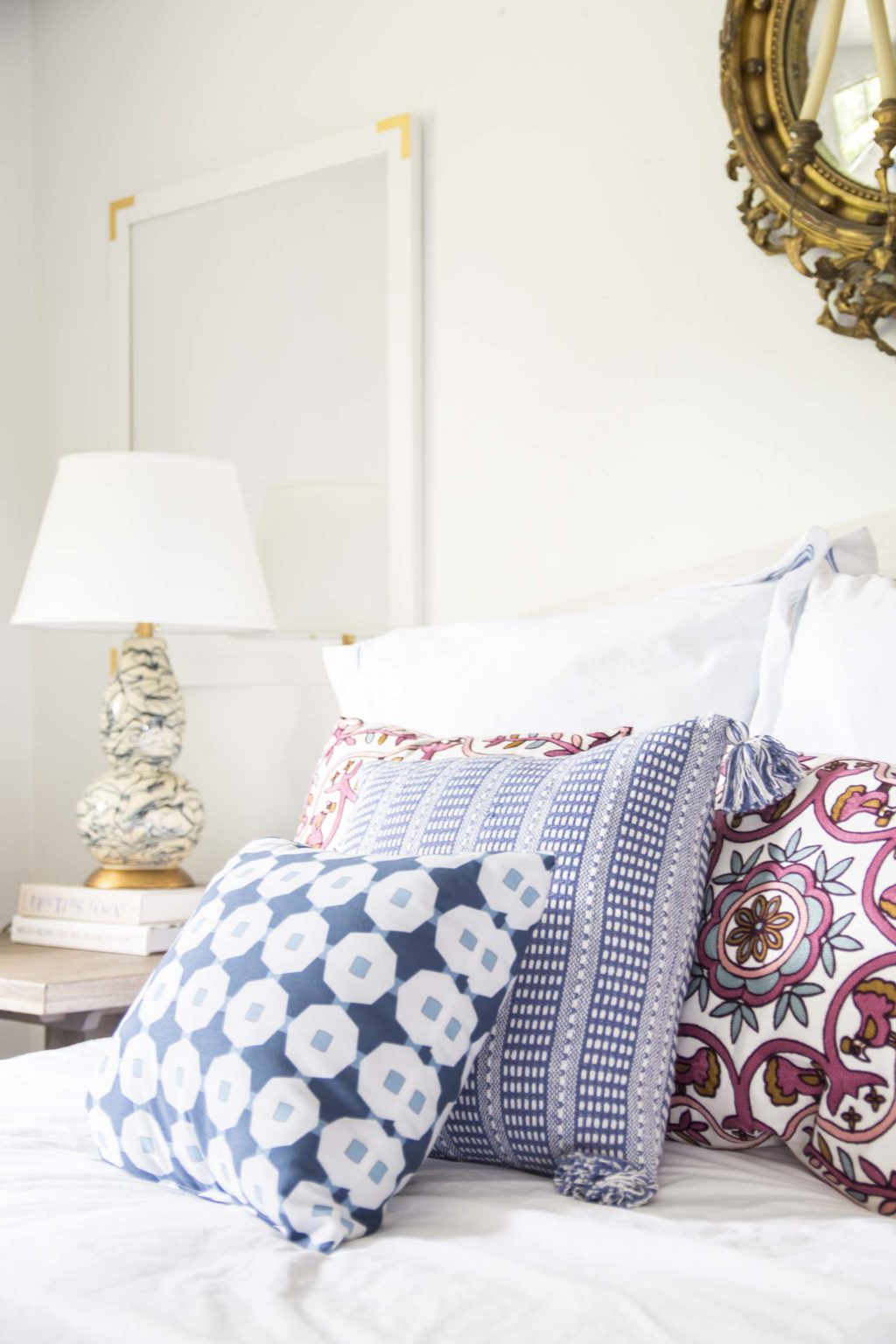 I've been loving pattern-on-pattern looks more and more (especially for cozier fall/winter rooms), and most rooms full of pattern follow a simple formula that lets the craziest of prints and colorways live together happily. In fact, this layered look is somewhat of a designer trademark since it takes a bit more risk and a knowing eye to put the look together. I want to demystify this process so you can bring the look home with confidence and add sophistication to rooms with your pattern-mixing skills. I styled these fun pillows from Home Depot in a bedroom and living space, plus I've also broken down the mix with a fun GIF below. Read on to find my top tips for mixing patterns!


As you can see in the GIF, I started with the tasseled pillow, which set the color palette and has a very small scale woven pattern. The next pair of geometric pillows added a darker blue and a large-scale, modern pattern to the mix. The last pair of suzani pillows brings another large-scale pattern, but it's more traditional and a bit busier than the previous pair. It also adds some warm colors to the mix, but still ties into the color palette with the light blue in the center of the design. This pale blue grounds the design with the solid throw blanket, and the color swirls table lamps bring personality to the design and pull out the darker blue from the geometric pillows!
I absolutely loved how the pillows looked in my serene, all-white room. Since redecorating our entryway we moved our bullseye mirror above my bed (which I love) and this gold motif is tied in perfectly with the table lamp and brackets on the wall mirror, which sits on the side table from our dining room design.
MY TOP TIPS FOR MIXING PATTERNS
1. Set a color palette, and make sure 75% of the design fits this scheme.
2. Alternate large and small-scale patterns, keeping in mind that large-scales are easier to mix.
3. Include one or two solid color elements to unify the design.
4. Incorporate a pattern with contrasting hues.
5. Drop it all in Photoshop or a Word document to help you visualize.
We've rearranged our dining space (more to come on that room) but our tufted sofa no longer serves as a banquette, so it's part of a little seating arrangement in the room now. It was the perfect place to add color and pattern with this pillow mix, and the mirrors above the sofa reflect extra light into the room. Since this is a long piece, I snuck in another blue-on-blue throw pillow onto the sofa in the middle to fill it out.