This post is sponsored by Legrand, but all text, images, and opinions are all my own. Thank you for supporting the brands that keep Thou Swell running!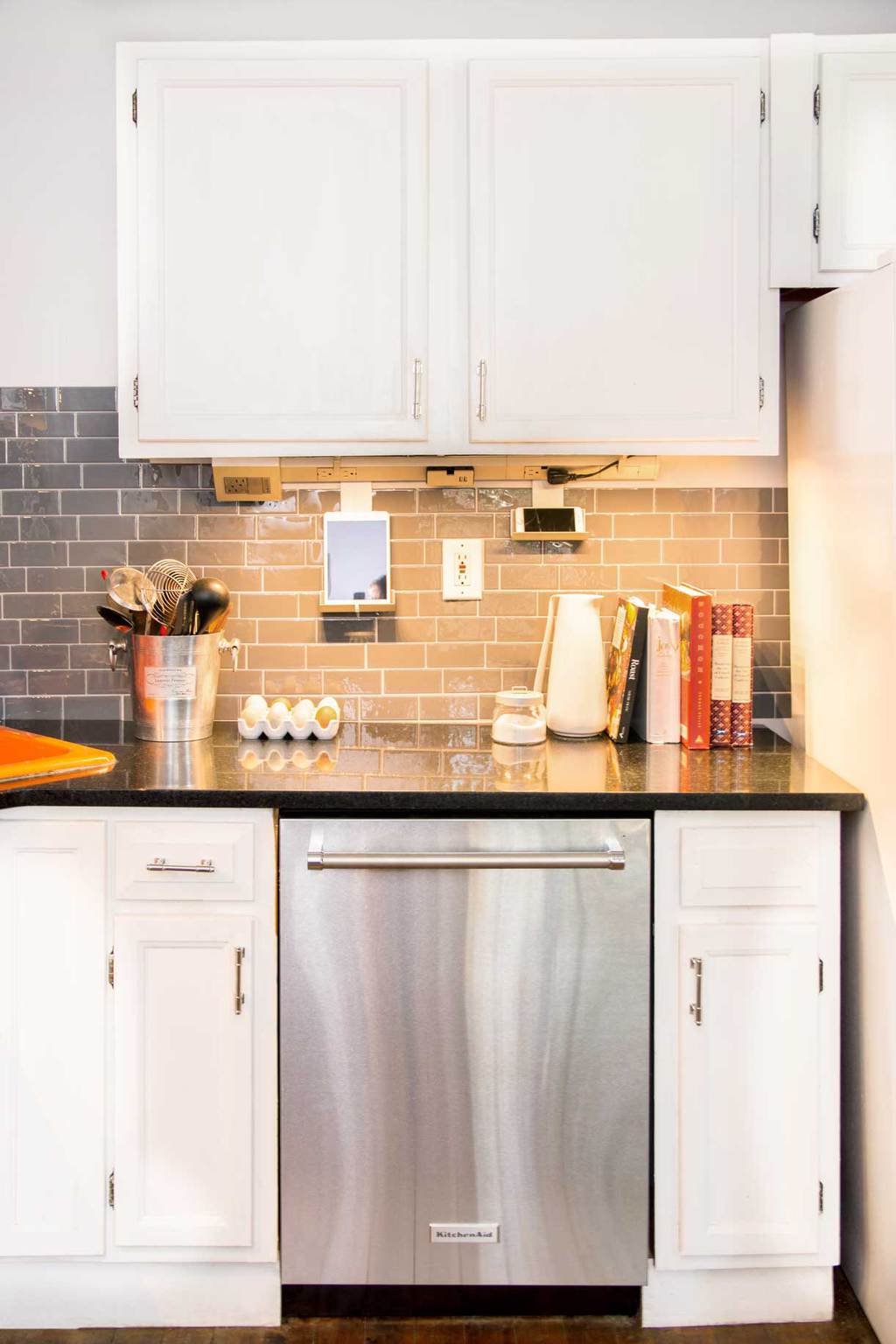 We've always struggled with lighting in my dad's kitchen since there's only one window that lets in natural light, and in order to pull off the dark grey backsplash in his kitchen makeover, I knew I had to find a way to improve this aspect of the space! I'm excited to share the Legrand under-cabinet system that we installed to elevate the entire kitchen with built-in lighting. Not only did the system bring lighting to the countertops, it also added outlets and cradles for my dad's tablet and phone (often used for viewing recipes).
We chose the titanium finish on all the pieces so it went perfectly with the new nickel hardware, and with all the new lights on in the kitchen it seriously feels brand new! Not having to rely on the overhead light (which makes the areas under the cabinets pretty dark) is so much nicer for my dad when he's using all the counterspace for cooking up a big meal. See how the Legrand under-cabinet system illuminated the space below.
SHOP THE LOOK

Besides their modular under-cabinet lighting and power system, Legrand specializes in beautiful outlets and switches. It's amazing how such a small detail in your home can affect the entire design, and their sleek lighting and outlets covers are both stylish and functional. From motion-sensor technology and Wifi-ready lights to pop-out outlets that can hide away, they will seriously make you rethink the lights and outlets in your home.
Now that we have the under-cabinet power system installed, the outlet on the wall could even be removed – making the backsplash less cluttered and giving the kitchen a more polished look. I love that having the outlets underneath the cabinets can free up the wall to simply emphasize the tile.
Overall the kitchen looks so much more professional with area-specific lighting above the counters. Since the system is modular, it can be customized to any kitchen or layout – check out the system for yourself and see what new features you could add to your kitchen!