This is the story of a drab concrete slab that got a fun and colorful makeover, thanks to the powers of Behr DeckOver coating. Let me start out with what exactly DeckOver can do – it's a super thick coating (with a little bit of texture) that you can use to cover old wood or concrete for a mildew-resistant, no-slip coating, and Behr offers some limited color matching to offer you more color choices! Do keep in mind that it basically creates a new layer on top of your deck or patio – it completely covers the texture and color of your wood or concrete (it's very opaque). But this was perfect for my neighbor's patio, because it was just plain concrete and needed something to help with the yearly mildew. As you can see in the "Before" below, the patio was in desperate need of a pressure-washing…
French doors from the open kitchen and dining room open up onto the patio, so envisioning a new life for this outdoor entertaining and dining area was super fun. We decided on the classic two-color checkerboard pattern, but to make things easier
we let the tape create a lattice pattern with the bare concrete underneath, to keep the tape-job simple and keep the floor from becoming too flat. My neighbor wanted a muted palette, inspired by the patio's surrounding trees, so we went with a green and pale grey to lighten it up and bring in that naturally-inspired theme. Now here comes the hard part… Taping it off!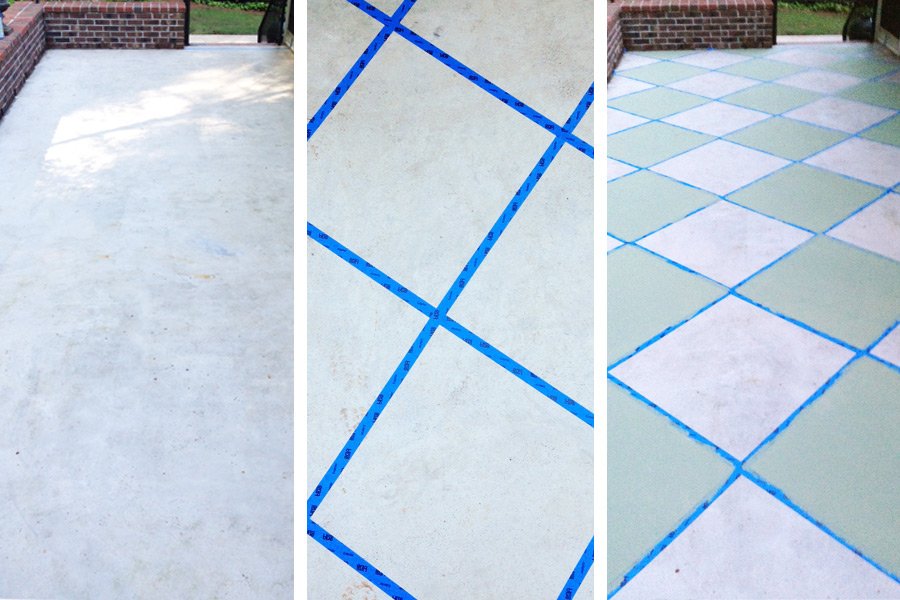 (1. after pressure washing, 2. after taping, 3. after painting first color)
First, I took the dimensions of the patio and played around with some numbers. Larger squares/diamonds = less complicated taping, so I decided on three squares across the width, which meant each square would be around 40 inches. This meant that the length ended up being 17.6 squares. Using the width of the squares (down to the nearest tick on the measuring tape), I used chalk to make a point at every interval (marking the corner of each square at the perimeter). I then connected these marks with tape, starting from the first mark on the length to the first mark on the width. It helps to try this part on paper first before attempting with tape! It also helps to have two people for the taping part, to keep the lines as straight as possible. I used a small roller to paint, and for best results two coats is needed.
Needless to say, I'm super happy with the results (and I think my neighbor is too). You can check out all of Behr's paint colors here, and learn more about DeckOver here.

This is a sponsored conversation written by me on behalf of BEHR®. The opinions and text are all mine.