This post is sponsored by The Grand Bohemian Charleston, but all text, images, and opinions are all my own. Thank you for supporting the brands that keep Thou Swell running!
The past few months I've been lucky enough to be in-and-out of the Holy City (a nickname given for its many churches) for a new interior design client I've been working with. I extended my last site visit to have a belated birthday celebration at the end of July and had my friends come down for a couple of days to really enjoy the city for a weekend. With the fabulous Grand Bohemian Hotel as my launchpad, I was able to enjoy some amazing meals, shopping, and activities to share in this weekend guide. There's so much charm in this coastal city, so bookmark this Charleston travel guide and make it your next getaway!

Shop the Look

[ezcol_1half]
[/ezcol_1half] [ezcol_1half_end]
[/ezcol_1half_end]
Where to Stay
There are so many charming hotels in Charleston, but the key to stay in as close to the historic district as possible. The Grand Bohemian Hotel was just a block from King Street, making it in walking distance from most of our exploring and restaurant reservations throughout the weekend. The hotel has an art gallery on the main level (a signature element of Kessler Collection hotels), a beautiful courtyard in the front, and a rooftop that makes a fun spot for enjoying a cocktail with the sunset.
[ezcol_1half]
[/ezcol_1half] [ezcol_1half_end]
[/ezcol_1half_end]
What to Eat
There are endless restaurants to enjoy in Charleston, making it the ultimate foodie destination. It has fresh seafood, great European influences, and of course amazing Southern fare. Here are some of my favorites:
The BEST oysters everytime I go
Fun ambiance in an old church
The MOST charming French fare
Adorable neighborhood seafood
Acclaimed cuisine with several James Beard awards
Masterful Southern food in a classic old home
Playful, upbeat Mexican-fusion
Thoughtful, seasonal menu with excellent service
Where to Shop
Charleston's King Street is shopping-central, with retail ranging from local gems to well-known brands and luxury outposts. Much of King St. is cobblestone, making it a charming stroll with palms lining the sidewalk.
Luxury boutiques in a Charleston fixture
A cute local bookstore
The candlemaker's flagship store
An outpost for the popular PJ's
Stylish, accessible jewelry
Luxury bath and bedding products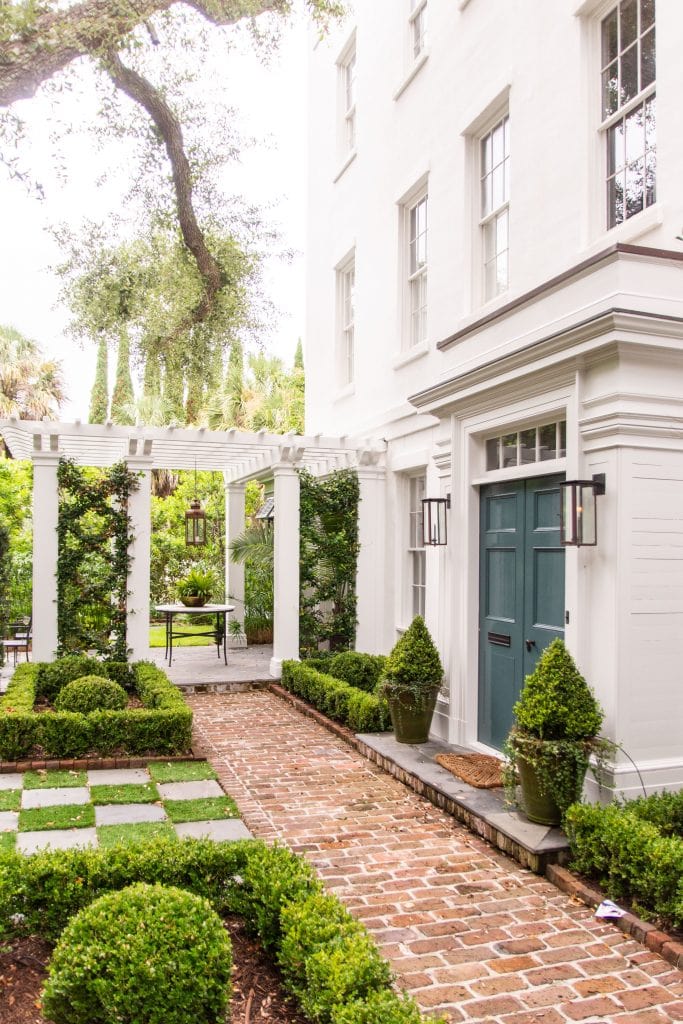 Where to Drink
Charleston is full of rooftops and bars with interesting cocktails and a varied nightlife scene. Here are a few more lowkey spots that really nail the ambiance.
This luxe champagne bar is the perfect photo-op
A bar and swim club with the cutest tropical style
This cute bar projects classic black-and-white films
The chicest rooftop atop the Dewberry Hotel
Speakeasy style bar with craft cocktails
A stylish, loungey cocktail and wine bar
[ezcol_1half]
[/ezcol_1half] [ezcol_1half_end]
[/ezcol_1half_end]
What to See
Charleston is a great mix of historic architecture and coastal style. Besides long walks through the residential neighborhoods in the historic district, I also love taking a beach day on one of the nearby islands. Here are all my favorite activities:
A series of local vendors and stalls in a historic outdoor market
Step back in time in a restored home
Historic pastel row houses at the edge of the waterfront
2.5 mile long barrier island just 20 minutes from the city
3-6 hour private charters for sunset cruises
Save my Charleston travel guide and let me know if you check any of these places out – or if you have any favorites I should check out next time I'm there!