This post is sponsored by Infuse but all text, images, and opinions are all my own. Thank you for supporting the brands that keep Thou Swell running!
(Photography by Kevin O'Gara)
Launched just in time for Earth Day this year, the new Infuse refillable cleaning system available exclusively at Target and Target.com is my newest home cleaning obsession. It checks all the boxes for me with non-toxic ingredients, refillable spray bottles, reusable cloths, and a deep clean that's just as effective as the competition. I got to try out the whole system in my apartment and I love how it works, from the scents to the fun "infused" cleaning cartridges you get to watch disperse into your spray bottles. Not only are these pet and kid-friendly formulas biodegradable, but you get to save by reusing your mop pads and cleaning cloths and on your spray bottle refills. It's a one-time investment with long-term savings for yourself and the environment! I'm diving into the line with a breakdown of each product below. 
P.S. Now through May 31st, get 20% off an Infuse Starter Kit by using the code ThouSwell20 at checkout!
The cleaning cartridges are made specifically for the floor mop, for cleaning glass, the bathroom, and then there is an all-purpose cleaning cartridge that's great for the kitchen. They come in great scents like eucalyptus mint, Meyer lemon, and lavender lemon. Each cartridge is labeled so you remember what it's used for while you're spraying. To refill, all you have to do is fill the bottle with tap water and pop in a new cartridge!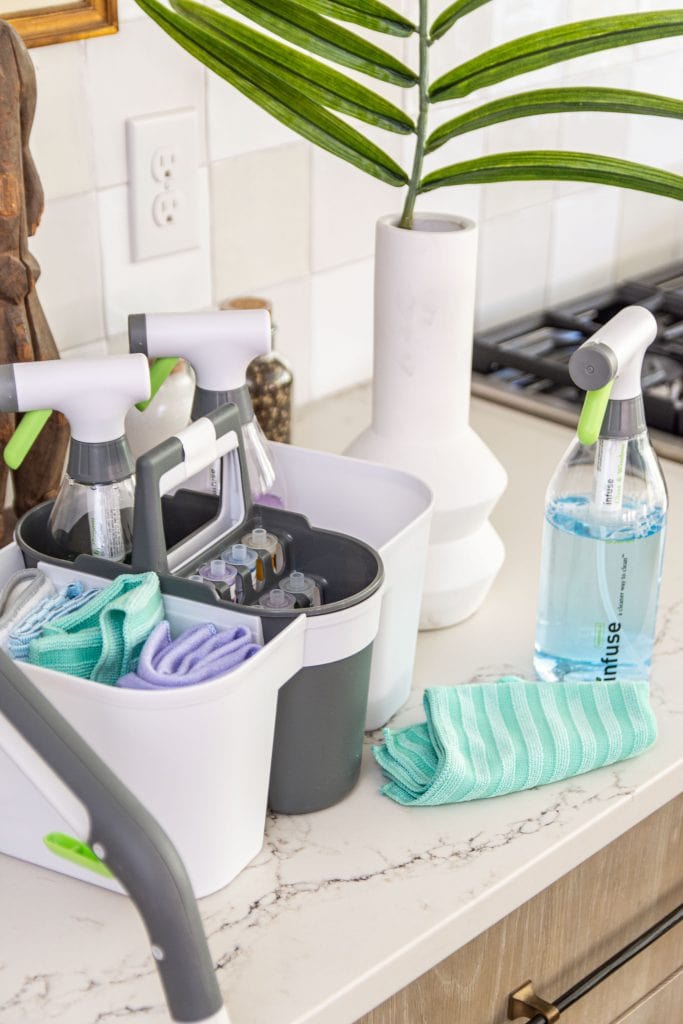 The microfiber cleaning cloths are specified for different uses as well, with a more abrasive cloth for bathroom cleaning, a softer all-purpose cloth, and a streak-free glass and window cloth. The cloths and the floor mop pads are all washable, so all you have to do is pop them in your next laundry load and they're ready for use again. I've always hated carrying around a roll of paper towels with me from room to room, so I'm loving my new cloths.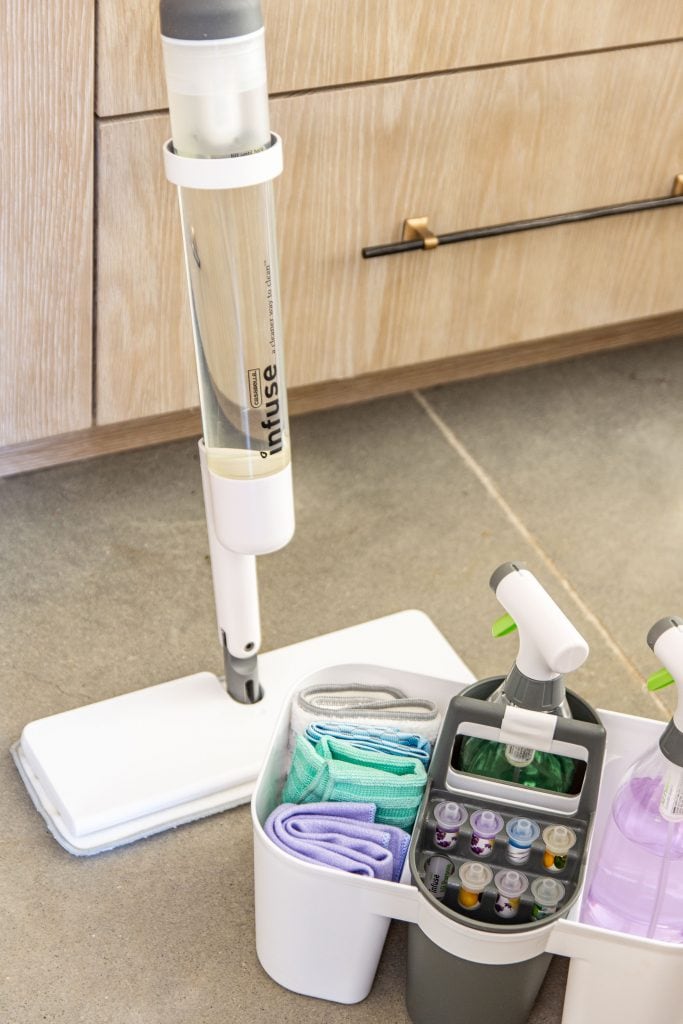 The spray floor mop has a refillable tank and an easy lever for spraying as you mop. It lasts so much longer than a one-time use mop pad (over 100 uses) and gives such a great deep clean to my concrete floors. All of the cleaning concentrates have a non-toxic SaferShine formula that is free from carcinogens, phthalates, parabens, and endocrine disruptors so I feel great about Leo being around while I'm cleaning.
I like to start from top-to-bottom when I clean and finish with the floor mop. The Infuse system has every surface covered – it's perfect for a friendly spring clean you can feel good about. It's now available at Target and online at Target.com. Try Infuse and make the jump to a reusable system this year to cut down on your cleaning waste and enjoy long-term savings!

This is a sponsored post written by me on behalf of Infuse.