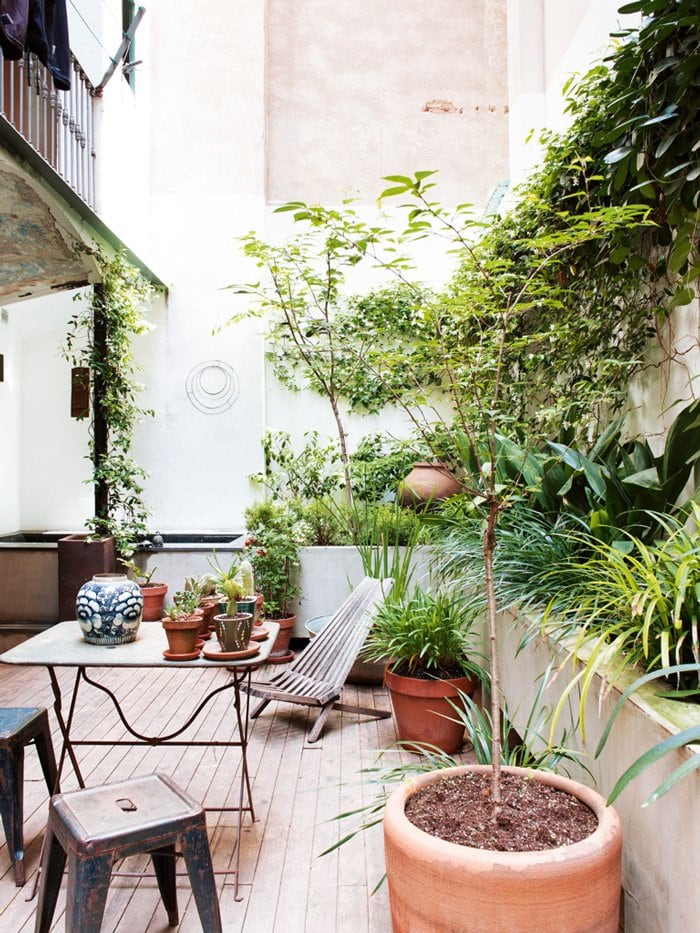 (via Thou Swell – Australian Simplicity in Barcelona)
We've had the loveliest spring weather recently here in Atlanta, and we're dying to start using the patio at my mom's new townhouse in West Midtown. It's a great blank canvas right now – it's clean, has a relatively new surface covering the ground, and the HOA just replaced all the fencing in the neighborhood so we've got fresh fencing as well! There are a couple of stages of changes we'd like to make back here which I'm outlining below, but we're starting out with a great foundation for the space from AllModern – this sleek sectional set. It will immediately frame out the seating area and help define the area so we can focus on filling in with plants, decor, and lighting. See my design board below!


As a reminder, here is what the patio looks like now!
PHASE ONE: Paint the ground covering a dark grey so it better matches the style and color palette of the house.
PHASE TWO: Install sectional, accent table, and lighting. Start styling with accessories. Plant creeping fig and add groupings of boxwoods in terracotta pots.
PHASE THREE: Add a lattice fence to cover HVAC units and turf to create a separate potty area for Leo. Start training jasmine to the fence and add potted gardenias and oakleaf hydrangeas to patio plantings. Start looking at outdoor fireplaces for extra ambiance.
SHOP OUTDOOR PATIO DECOR
Do you have any patio design plans this spring like buying a gazebo? If you can't plant outdoors, consider using a DIY LED grow light!