This post is sponsored by World Market but all text, images, and opinions are all my own. Thank you for supporting the brands that keep Thou Swell running!

I updated the living room with a new layout, blush decor, and fresh accessories this month just in time for Valentine's Day, and my whole family fell in love with the result! We lightened up the room by replacing the leather armchairs for our linen pair, and swapping our beige and teal sofas, creating a neutral canvas to completely redefine with the perfect accents. I headed to my local Cost Plus World Market Cumberland and picked up basically every pink thing I could carry (my cart was actually stacked about twice it's height in pillows) and filled the room with the warm hue. While it was certainly inspired by the upcoming holiday, the look is something that we plan to keep around! See the living room layout before, and get all the details on the new decor after the jump.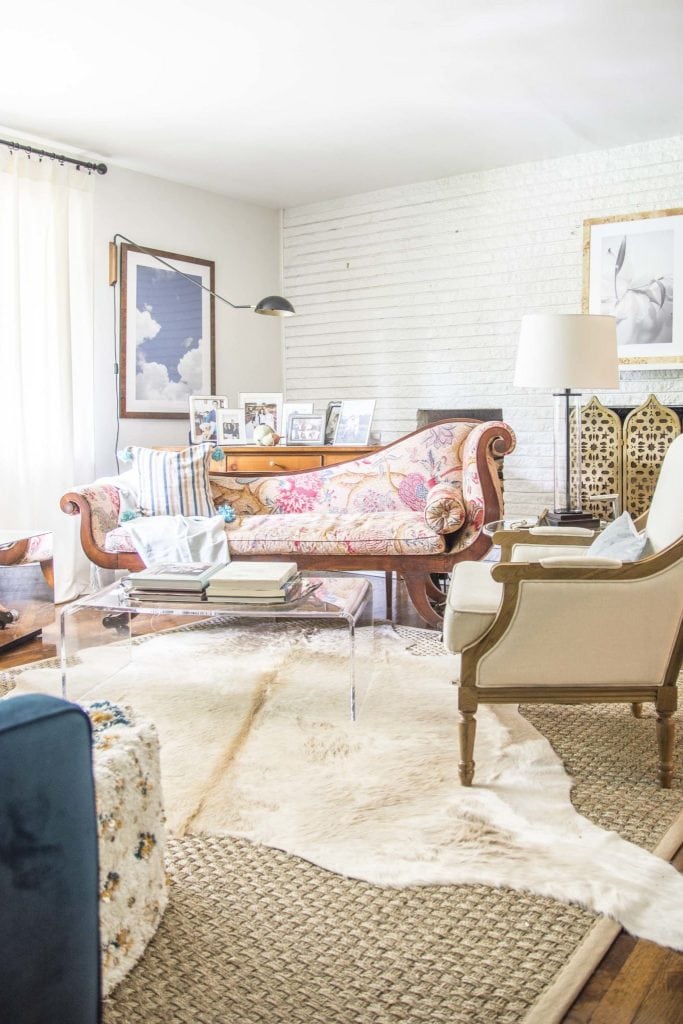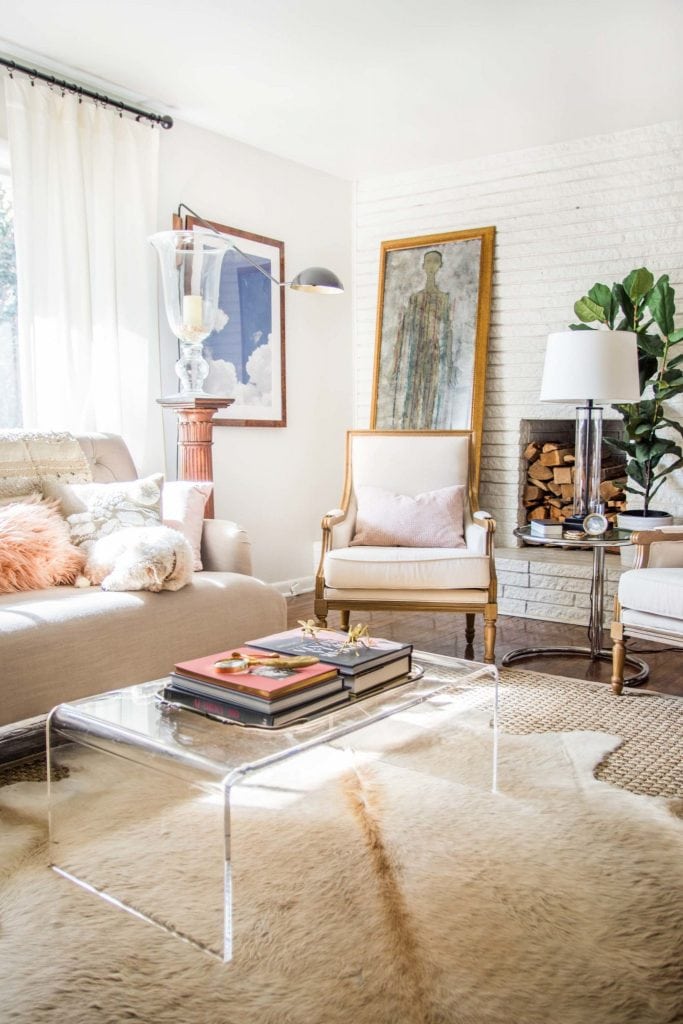 Here is the room before and after the update. I picked everything up at Cost Plus World Market in one fell swoop (and even found some Valentine's Day gifts along the way).First things first, I raided the pillow section to pick up lots of blush pillows to layer on the sofa and add to the armchairs. For the sofa, I knew a combination of solid velvet and patterned pillows layer nicely, and the fluffy Mongolian lumbar fills the center perfectly. The tufted sofa has quite a tall back, so I found a Moroccan style wedding blanket to bring neutral texture (and a little glitter from the sequins) to bring it all come together. On the armchairs, geometric lumbar pillows bring a subtle texture to the arrangement.
On the coffee table I polished off our stacks of coffee table books with delicate gold objets, including a dragonfly, grasshopper, and feather magnifying glass.
One of my favorite additions to the space was this fabulous fiddle leaf fig! With all the trees bare, having this fresh pop of greenery inside really makes the room come alive. This piece is actually faux, but it looked so realistic that my mom asked me "how are we going to keep this one alive?!" when she saw it! We've bought and killed many fig trees so I'm pretty content that this one requires no care at all.
Don't the soft blush accents warm the room right up? Combined with the pale linen upholstery in the pieces we swapped in, the living room feels so inviting right now. It all matches perfectly with the accent wall behind our bar of course. Now we're all ready for Valentine's Day! I think that fabulous Mongolian faux fur pillow or the wedding blanket would make beautiful Valentine's Day gifts for someone to refresh their own home…
SHOP THE LOOK