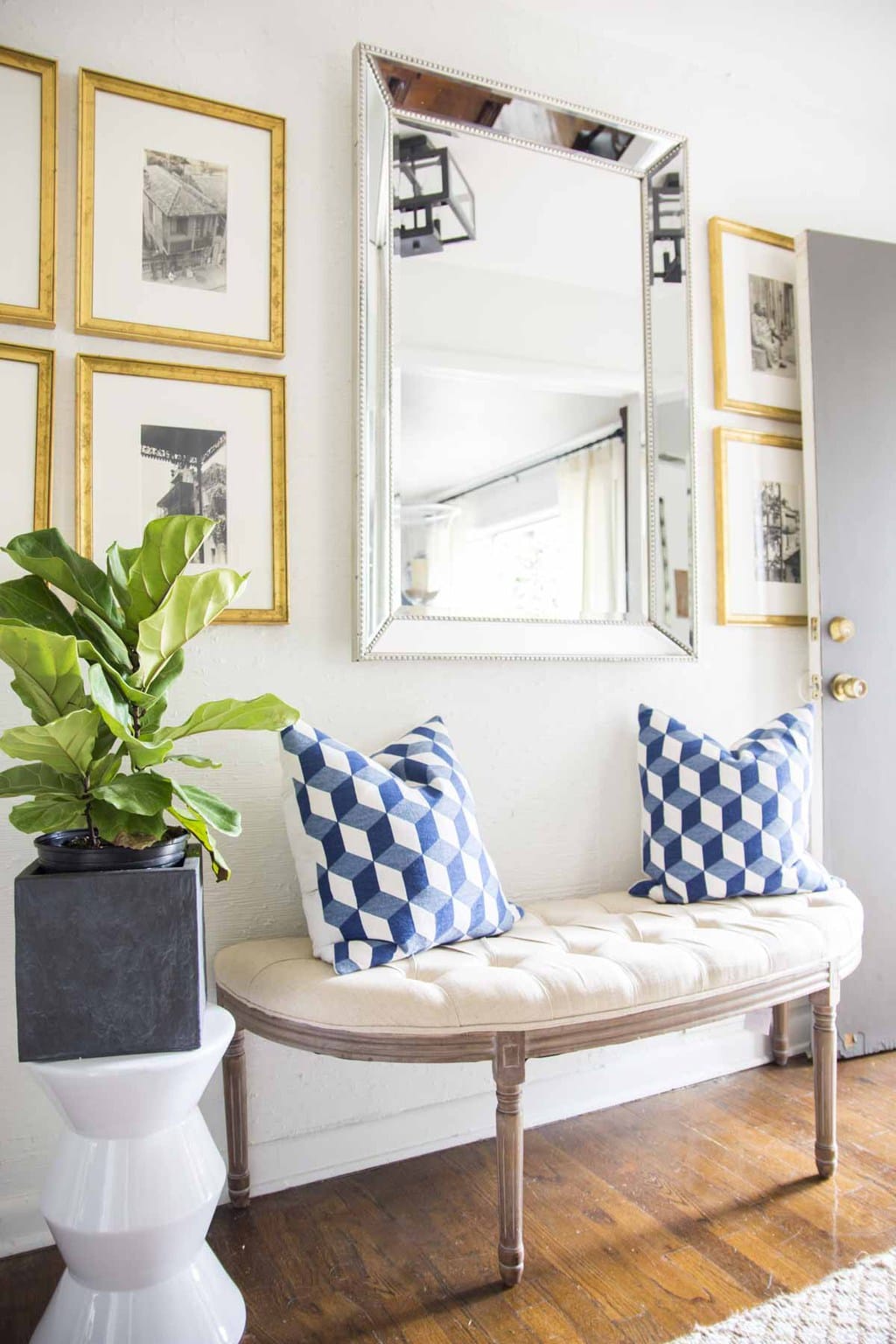 The new year is the perfect time to consider the 'first impression' moment of your home – the entryway. Entryways can be tough places, especially for renters, to create a meaningful moment, but with the right pieces and a little bit of thoughtfulness they can be just as inviting as the living or dining room. I refreshed our little entryway with some key pieces from At Home, to make the space feel larger, more comfortable, and more functional for inviting guests in or getting ready to leave. With the addition of a tufted bench, a larger mirror, accent rug, new light, and a garden stool for a fresh plant, it became a refreshing vignette to say hello and goodbye to each day. See the complete makeover and get my tips for your best entryway after the jump!
As you can see above, the old entryway had just a little too much going on. The marble-top console got moved to our dining room, where it has a bit more breathing room and the demilune bench that replaced it sits far lower in the entry, creating more visual space when you first walk it. It's also so nice to have a place to sit when coming in or going out, or for dropping a bag when you get home. The bullseye mirror in the old entry was a piece my grandfather put together from bits and pieces of plaster moldings, and it's quite a special piece but just wasn't ideal for the small space. Not only did it reflect minimal light, a flatter, taller mirror helps keeps visual obstruction through the entry as low as possible. Find my top tips for a small entryway design below: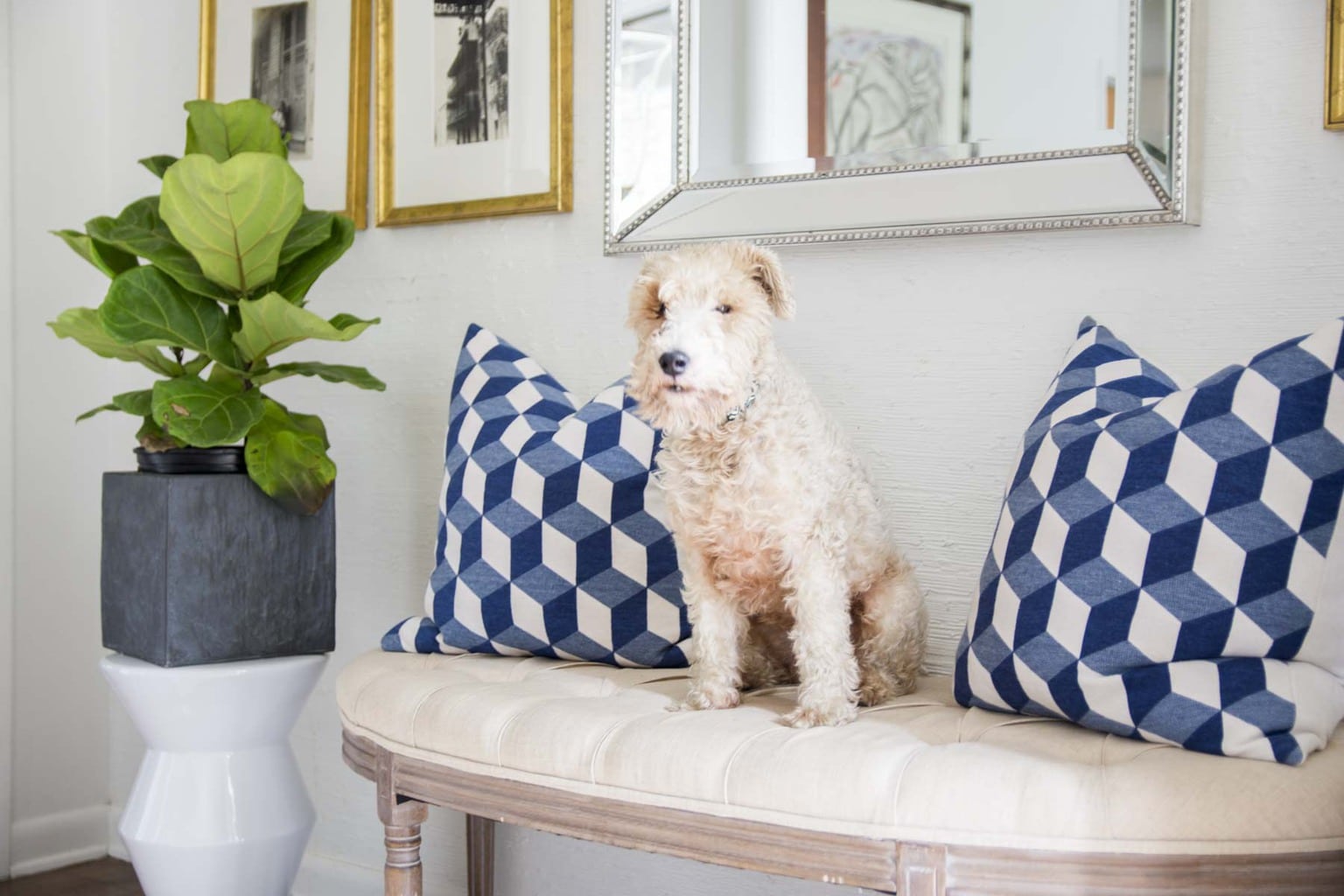 Seating / Including soft seating in the entry gives a warm welcome and is convenient for pausing while leaving or returning. Keeping the seating low is key, either with a long bench or perhaps two smaller benches, to keep the profile of the furniture below the line of sight. The demilune shape of the bench I chose allows for easy navigation around the piece since it's only at its full width in the center of the room, away from the doors.
Lighting / While you want to keep the entryway well lit, it can be hard to hang a chandelier unless you have a tall ceiling. Consider a semi-flushmount lamp, like this one we installed. Look for something that's open and allows for multiple bulbs to keep things bright. If you can't change your light fixture, try sconces or use a slim console with table lamps in your entry.
Reflection / Reflecting as much light into the room as possible is key, so using a large mirror is preferable. Again, keep the profile of the mirror slim so it doesn't stick far off the wall to prevent obstruction of vision through the room. It also helps to extend the ceiling height with a vertical orientation, which is also convenient for grabbing a look in the mirror on the way out the door.
Accents / With the traditional tufted bench, I chose graphic pillows to add a pop of color and pattern to the room. The entryway flows right into the living room, so pulling an accent color from this room helps keep a cohesive look when moving from one space to the other. For another more contemporary touch, I used a sculptural white garden stool as a plant stand for a fiddle leaf fig tree. The live plant helps with a seamless transition from indoors to out and adds a fresh touch to the space.
Does your entryway need a refresh?

This post is sponsored by At Home, but all text, images, and opinions are all my own. Thank you for supporting the brands that keep Thou Swell running!