(Photography: Whitney Ott)
If you're not already familiar with Honeycomb Studio, there's a good chance you'll recognize the work of ceramicist Courtney Hamill – her cream and gold vessels are incredibly popular on Etsy and sell in many Atlanta stores (including west elm). Her signature 22-karat gold luster motifs, simple glazes, and straightforward shapes define the Honeycomb aesthetic, and her growing collection is about to include tableware. "Tableware has always been something I've wanted to do … for a ceramicist, it's kind of like your bread and butter," she told me from her studio in Midtown. The pieces have been in production for a full year, and the collection includes three designs, including classic white, metallic black, and white and gold stripe. The pieces launch at the end of the month, but they can be pre-ordered on the Honeycomb Studio website. If you live in Atlanta, you'll also see the new pieces at The Lawrence, which will match the restaurant's modern decor perfectly. While I love the whole collection, there's a subtle gold reflection in the glaze of the metallic black pieces that's just killer! Click through to see all three sets of tableware, plus get a peek into Courtney's studio through my lens.
SHOP THE LOOK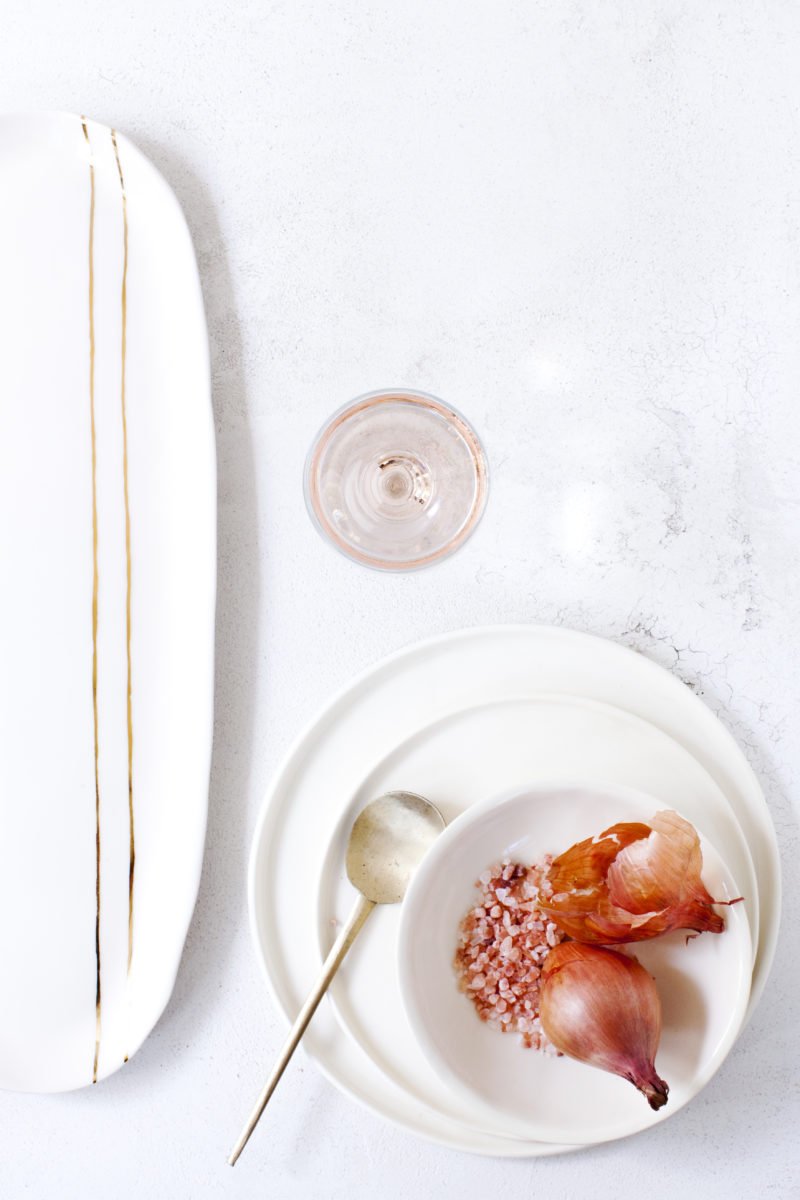 Last week I took a visit to Courtney's studio in Midtown to get some photos of her workspace and chat about the new collection. It was so inspiring to hear about her journey with Honeycomb, which has been a passion project from the start. Talking about the tableware, she said "I haven't been this excited about a product in a long time!" Although she was determined to release tableware from the conception of Honeycomb, she waited until the right inspiration struck to bring it to life. Everything is made in Atlanta, and when I asked how long one piece in the collection takes to make, she told me that the entire process takes two weeks! It's time intensive, but the drying and firing and glazing results in a beautiful, unique product that captures the artist's hand.
(Photography: Kimberly Murray)
The pieces look even more stunning in person – the photography doesn't do these beautiful glazes justice! Check out the rest of Honeycomb Studio's products in their Etsy shop and pre-order the tableware collection on their website.