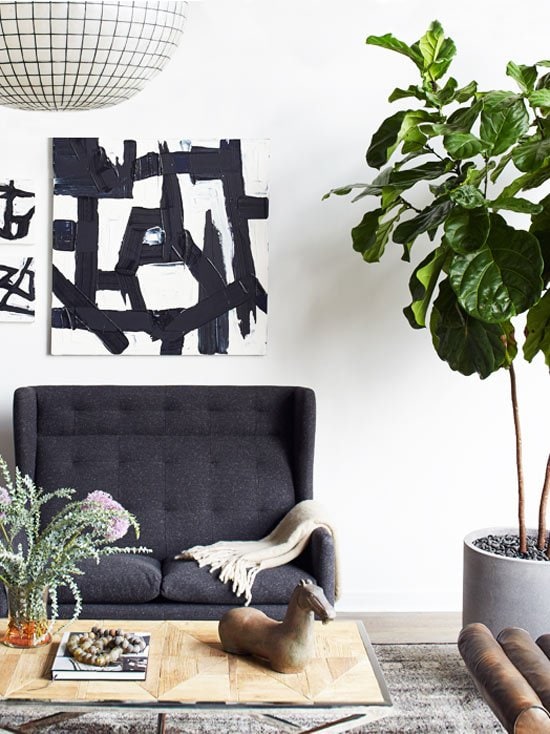 (via Atlanta Homes & Lifestyles February 2017, photography by Mali Azima)
In Atlanta's Castleberry Hill neighborhood, designer Minhnuyet Hardy brings an edgy, modern look to her downtown loft. With raw wood warming her greyscale palette, she brought a bold mix to the home, with statement light fixtures, sophisticated textures, and custom details, like a sliding barn door to the master bathroom. In the living room above, she mixed a settee from west elm with original artwork from Lindsay Cowles and Restoration Hardware's shell pendant light. The "contemporary cool" space will be featured in Atlanta Homes & Lifestyles' February issue – make sure you're subscribed here. To find out more about the rise of modern design in Atlanta, I spoke to AH&L editor Elizabeth Ralls. Read what she said about Atlanta's dynamic design scene below.
SHOP THE LOOK
How has Atlanta's design sensibility shifted or changed since you've been editor of AH&L?
I took the reigns at Atlanta Homes & Lifestyles in August of 2013, when our market was on the cusp of entering a state of full-blown, post-recession confidence once again. That confidence has emboldened our city's design professionals and allowed them to flex their creative muscles in innovative ways–from both an architectural and interior design perspective.
At the same time, we are experiencing unprecedented development and growth here in Atlanta, which has resulted in an influx of outside aesthetics–think homeowners from both coasts as well as internationally, thanks to luxury high-rise residences at the Mandarin Oriental, the St. Regis Atlanta and the Ritz-Carlton, among others, and there are more to come, including two by hometown superstar John Portman.
Many of these units are second, third or fourth homes – and homeowners are employing local designers, craftsmen, artists and showrooms to execute their visions. They are stretching our design community to be more globally minded while imparting international flavor on our once traditional city.
Some of our city's top design professionals do the bulk of their work outside the Atlanta market – from Texas to Bozeman, MT., and New York – and I personally enjoy the opportunity to shine the spotlight on these projects when we can, as it shows just how nimble Atlanta's design community can be.
How do you see modern design manifesting itself in Atlanta's relatively traditional design market?
I think we've come a long way in dividing the community between the two camps of traditional and modern. Atlanta certainly has mastered the art of traditional, classically influenced architecture and interior design. But many of these same classically influenced architecture firms and interior designers have stretched themselves in recent years to make more contemporary aesthetic one more skill in their toolkit.
Modern design in Atlanta has a decidedly Southern spin – there's nothing spare, cold or shocking about it. It still feels warm, inviting, collected and layered.
Which designers, besides Min Hardy, do you see at the forefront of Atlanta's modern design scene?
MUSSO; Mark Williams Design; William Peace; Joel Kelly; and a whole other set of designers who are currently mastering the art of the Southern modern: warm, inviting style for contemporary lifestyles and tastes.
Hardy's stunning loft is a beautiful canvas for her bold design sensibility; high-impact simplicity. While the contrasts are striking, wood, warm metals, and softer textiles take the loft in an inviting direction – with the comfortable spin that's "decidedly Southern." Pick up a copy of Atlanta Homes & Lifestyles' February issue to see this loft in print (plus other stunning home tours) at the end of the month!