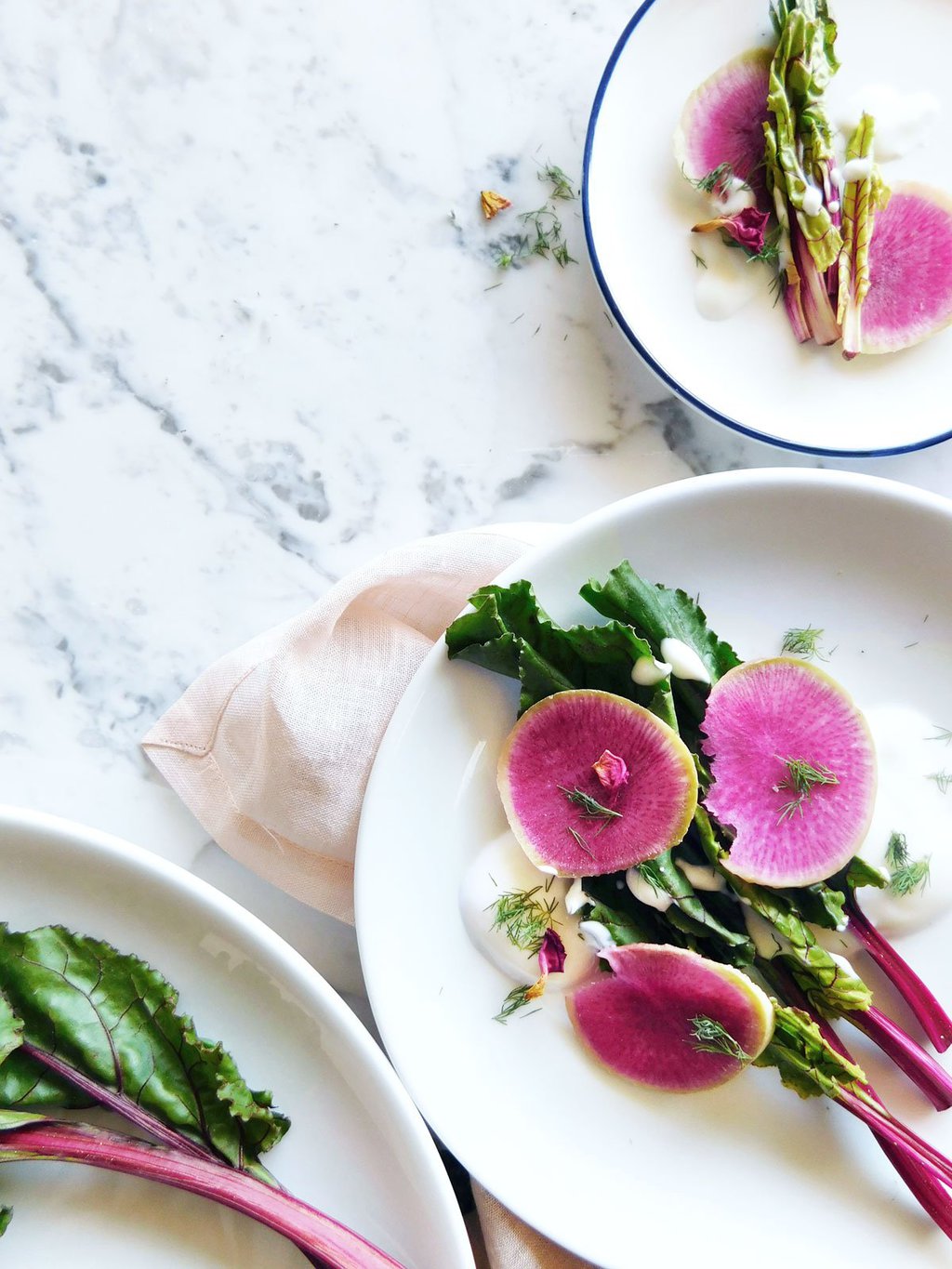 I'm excited to welcome a new food contributor to the blog today, Almila Kakinc, a recent graduate from Mount Holyoke College, where she buried her nose in "stacks of Medical Anthropology, English Literature, Art History books." Her passion is with reproductive rights and healthcare accessibility, and she currently works in development at Environmental Working Group and as a blogger, writer, and holistic health practitioner. Follow her on Instagram, Twitter, and Tumblr.
As comforting as holiday meals can feel, I often find myself searching for lighter bites to give my belly and eyes a break. I often miss the vibrancy of fresher, lighter plates during winter months, and this dish is just that. It's a beautiful appetizer to serve before more seasonal, more substantial dishes. It simply calls for greens, radishes, olive oil, and cultured coconut yogurt, which is a non-dairy yogurt traditionally made with coconut meat. I have provided an easier version here utilizing coconut milk instead. Once your coconut yogurt is ready, simply plate up any dark greens of your choice—I love smaller bits of crispy radish or turnip greens as pictured here—sliced up radishes such as the more mild watermelon radishes, a dollop of coconut yoghurt, a generous drizzle of olive oil, and a sprinkle of high quality sea salt. Enjoy! – Almila
Greens with Cultured Coconut Yogurt & Olive Oil
2015-11-19 13:03:13
Ingredients
1 BPA-free can of coconut milk (I use Natural Value), refrigerated
3 teaspoons of probiotic powder or capsules, enough to provide 15-20 billion cfu
Instructions
1. Refrigerate the can of coconut milk, then scoop out the coconut cream that rises to the top.
2. Place in a clean glass bowl then whip it up until it becomes smooth. Stir in the probiotic powder.
3. Cover the bowl with a cheesecloth and place in a dark, cool area for 24-48 hours. It should taste tangy. Once ready, chill in the refrigerator for a few hours before serving.
4. Plate some fresh greens and sliced turnips, then top with a dollop of the coconut yoghurt and a drizzle of olive oil. Sprinkle with sea salt to taste, and enjoy!
Thou Swell https://thouswell.com/