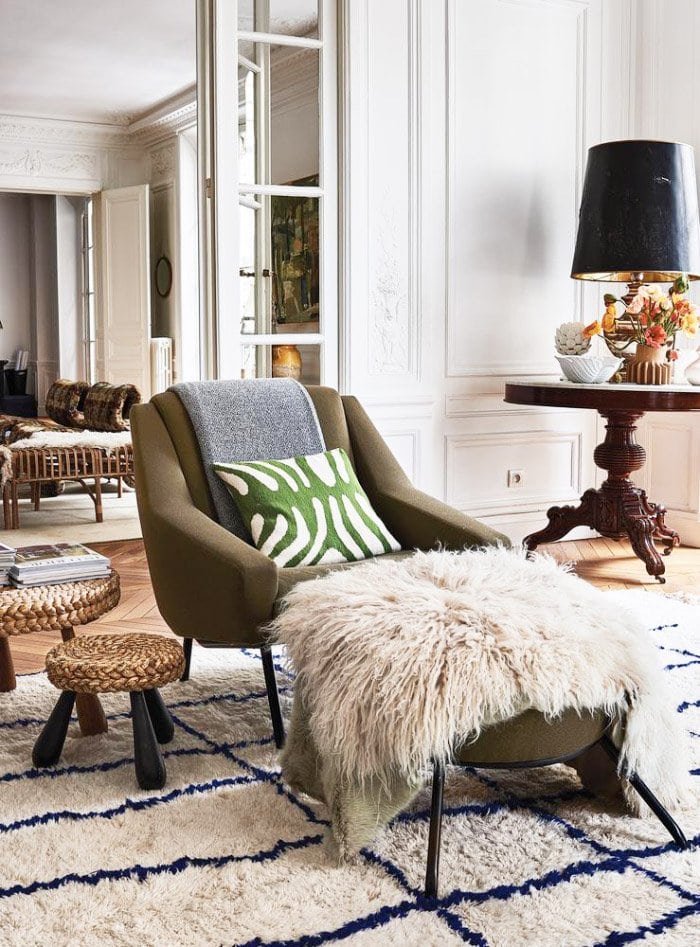 (via WSJ. Magazine, photography by Magnus Marding)
It's clear there is a beautiful relationship between fashion and interiors, especially in the Paris apartment of Chloe's creative director Waight Keller. The home is grand, Haussmanian flat with beautiful architecture and spacious rooms. The space mixes styles effortlessly, with a warm, easy-going vibe that's so welcoming. Even with twin girls, a 4-year-old son and an architect husband, the apartment feels large. Keller brings an inviting, personal approach to the decor, mixing in beautiful sentimental pieces like her grandmother's lamp and a photograph of painting palette tests for a scarf she worked on. Believe it or not, the beautiful parquet flooring was hidden under green shag rug when the couple found this apartment. Mirrored panels and a detailed vignette (see below) transformed the entryway into an elegant starting point for the apartment.
SHOP THE LOOK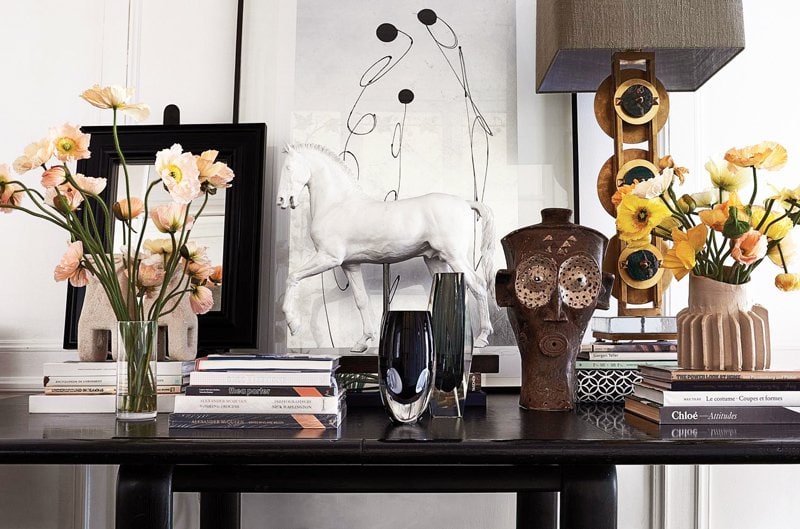 Modern shapes, ethnic patterns and warm colors create a layered scene on the entry table. The brass lamp is from the 1970s, the horse is Italian plaster, and the print is by Gary Hume. The collection of books, art, and objects represents the personal, detailed approach to decorating seen in the rest of the flat.
This Indian chest of drawers is inlaid with pearl, and brings an intricate level of craftsmanship to this corner. Keller's training and experience gave her an appreciation for these sorts of details, and she brings this eye to both her work and Chloe and in her beautiful home. The result is so successful because Keller has invested herself in the decor of the flat, reflecting herself in both the beautiful and sentimental pieces. What's your favorite corner of this Parisian dream?