I'm thrilled to announce that I will be participating in this year's Home Depot Patio Challenge with a slew of talented bloggers (more on that soon). As spring approaches, I'm eager to start giving my dad's patio a makeover to kick-off a season of outdoor living and entertaining. With the great garage doors in his back room, the whole back of the house opens to a concrete patio, which I'm hoping to transform into a lush outdoor living space with the help of Home Depot. I've gathered some inspiration with specific elements I want to incorporate into the new patio design. Let me know what you think of these spaces – do you have an outdoor area of your own to decorate?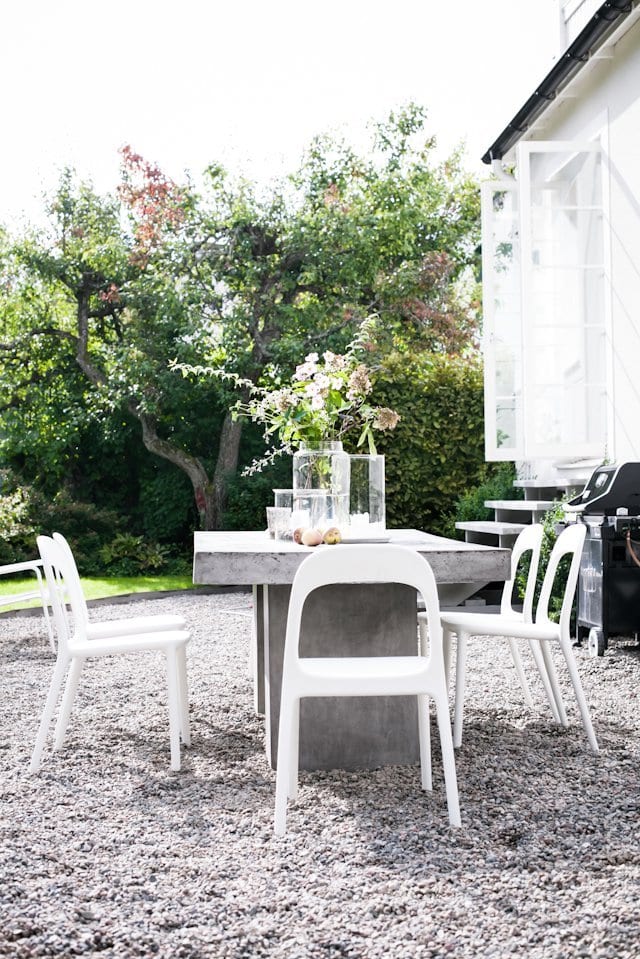 (via House of Philia)
GRAVEL ADDS EASY ELEGANCE
Pea pebbles are a classic terrace element, but look great with any style furniture and decor. They add a hint of European influence – like the loose pebble terraces of country homes and châteaux. I'm imagining a layer of gravel over the existing concrete, which will prevent them from sinking down to keep a deep layer across the area.
(via
Flora Dania
)
CREATE A POTTING STATION
Terracotta pots and watering cans can look chic when gathered at a potting station – especially with a couple of blooming plants in the mix. I like the idea of consolidating gardening materials in one place where you can easily tend to potted plants, plant new containers, or create an outdoor entertaining station on top with glasses and drinks.
(via Michele Bonan)
SPA BLUE IS SOOTHING
When using color outside, I love pairing the shades of summer greens with a soothing spa blue that reminds me of an ocean or pool-side retreat. Spa blue is also more subdued than aqua, with a bit of green in it to create a subtle accent. It provides just enough color to establish a color palette without clashing with nature's beautiful hues.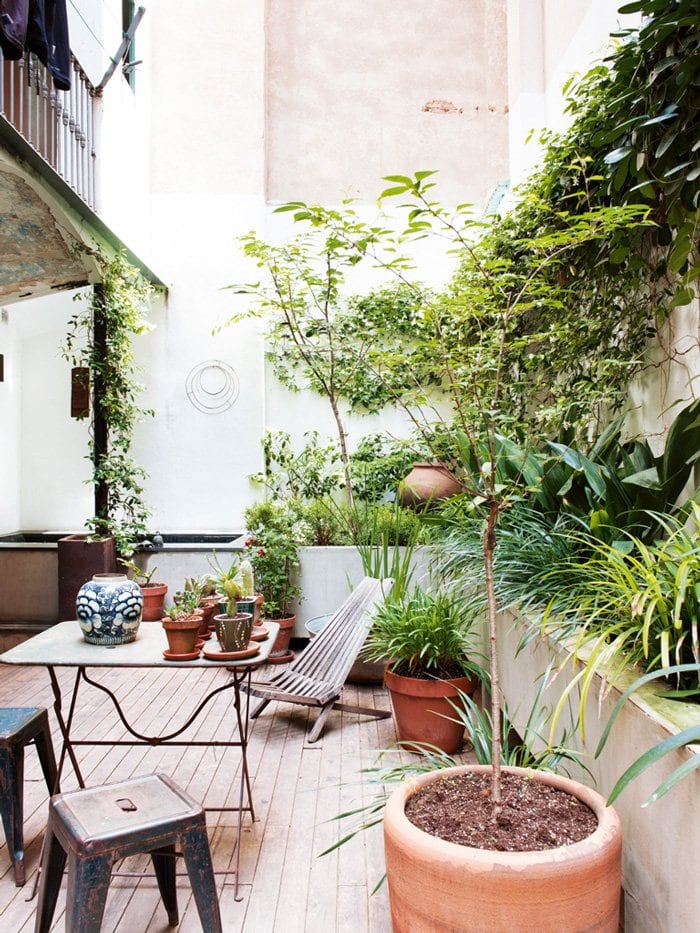 (via Thou Swell – Austrialian Simplicity in Barcelona)
POT PLANTS FOR SCREENING
When it comes to outdoor 'rooms', I always treat plants like the walls. I love elevating taller plants (like palms) in terracotta pots and grouping them to create thick screening. Not only does this add privacy, but it also creates a more intimate, leafy-green space. I'm hoping to add lots of palms to my dad's patio, to create a lush, tropical setting.
(via Eye Swoon)
STRING LIGHTS ADD AMBIENCE
String lights are key for a twinkling evening atmosphere, but they also act as an open ceiling to the space, just as plants acts as the walls. It helps to create a warm, personal setting when the sun goes down, and adds an easy sparkling accent for effortless entertaining.
Follow the Patio Challenge on Pinterest for more great inspiration. Inspired to tackle your own patio update? Let me know your plans, and keep up with my project on Instagram and Snapchat (add me by username ThouSwell or click here on mobile).