While enjoying time with family and friends is what makes the most memorable moments during the holiday season, it's often daunting to host guests overnight in your own home. When it comes to welcoming holiday houseguests, the trick is to think of their needs before they do, so that that they feel as comfortable as possible. Though this seems impossible, there are just a few things to keep in mind to make their stay as smooth as possible. First off, think like a hotel. What would you expect to find when you first arrive in your room? Start there, and then add personal touches to welcome them with warmth and authenticity. With this guide to gracious entertaining with Target, hosting friends and family overnight will be a breeze!
Freshening up your bedding is a must, of course. The trick to an inviting bed is a fluffy comforter and lots of pillows. If your comforter is worn out, just pop it in the dryer with a tennis ball to fluff it back up. And for a fun assortment of pillows, stick with a simple palette and mix up the shapes and patterns. I love how this navy pheasant pillow mixes with the graphic gold patterns!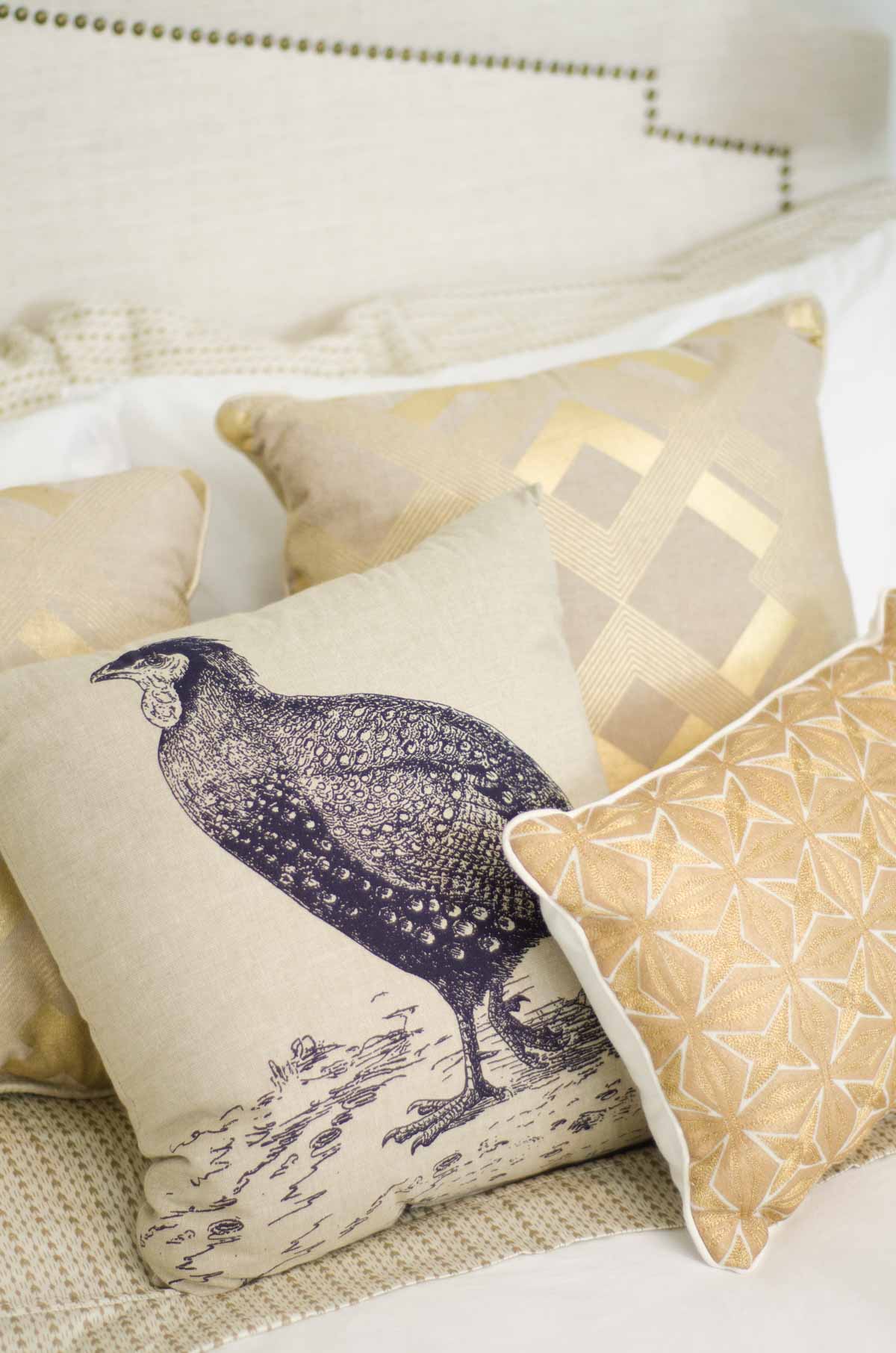 I don't know about you, but after a long (or short) day of traveling, I'm hungry and dehydrated. Give your guest a chance to fully refuel with a water and snack station. I piled a mirrored tray with trail mix, chocolate bars and a carafe of water, plus a candy cane for holiday fun.

The nightstand is precious real estate in a guest bedroom. Think of it as the command center of your guest's experience. Each shelf of this nightstand served a distinct purpose: a stack of fresh towels (and a clean, unused soap) on the bottom shelf, a stack of magazines on the middle shelf, and an assortment of toiletries on top. Target has a great selection of travel-sized essentials like dry shampoo and luxury skincare products that are perfect for offering on a pretty bathroom tray. Another nice toiletry to include a small hand-cream on the bedside table for dry, winter hands. For more aromatherapy, include a festive scented candle or a winter bloom from the garden.

Now for a personal touch: jot down a quick note to your guest welcoming them and letting them know any details about their stay. You can also leave them a spare house key on a chic tassel keychain so they can easily get in and out of the house. Finally, add holiday decor for a seasonal touch, like this ceramic reindeer!

Will you be hosting guests this holiday season, or will you be a houseguest yourself?
Find your style @TargetStyle.

This post is sponsored by Target but all text, images, and opinions are my own. Thank you for supporting the brands that keep Thou Swell running!