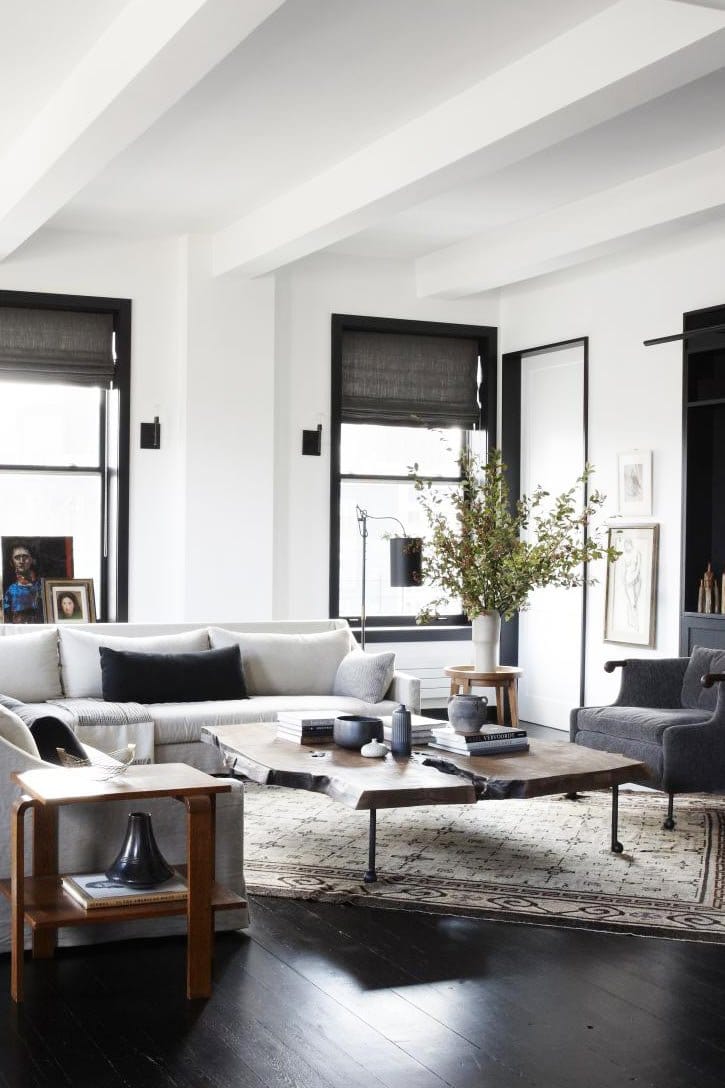 (via Monique Gibson)
In a spacious New York City loft, design Monique Gibson was tasked with creating "domestic bliss" for a creative couple – one-half writer, one-half filmmaker. Gibson kept the palette simple while balancing mix of industrial designs and a light modern touch that leaves each room varied yet simplified in its design. Natural materials – like linen sectional and the live-edge coffee table above – warm up the minimalist rooms, and the designer's signature adds small moments of humor to the modern loft. Take a tour of my favorite rooms in this incredible home below.
SHOP THE LOOK

The loft's design show a myriad of dark browns and blacks, balancing their warm heaviness with the white walls and the plentiful natural light in the space. From the dark stain on the floors to the trim on the windows, Gibson shows skillful mastery of this dynamic contrast.
Gibson doesn't leave whimsy out of the loft's industrially-inspired design – a chalkboard in the kitchen above provides a place to leave sweet messages and hand sconces below add a fun touch to the hallway vignette.
The children's library boasts fully-saturated lacquered turquoise walls, inspired by the daughter's design direction for her room – parakeets. Indeed, it features two of Leila Jeffrey's popular bird portraits, which add the perfect modern art to the room.