(via Sawyer Benson and T Magazine with photography by David Leventi)
It may be the winter weather or my appreciation for well-curated collections, but I love the warmth, personality, and sophistication brought to a room layered with special decor and memorabilia. The owner of this West Village apartment is one of the founding partners of Sawyer Benson, Brian Sawyer. He brought his incredibly adaptive ability to bring his clients' personalities out through design to the design of his own apartment. "I love it here in the wintertime, in the firelight, when everyone sort of gets lost in the little nooks and crannies," says Sawyer in the T Magazine article. From the slate lacquered walls to the eclectic array of birds, vases, art, and objects, the home has a strikingly personal quality that makes you want to explore the maze of rooms yourself. I also love the versatile, dramatic entryway, which doubles as a dining room when Sawyer entertains.
SHOP THE LOOK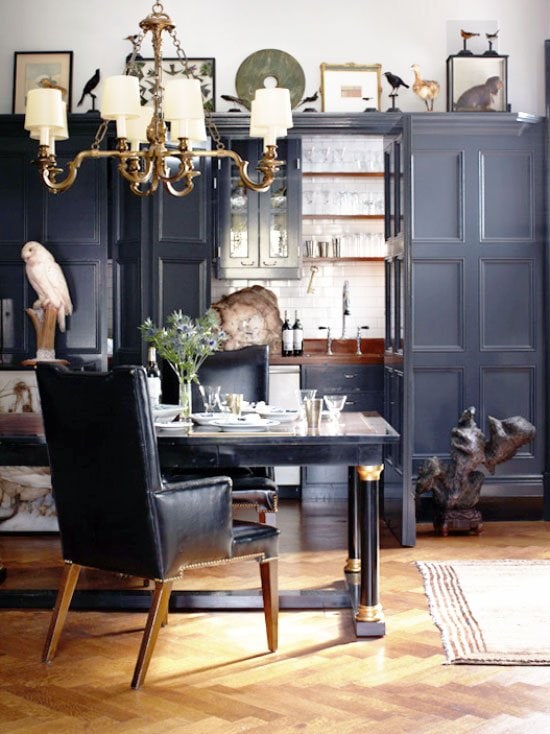 The fireplace in the entry shows off Sawyer's knack for collecting and arranging. Brass accessories, an empty frame, an urn, oil painting, and animal figurines frame the marble mantelpiece. I love those hilarious ceramic pugs!
Even the kitchen is filled with art, beautiful pottery, and great details like the pair of brass keys above the sink. All of these details make a utilitarian space like the kitchen feel just as comfortable and homey as the rest of the apartment, bringing the 'cabinet of curiosities' style decor to the space.
The bedroom takes a pastel deviation from the rest of the apartment, enhancing its serene quality. It may be from growing up in the South, but the combination of chinoiserie wallpaper and shutters on the window gives the room a hint of nostalgia to me…