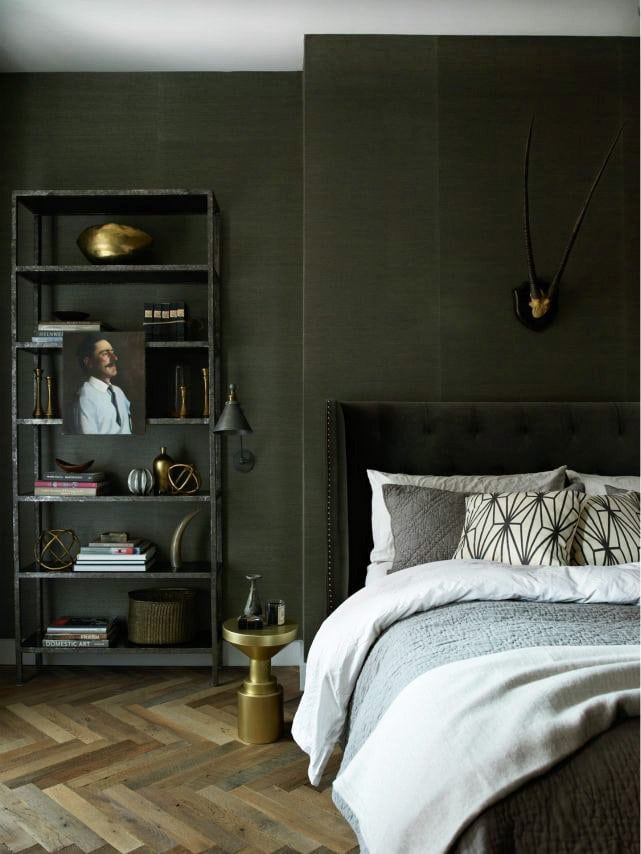 (via Jenny Wolf Interiors)
Let's just imagine for a moment that autumn is a person, and that person lives in Manhattan and is a client of interior designer Jenny Wolf. Well, you might imagine that autumn would like a sparse, moody space with lots of warm neutrals and a clean details. This persona came right to mind when I saw this Soho loft, a masculine design with striking contrasts and a well-curated mix of sculptural details. The loft has a rustic-modern feel that reminds me of another rustic New York apartment I shared this year. My favorite room in the loft may be the bedroom above, which may or may not have green wallpaper, but I loved the color anyway so I pushed it a bit in Photoshop. The hints of warm brass and the rich velvet headboard all create the perfect setting for cozying up my favorite fall palette. You also don't want to miss the incredible kitchen, with an almost counter-to-ceiling antiqued mirror backsplash and a Platner chair at the head of the dining table. Continue reading to tour the rest of this loft.
SHOP THE LOOK

This kitchen is truly state-of-the-art, and I can imagine it's the perfect command central for entertaining. The rustic exposed beam ceiling is balanced beautifully by the sleek steel accents and dark gray cabinetry. And how about that backsplash below? It takes open shelving to a whole new level!
While the living room feels a bit bare to me without a rug, it does show off the fabulous chevron hardwood floor, and makes the coffee table feel even more sculptural. I also love the projector on the wall behind the sofa – it must make a cozy space to curl up for a movie!
The entryway is highly curated, with unique light fixtures and a sculpture (or vase) below the antiqued mirror, which brings some speckled texture to the space. So tell me – do you dig the moody autumn look?