Artichokes are finally in season as spring begins, a time to shed our winter malaise and re-root ourselves in a lighter palette. This edible bud is not only a beautiful excuse to eat flowers (how beautiful!) but also to provide cleansing and rejuvenation for our organs from their cold, sluggish wintry days, and for plenty of fiber and antioxidants. This is a plant-based dish of succulent and meaty artichoke hearts that will entertain your most meat- and potato-loving buds. Enjoy! – Almila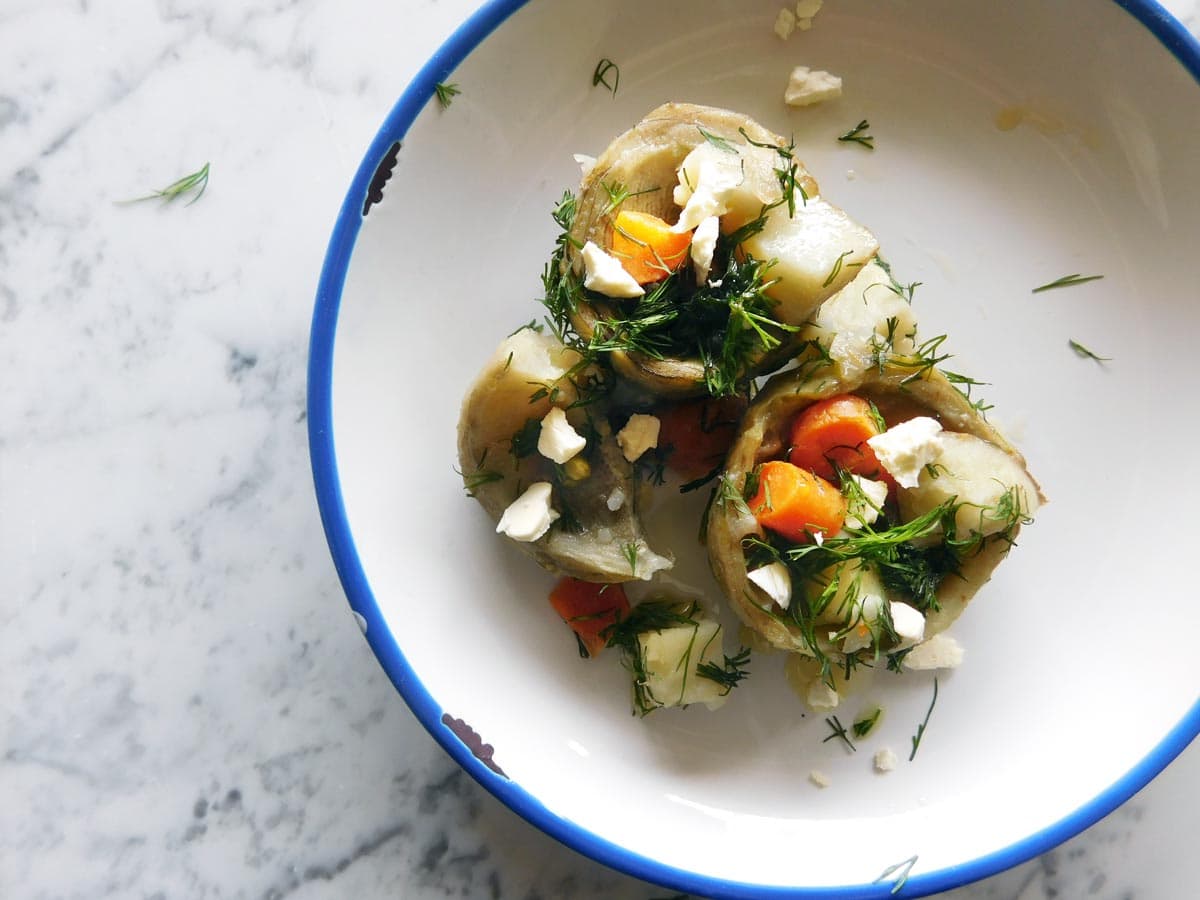 Olive Oil Marinated Artichoke Hearts
2016-03-11 22:58:04
Ingredients
8-10 artichoke hearts
2 carrots
1 yellow onion
1 small Japanese sweet potato
1/2 cup of riced cauliflower or white rice
1/4 teaspoon sea salt
1/4 cup high-quality olive oil
1 lemon
A generous handful of fresh dill to season
Instructions
Coarsely chop the yellow onion and place it on the bottom of a large saucepan.
Chop the carrots into small rounds and place them on top of the onions.
Chop the sweet potato into small dices and place them over the carrots.
Blend your cauliflower rice and pour it on top.
Lay the artichoke hearts over the onion, carrots, cauliflower rice, and sweet potatoes, pour a little bit of water (to fill the pot less than half of what the contents fill it), then add 1/4 teaspoon of sea or pink salt, and turn the pot on to medium heat, covered.
Cook for 15-20 minutes, checking the artichokes for tenderness.
Let the meal cool down then place it into a dish, then pour the olive oil in and chop the fresh dill to season the dish.
I love serving this with feta crumbles on top, or coconut or almond cheese crumbles for a dairy-free option!
Thou Swell https://thouswell.com/