Yes, it's already that time of the year again! It feels like I just finished my
fall ORC
project, but I couldn't be more excited to start the next round with the designer group this time around! Yes folks, I'll be posting on Wednesday for the next six weeks with some crazy talented bloggers and designers (see the full list below). This spring, I'll be tackling the last room in my
Tye Street project
which was never completed – my dad's bedroom. I put this room off because I knew I wanted to do something special for this space, and I'm glad I never completed it! With the help of this year's sponsors, I'll be bringing a masculine, sophisticated design to the space. Meet the designer group after the jump, and see the before photos and my inspiration for the room's design.
Claire Brody | The Curated House | Design Manifest | Driven by Decor | Honey We're Home | Hunted Interior | The Makerista | Making it Lovely | My Sweet Savannah | Pencil and Paper Co. | The Pink Clutch | Savvy Home | Simplified Bee | Sketch 42 | Jill Sorensen | Orlando Soria | Thou Swell | The Vault Files | Waiting on Martha | The Zhush
Media Partner House Beautiful | TM by CIH
As you can see below, my dad has a really awesome pair of red leather chairs and a gorgeous oriental rug, but I really want to start with a clean slate for this project. As much as my dad wanted me to go with a warmer palette so I could use the chairs, they take up a lot of real estate in the room, plus they're in pretty bad shape from sun damage and use. So all that red is out, and blue is in! I also will be sharing a new layout for the furniture in my next post, since the current arrangement leaves little room for tables beside the bed. The bed and media stand are IKEA so they'll hopefully find a new home through Craigslist, and basically I am left with just the mattress in the room… Perfect for a completely new vision!
In a continuation of the house's aesthetic, I'll be mixing dark, moody colors with wood and neutrals for a cozy, masculine space. I'm planning on keeping this room a bit brighter than the living room or entryway, since it only has one window. With that in mind, I'm thinking about bringing a darker color to the ceiling and keeping the walls light. I'm really leaning towards a cooler, blue palette, mixed with darker wood finishes and leather. Here's some inspiration I've pulled together for the new design:
(by Champeau-Wilde via Elle Decor)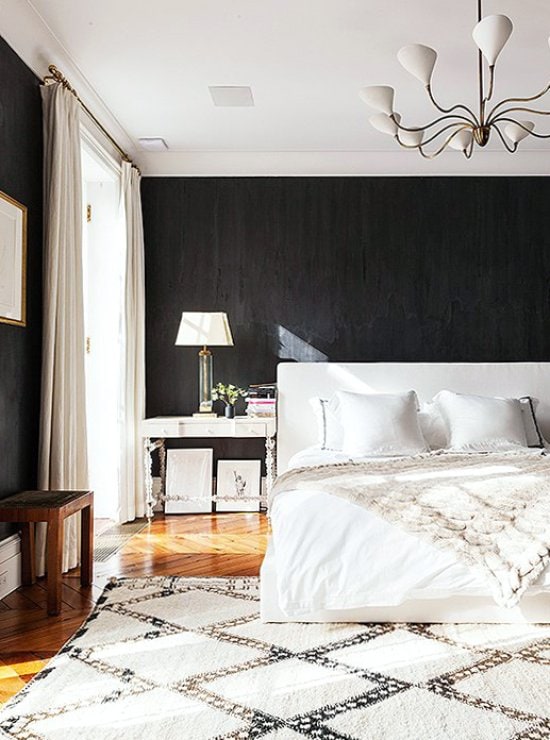 (by Alison Kayne via One Kings Lane)

(by Mikel Irastorza via Thou Swell)

(by Jean Louis Deniot via MyDomaine)

(by Made NYC via Savvy Home)
I'm loving the splashes of blue, modern statement lighting, and crisp white sheets in these bedrooms. Do any of them catch your eye? Follow along on my ORC Pinterest board as I continue to gather inspiration for the room! Also, make sure to out all the other designers' Week One posts with the links above, and head over to Calling it Home to see the linking participants' posts on Thursday.