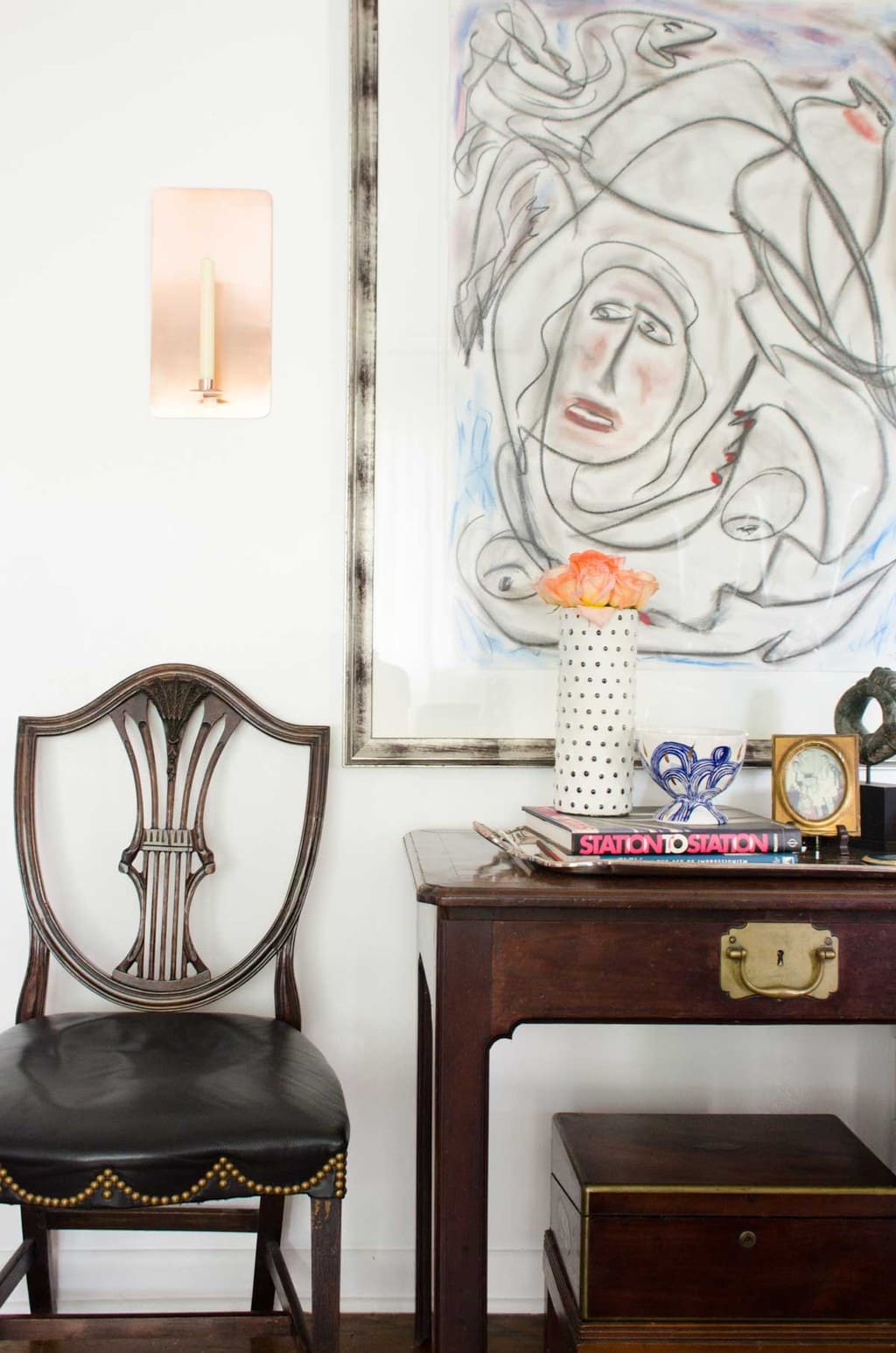 Welcome readers, ORC bloggers, and decor-enthusiasts! If you're new to Thou Swell, you can meet me on my About page, and catch up with my One Room Challenge project here: Week One, Week Two, Week Three, Week Four, Week Five. Introduce yourselves in the comments and let me know your favorite part of my project!
Although I had so much fun with my Spring ORC project, this reveal came together so beautifully (if I do say so myself) that my heart is beating double-time as I type this post. I am so thrilled with the work reflected in this room, as it has definitely been a transformation close to my heart. We spend a lot of time in the living room as a family, reading after dinner, celebrating birthdays, entertaining, playing board games on New Years, and it's a space that needed a a little editing to gracefully reflect transitions in our family life. As I simplified the room, my family instantly felt at home in the new space, and our new teal velvet sofa became a popular (and comfortable) destination. Each element of the room, from the scattered light of the perforated pendant on the ceiling to the organic shape of the beige cowhide, bring new energy to the space, and to the rest of the home as well. The room is a reflection of our family, with a contemporary twist that playfully embellishes the traditional bones of the room. So welcome – I hope you enjoy this peek inside our new living room! See the before pictures here.


These graphic pillow covers make the perfect match for our teal sofa, don't you think? The embroidered pouf was a unique find from this eBay store.
I had to slip in one of bunglo's beautiful pillows (see my last post with them here). You can now find them at Anthropologie!
As you might remember in my Week One post, my main goal for the room was to highlight the heirloom pieces in the room (the chaise and the leather chairs). I started the design process by slanting the chaise at a diagonal and framing it with this oversized modern sconce. It set the tone for the entire project and I love how the new light brightens this corner! Also, how beautiful is the burl frame from Framebridge? It's my second time using their printing and framing service and I absolutely love it!
We picked up this chic agate side table on sale from World Market (and now it's been reduced again!), and it creates a fun design motif with our DIY gilded agate coasters.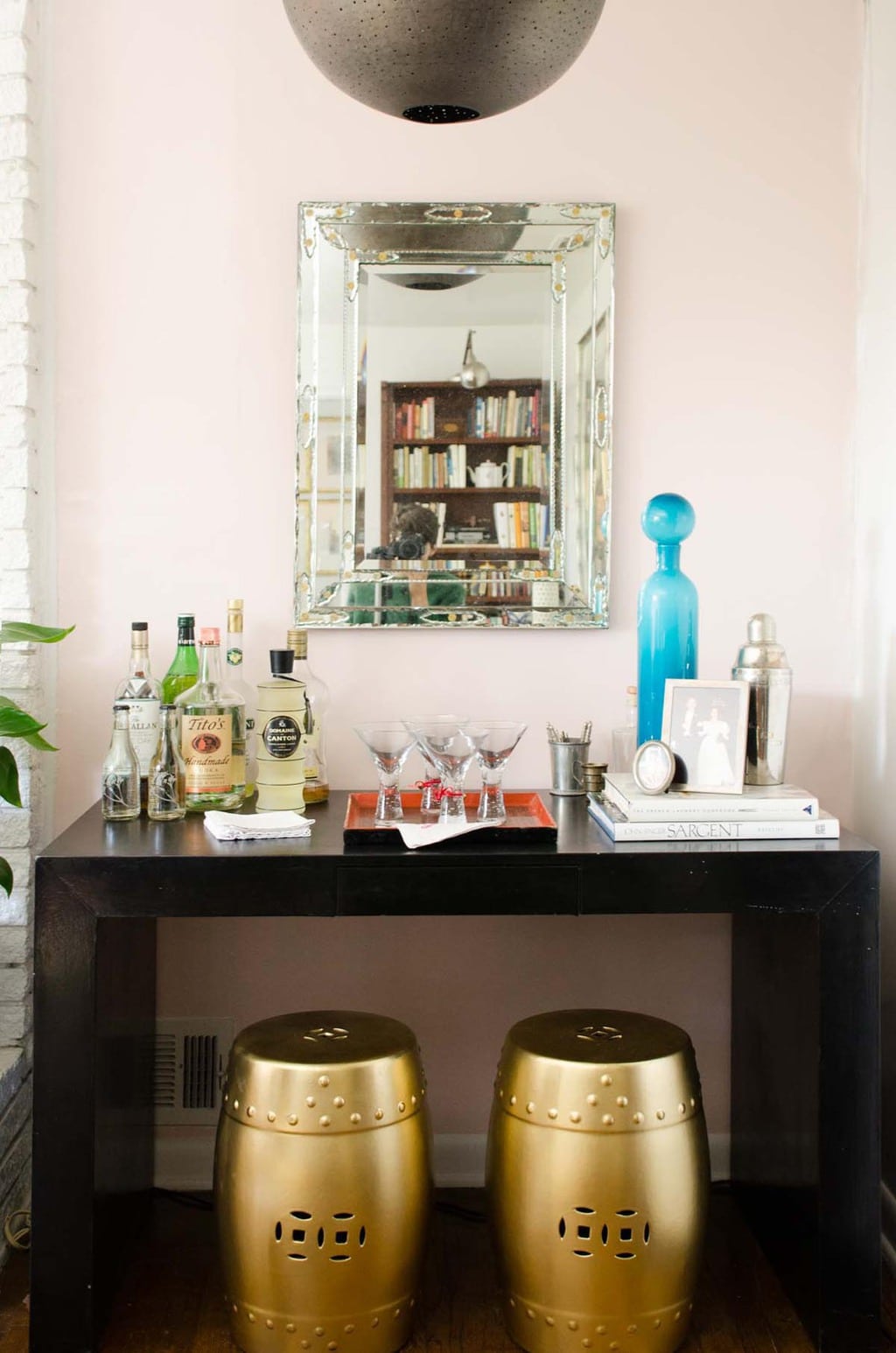 I love how our bar turned out! This corner used to house a large, dark armoire, so it sucked all the light out of this side of the room. Now our beautiful pendant and the warm pink accent wall make it such a glamorous corner! The garden stools were originally brown (and we had used them outside). Some gold spray paint make them sparkle under the Parsons table.
I'm crazy about this fireplace screen I found at Pier 1. It's got such a fun shape, which makes it perfect for covering our plain, angular fireplace. Plus, it's ornate pattern looks great underneath the simple shapes of my abstract painting (from my semester at the Oxbow School).
SOURCES
Sconces, Sofa, Graphic pillow, Lumbar pillow, Watercolor pillow, Mirrored side table, Velvet curtains, Cowhide rug, Swing-arm sconce, Striped pillow, Pink throw, Fireplace screen, Agate side table, Globe pendant light, Teal decanter
Thanks for stopping by Thou Swell, I hope you enjoyed the tour! Now I'm off to check out the rest of the talented folks sharing their room reveals on Calling it Home (thank you Linda for another incredible round of the ORC). Stay tuned by subscribing on Bloglovin or by email to keep up with the exciting projects I have planned for the holidays. Hint hint: I'm teaming up with Target to get you all ready for holiday entertaining and decorating!
SHOP THIS LOOK