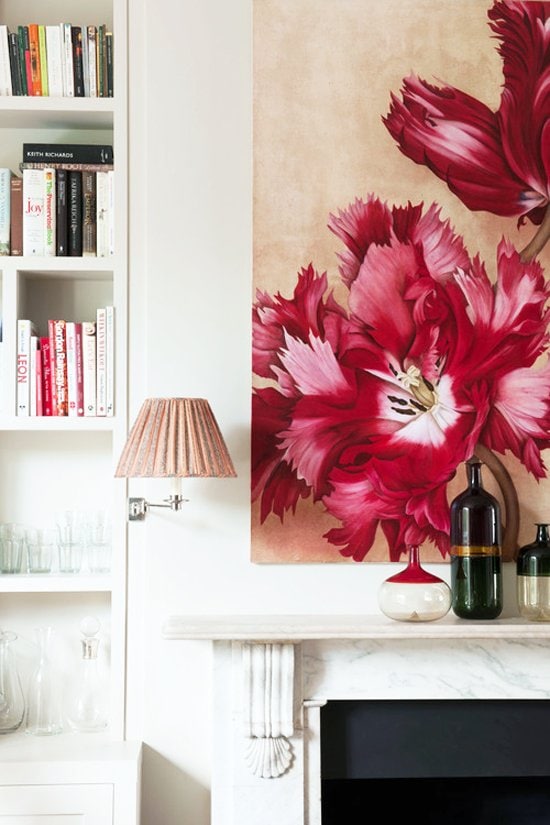 (via Flora Soames)
Welcome to week three of the One Room Challenge (make sure to read Week One and Week Two)! It's officially halfway point – the week you realize how much is left on your to-do list! This year I planned ahead to prevent things getting squished down the road, so things are coming together nicely so far. I'm excited to share a peek at what's going up on the walls, from prints to paint. I'm thrilled to be using Framebridge for another project (they framed the print in my bedroom), and I am so happy with how these prints turned out. If you haven't already explored their straight-forward framing process and variety of frame options, I urge you to check them out. The process couldn't be simpler! We wanted to add a touch of modernity to the room via some refreshing photography, taken by Yours Truly, with the burl frames keeping in-touch with the traditional side of the room.

To stay in our color palette, one print is a lovely photograph of clouds on a deep blue sky. We placed that print in the corner above the chaise, and it's amazing how it opens up the space (it's almost like another window). The other print is a photo I took when my little sister and I were messing around with some old flowers that were falling apart. If you look closely, you can see her hand in the top of the print!
I'm also pleased with a little painting progress in the opposite corner from the flower print, behind the bar. We're pulling that lovely pink hue from the print across the room for a subtle accent wall, and although we've only painted a fourth of the wall, I love how it becomes a warm neutral in the room.
Now there is one more new piece of art for the room, but I'm not sure if we will frame it or not… It's a large abstract piece I painted at Oxbow for above the fireplace. Here's my dilemma: the fireplace does not have a surround or mantle, so the raw canvas feels too repetitive above the 'raw' opening of the fireplace. I'm wondering about a salvaged wood fireplace surround/mantle… or just a minimal mantle ledge for the painting to sit on.

The prints in this project were sponsored by Framebridge, but all text, images, and opinions are all my own. Thank you for supporting the brands that keep Thou Swell running!