(via Inside Tangiers)
Welcome to the third week of this virtual One Room Challenge round, where I'm designing the living and dining areas of an airy loft in Atlanta's historic Fulton Cotton Mill Lofts building. This week I actually had to start making some hard decisions about the furniture in my space, and the design took a turn in a much bolder direction (if the image above didn't already give that away)! While I'm not ready quite yet to show you the actual design board for the living and dining rooms, the fabrics and finishes (especially the dining room paint color) will give you a hint of what's to come in the design board reveals! See how I'm laying out this virtual space below, and let me know what you think of the daring new direction for the dining area…

To remind you of the space this room will be based on, here's a look at the outside and inside of "The Stacks" lofts in Atlanta's Cabbagetown neighborhood:

I took a lot of liberties with the room dimensions and shifted the walls as I placed furniture (definitely not reflective in any way of a realistic design process), BUT I really wanted to share an example of a large living space divided into multiple seating areas. This gives a layout for a large living space where the furniture is providing structure and definition to each area. Take a peek at the design below: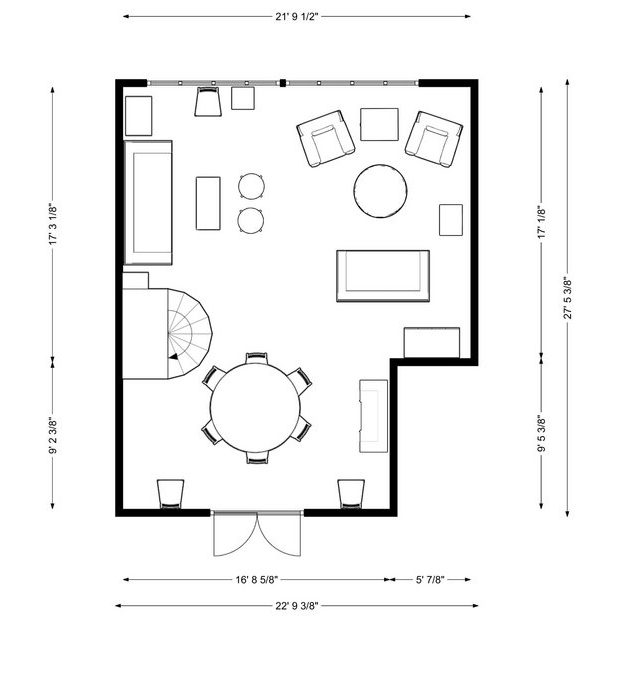 I'm sticking with the polished concrete floors that can be seen in the loft interior above, and white sheers across the window wall in the living room. The walls will be Sherwin-Williams' popular Alabaster paint, which is a beautiful warm white that will ensure this light-filled space doesn't get washed out or feel commercial. It's actually the color on the walls in my apartment living room and kitchen and I really love it!
(Sherwin Williams Alabaster warm white paint)
The dining area is where I swung in a dramatic direction because it's a smaller, cozier area below a lofted second floor that the metal spiral staircase leads to. It presented a great opportunity to go bold with the color and embrace the smaller-scale of the space. I chose Sherwin-Williams' Rainstorm with a high-gloss finish on the walls for a lacquered look. The ceiling will be the same color with a flat finish, and I found the most beautiful matching velvet to make pleated curtains flanking the French doors leading to the kitchen.
(Sherwin-Williams Rainstorm paint color in a bedroom by Ballard Designs)
For the double-doors I really wanted something special, so I found inspiration in these reclaimed 17th-century antique doors with the most incredible patina from this architectural salvage site. They will provide an architectural counterpoint to the great wall of windows and old brick that the living room enjoys.
(Racing Stripe in Red, Alma Velvet in Blue, Faux Bois in Citron, Silky in Smoke, Classic Linen in Green, Kravet Velvet in Yellow, Trend Velvet in Ocean)
The fabrics are a combination of rich velvets and lighter performance fabrics like the fun red racing stripe I'm using on the sofa and an upholstered stool. I am pushing my comfort zone with a mix of colors, especially since I tend to stray away from warmer hues like red and yellow. Bringing complementary colors together can be tricky but in a large space like this, I'll have lots of room to bridge the colors with throw pillows and upholstery detailing like contrast piping.
I am excited to be working with Foyr for the renderings of my room, and they are hard at work bringing to life my selections in 3D with all my custom upholstery and finish specifications. I can't wait to share more of the furniture as I continue to source from the stunning new collections released this month at High Point Market!
Don't miss the latest updates from the rest of the featured designers in the challenge:
FEATURED DESIGNERS
Albie Knows | Ana Claudia Design | At Home With Joseph | Barbour Spangle Design | Dwell by Cheryl | Eneia White Interiors | Gray Space Interiors | Haneen's Haven | Hommeboys | Interiors by Design | Jana Donohoe Designs | Laura Hodges Studio | Lauren Nicole Designs | Nicole White Designs | Nikole Starr Interiors | Nile Johnson Interior Design | Prudence Home + Design | Thou Swell | Traders Haven Design | Whitney J Decor
sponsors