The Home Depot provided me with product and compensation. The opinions I have shared about the products are my own.
When you think of decorating the bedroom, key pieces like a bed and nightstands come to mind, and while these are clearly vital to the room's function, the bedroom is much more than a place to sleep. Your bedroom is the most private space in the home, and it's often the perfect place to include a comfortable accent chair to really make the room complete. While we often sit or lounge in bed, dedicated seating serves as a way to distinguish between relaxing and sleeping, and also can be practical for perching while putting on shoes or simply having a cozy corner to read a book. Adding this extra seating is key to taking the room from simply functional to a luxurious retreat!
With the help of Home Depot, I took my bedroom to the next level with the perfect bedroom accent chair – a cozy wingback armchair. I styled a corner of my room for the chair, creating an inviting corner that provides the perfect place to work, read, study, or just perch to tie my shoes in the morning. With a mirror to bring symmetry to my bed, I was able to swap a full nightstand on this side of the bed for a smaller side table that's the perfect companion to the chair. On the other side, I added a floor lamp that illuminates the corner with the perfect ambient glow. With a few key accessories and a sisal area rug to tie the whole room together, this new corner featuring the perfect accent chair upgraded my room tremendously.
SHOP THE LOOK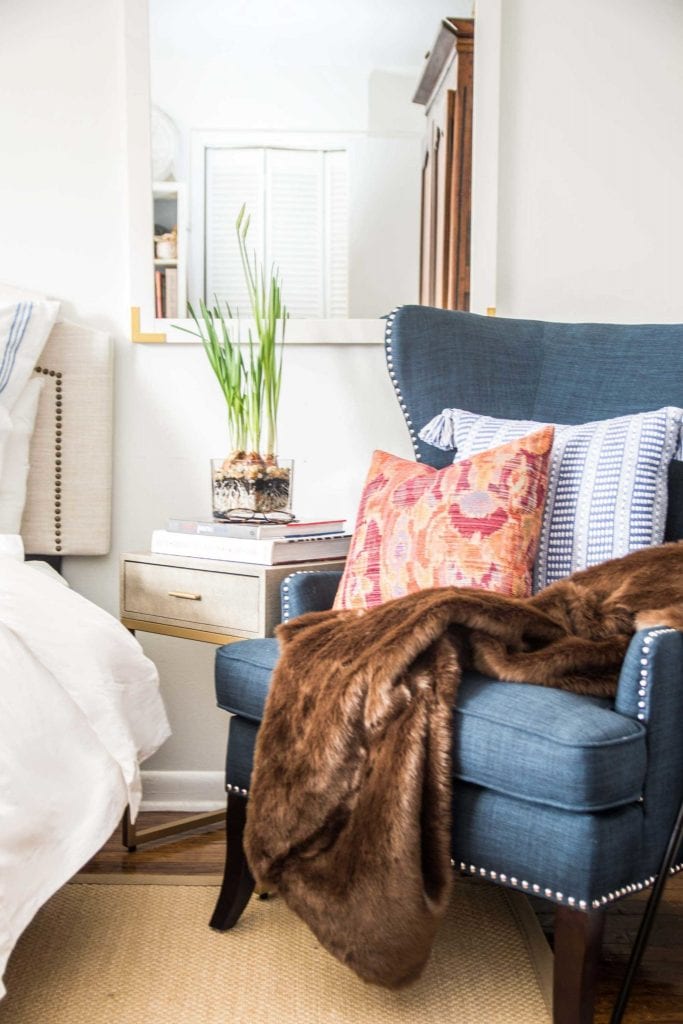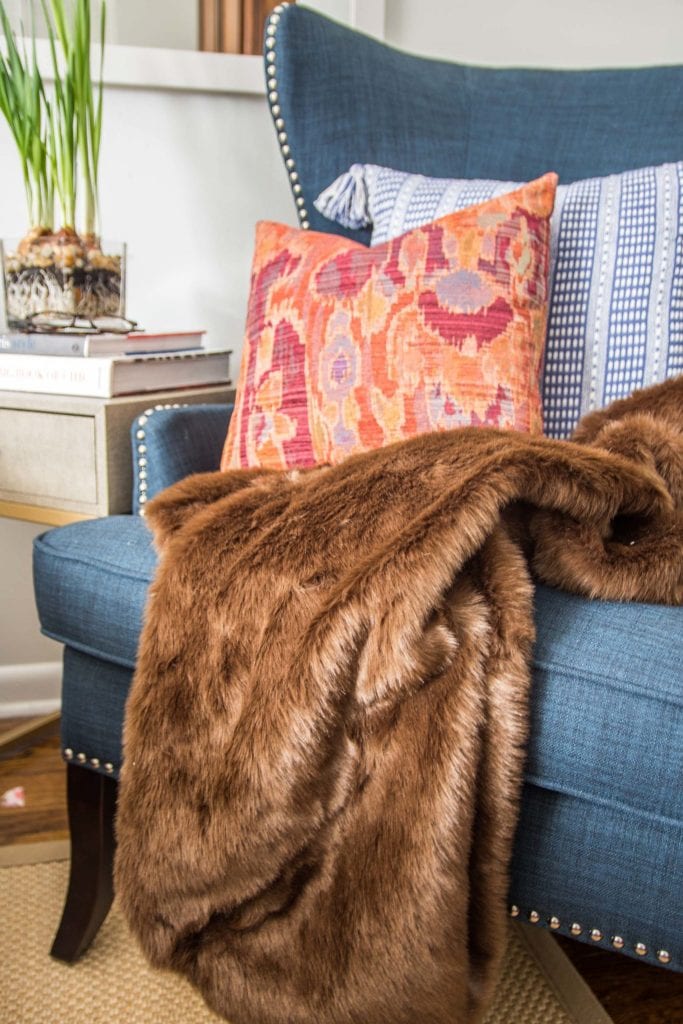 I filled the chair with a brown faux fur throw (seriously the BEST faux I've ever felt) and a cozy Ikat pillow to add the perfect pop of red to the vignette. Underneath, the new sisal rug really brightens the room and creates the perfect neutral canvas for all the pieces to come together.
Gold accents are another motif that tie this corner into the rest of the room, with the detail on the tripod floor lamp, the wall art, the base of the side table, and the brackets on the wall mirror creating a cohesive detail throughout the space.
This new side of my room goes beautifully with the blue swirl lamp and fun pillows I shared in my last post with Home Depot! I just love putting this corner to use, and bringing a more polished look to my room in the process. There's something about a wingback that is just so cozy, and I love that there's a great place to sit and relax in my room now. Consider bringing an accent chair into your own bedroom, and by adding some dedicated seating your bedroom will feel even more like your own personal retreat.