(via Thou Swell – Guest Bedroom Refresh with Serena & Lily)
You might remember when my cousin Meghan moved to Atlanta last summer and we painted her living room and bedroom with two great colors from Clare paint. She actually moved to a new building this year so we have a new space to work with and I'm excited to share the first room we're working on – her bedroom. I'm working with her existing bed, desk, and a faux fireplace so I turned to AllModern for some fun accent pieces and decor to give the space a new look. We are also repainting the space from boring beige to a refreshing warm white and pale blue combination, with a high-gloss finish on the ceiling and doors to bring a polished touch to the room. See the design board with all the additions I'm introducing to this bedroom and the video below for a behind-the-scenes look at the painting process!

I went with a fun, eclectic mix for the accent decor. It gives the room a neo-traditional twist with a feminine touch that is so perfect for my cousin! The contrast of blue and white in the curtains are going to be so key for bridging the soft blue accents and the warm area rug, and I am so excited to hang the sculptural mirror above her fireplace!
Design Board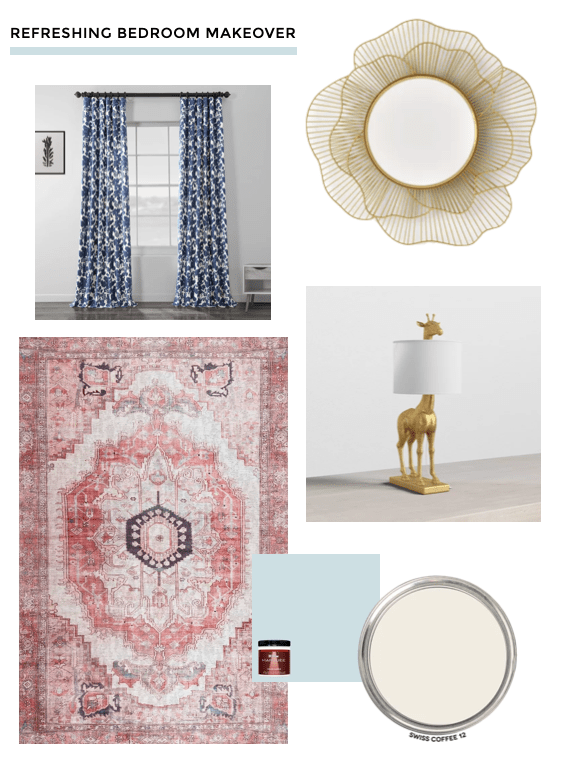 Get a sneak peek of how the painting is coming along with this fun TikTok I put together! The two colors I used are Behr's Waterfall light blue paint with a high-gloss finish for the ceiling, doors, and fireplace (plus a fun faux mantle you'll see in the reveal), and Swiss Coffee warm white paint in satin to brighten up the walls and trim.
The beige on the walls didn't look dark until I started painting on the white – the contrast really showed the difference a beautiful bright coat of white makes! Can't wait to share the final room reveal soon.
Shop the Design