I had so much fun hosting the west elm Local Pop-Up shop this past weekend! If you follow me on Snapchat (username: thouswell), you may have gotten a glimpse of some of the maker's set-ups in the store. I loved getting to know the incredibly gracious store associates and the creative minds behind each shop that were part of the Pop-Up. Make sure to add these shops to your notes!
Green End Designs
Katie Price of Green End Designs makes handmade and custom jewelry pieces, inspired by bohemian and vintage designs. Her pieces range from subtle drop earrings in bright stones, to agate slice necklaces that make a statement! Some of my favorite pieces in her shop include the North Star pendant necklace, Striped wooden horn pendant necklace, and her Blue sapphire and gold post drop earrings.
Jennifer Lesley Design
Jennifer Lesley of Jennifer Lesley Design has a super cute Etsy shop with handmade products that range from tea towels to (brilliant) leather heart bookmarks. I immediately thought of my little sister and bought one of the bookmarks in gold – they're the perfect birthday gift for an avid reader! Some of my favorite products from her shop include the Hand-knotted woven wall hanging, Marbled leather heart bookmark, and her Brush-stroke border linen tea towel (on sale!).
Kristian A. Howell
Khristian A. Howell is an author, interior stylist, and color and pattern expert! She has a fabulous line of colorfully patterned tech accessories, prints, wrapping paper, stationary, and decor, and contributes to Better Homes & Gardens. Some of my favorite products from her shop include the Color + Pattern: 50 Playful Exercises for Exploring Pattern Design book, Nina gift wrap, Deuces iPhone case, and her Une Femme throw pillow.
Little Tart Bakeshop
I was so delighted to have the incredible baked goods from Little Tart Bakeshop served in the store. If you live in Atlanta and you haven't tried one of Little Tart's pastries, you're in for a MAJOR treat. Little Tart uses European techniques with local, seasonal, and organic ingredients. They're the real deal – I mean it! You can find them at the Grant Park Farmer's Market on Sunday mornings, at Octane Coffee at the Jane, or in the Krog Street Market.
Double Dutch Press
Katherine McGuire from Double Dutch Press was there with an amazing array of printed products, including cards, prints, and totes. She's half of the DDP team, which is based in Athens, GA and provides printing services, as well sells as its own line of printed goods. Some of my favorite products from her shop include the Carnations postcard set, Two Forks One Pea print, and their Autumn print.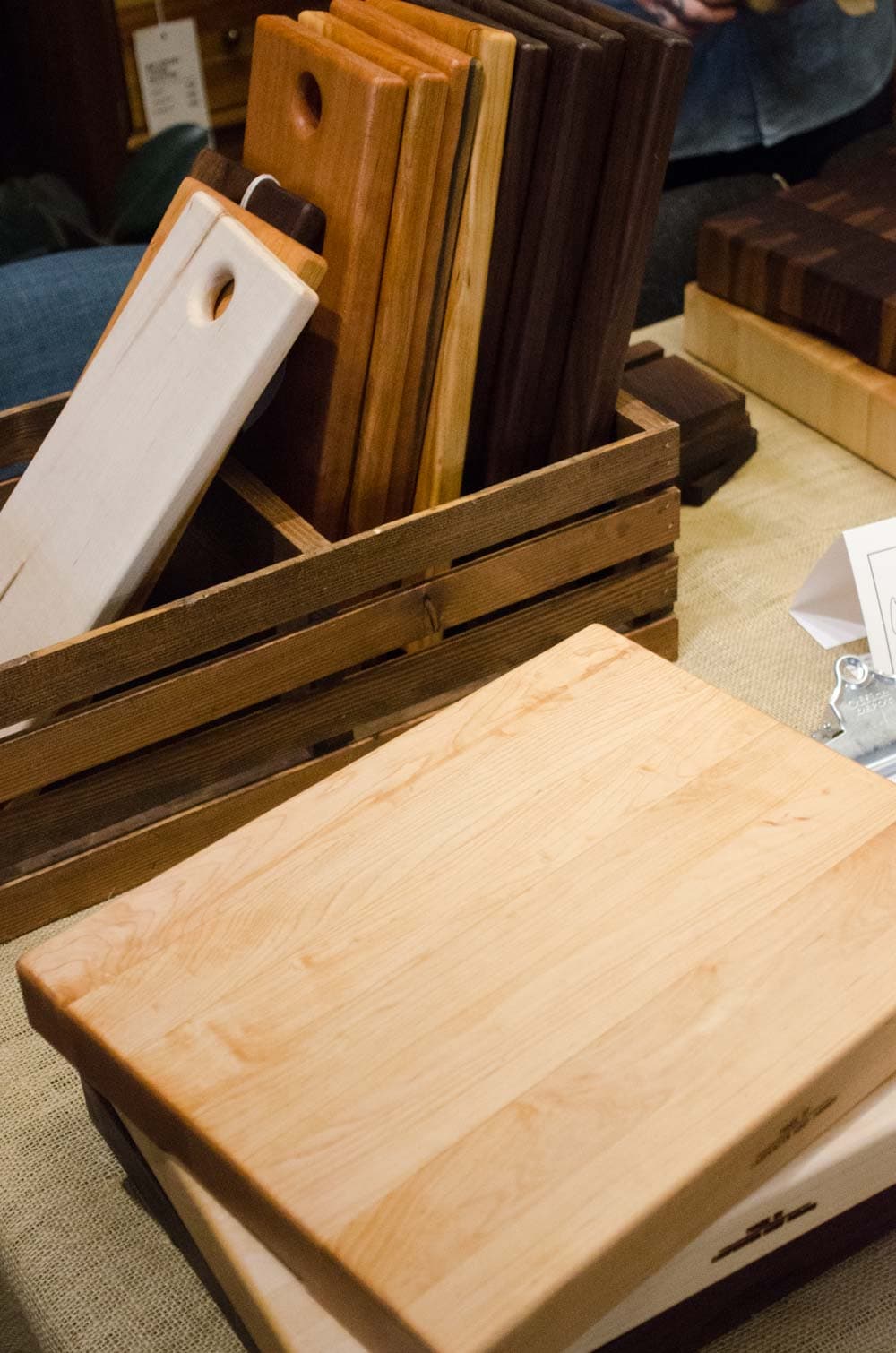 Carpenter Koby Downs
Koby Downs of Carpenter Koby Downs brought an amazing selection of handmade wooden cutting boards to the pop-up. His cutting boards are beautiful and would make amazing gifts! I may have to pick one up for my dad for Christmas… Koby also makes custom furniture, which I recommend if you're looking for a unique piece for your home. Some of my favorite products from his shop include the wooden beer tote, Ambrosia maple cutting board, and his Reclaimed beech butcher block.
Ink Spot Workshop
Stacy from Ink Spot Workshop will make you smile! Not only does her line have a sense of humor, she's super sweet. Her shop includes a super fun mix of prints, stationery, gifts, journals, and other home and desk accessories. Some of my favorite products from her shop include the Gold foil palm leaf trinket tray, Flamingo matchbox, Thank you greeting cards, and her Spotty notes journal.
Local Produce
Local Produce is a mother-daughter duo that makes a beautiful line of pillows and home textiles. Their products have panache, and they source everything locally (hence the name). They have a sophisticated collection that you can shop at the Atlanta pop-up in the Westside Provisions district. Some of my favorite products from their shop include the Red silk and navy linen throw blanket, White linen and grey houndstooth pillow, and their Grey and beige geometric pillow.
DJ Tim DeGroot
I listen to weird music for my age group – I really love european lounge, bossa nova, and samba music, which is fantastic because that is exactly what our amazing DJ played! Tim of RareFormation couldn't have been a nicer guy, and he spun with amazing energy. He mixed a sophisticated mix of genres that was perfect for the event and the crowd. If you ever need a DJ for your event – and Tim travels anywhere – I would definitely recommend checking out his work!
A big thanks for west elm for helping me bring together these local creatives! P.S. I couldn't be more excited for their moody fall collection…