This is a sponsored conversation written by me on behalf of Hive Home. The opinions and text are all mine.
The holidays are already known to be a hectic time of year, so any chance to shave off time or not worry about the little things like remember to turn off the Christmas tree lights off is always helpful. So naturally, I turned to Hive smart products this year to set-up holiday decor with their family of devices to make things just a little easier on ourselves, from entertaining to enjoying family time in the living room. From scheduling the Christmas tree lights to incorporating a motion sensor in the entry and using their color-changing Active Light above the bar for extra holiday cheer, I've broken down all our 'smart' decor below!
P.S. Save 10% off your Hive pack with code KEVINHOLIDAY10!


Check out our sneaky little motion sensor in the entryway! It can be connected to any of the devices in the living room so that during a certain period of time, it will 'trigger' the other devices to turn on or off when it detects motion. In case you've got a crazy schedule and can't predict when you'll be home, this little guy will make sure the lights come on the second you walk in the door.
The Hive Active Plug is the easiest way to control anything that plugs into the wall. No more crawling under the Christmas tree to get the lights on, you can simply set a schedule for your plug to turn on and off so you'll never worry about forgetting to unplug the tree lights again.
[ezcol_1half]
[/ezcol_1half][ezcol_1half_end]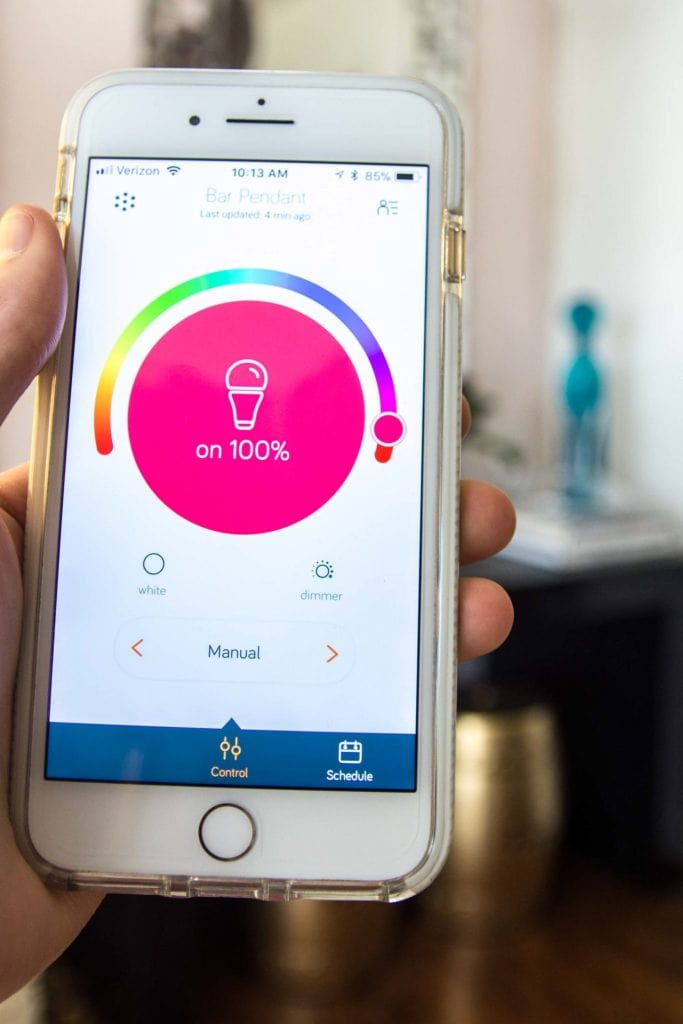 [/ezcol_1half_end]
Now for my favorite little holiday detail above the bar – setting a festive pink hue for our pendant light! With the Hive Active Color-Changing smart bulb I could simply choose the color I want from my phone and watch the pendant glow in any hue. It makes a really fun statement in the living room and looks great against our pink accent wall!
With our holiday decor automated, we can sit back and relax while our Hive smart devices take care of the details. Check out their packs, starting at $199.99 or $8.33 per month, on their website.