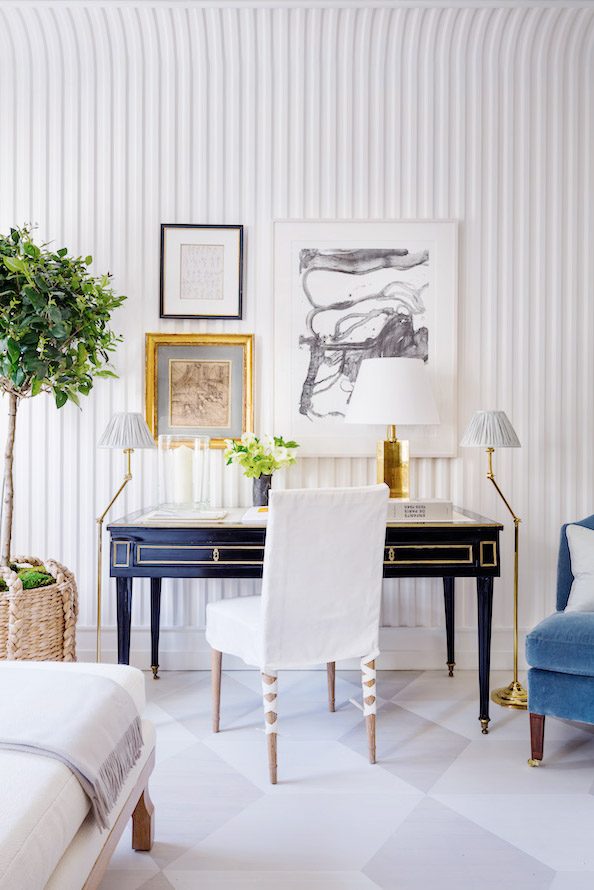 (via
The Zhush
, design by
Sarah Bartholomew
)
Home office design – or lack thereof – have become especially important these days as we all do our part to slow the spread of COVID19, so I wanted to share an inspiring work-from-home scenario that caught my eye from the Kips Bay showhouse. I love this space designed by Sarah Bartholomew, and it includes some essentials for a good home workspace, whether you have the space for a dedicated office or can carve out a workspace from your dining room or kitchen. You'll need plenty of light, and I love how Bartholomew placed matching floor lamps on either side of the desk. You'll also want a comfortable chair (preferably something upholstered), inspiring artwork, and something green nearby. It's proven that just the sight of nature has many health benefits! Take it from a professional work-from-homer – these details make all the difference when it comes to improving productivity when you live and work in the same place. Shop the look below!

Stylish Home Office Design
Click the products above to shop the look.
Wishing everyone patience and good health while we flatten the curve… Stay strong!