(via House Beautiful, photography by Victoria Pearson)
When you think of minimalism, you may think of serenity as white spaces, Scandinavian neutrals, and clean lines. This California home brings across a sense of another kind of minimalism, a calmness that comes from a kind of comfort and ease that grows as easily as almonds and pears on the West Coast. Frances Merrill has decorated a retreat in warm terracotta tones that evoke the warmth of a winter fire, a sunny villa in the south of Italy, and the burnish on a worn cowboy saddle all at once. Choices like the fantastical blue powder room or the whimsy in the rattan hanging chair against a botanical wallpaper are grounded by her earthy palette and cozy layers of pillows.
SHOP THE LOOK

The dining room's stars are the woven chair suspended from the ceiling and the fabulous Pierre Frey 'Espalier' wallpaper on the accent wall. Light from the tall windows is maximized by round mirrors, and the space is kept bright with pale curtains and the white sofa. The Moroccan-style poufs keep a sense of continuity with the natural leather Merrill has added throughout the house.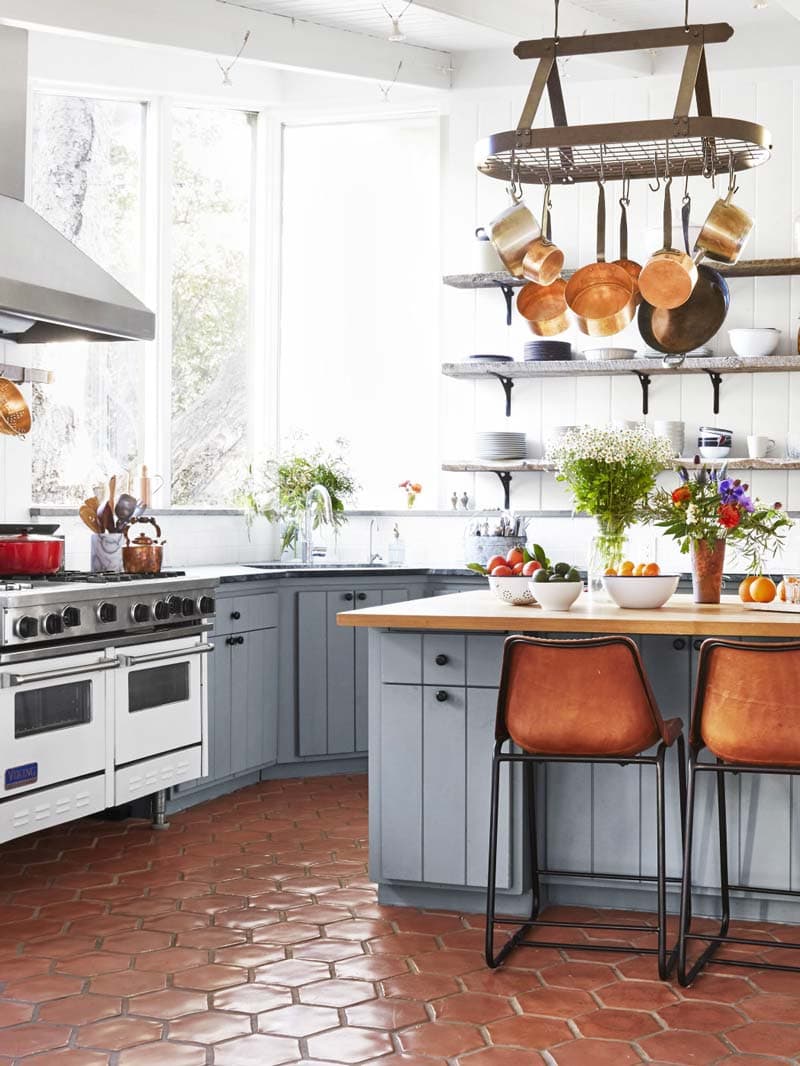 In the kitchen, warm copper tones glow, thrown between the leather bar stools in a simple curved shape, the terracotta tiles, and the elegant old-style cookware. The elegant blue-gray paint Merrill chose for the cabinetry is a perfect pairing.
The Farrow & Ball 'Hague Blue' powder room is both wild and elegant, with little to distract from the night-sky saturated tone of the walls. A small space like a bathroom is a great place to really soak the room in color.
While the bedroom is lovely and peaceful, I have to admit I'm particularly struck by the tasseled bedspread, echoed in the delightful knot-beaded tiebacks for the curtains. Bright details like these give a quiet palette its personality, and the softly upholstered bed frame continues Merrill's focus on livable, elegant comfort throughout the home.
What's your favorite part of this inviting California home tour?