This post is sponsored by Mars, Inc and American Greetings but all text, images, and opinions are all my own. Thank you for supporting the brands that keep Thou Swell running!
Valentine's Day can be such a joyful holiday when you embrace all the different kinds of love in your life – not just significant others but also family and dear friends. It can be easy to give someone a little reminder that you love them, especially when you can pick up Valentine's Day cards and candy (like some special M&M's) to make the perfect little gift. While candy and a card might not seem very original, it's all in the presentation. Try grouping up the items with a unique bouquet of flowers – try to find three different blooms to make a sophisticated little arrangement, then tie a bow around the bouquet to make a classic nosegay. After rinsing and cutting the flower stems, place them in a vase of M&M's for a fun twist on rocks at the bottom of the vessel. Pair the sweet, edible arrangement with a card (make sure to add your own handwriting on the inside) for an easy way to send someone your love. See how I put it together below!
SHOP THE LOOK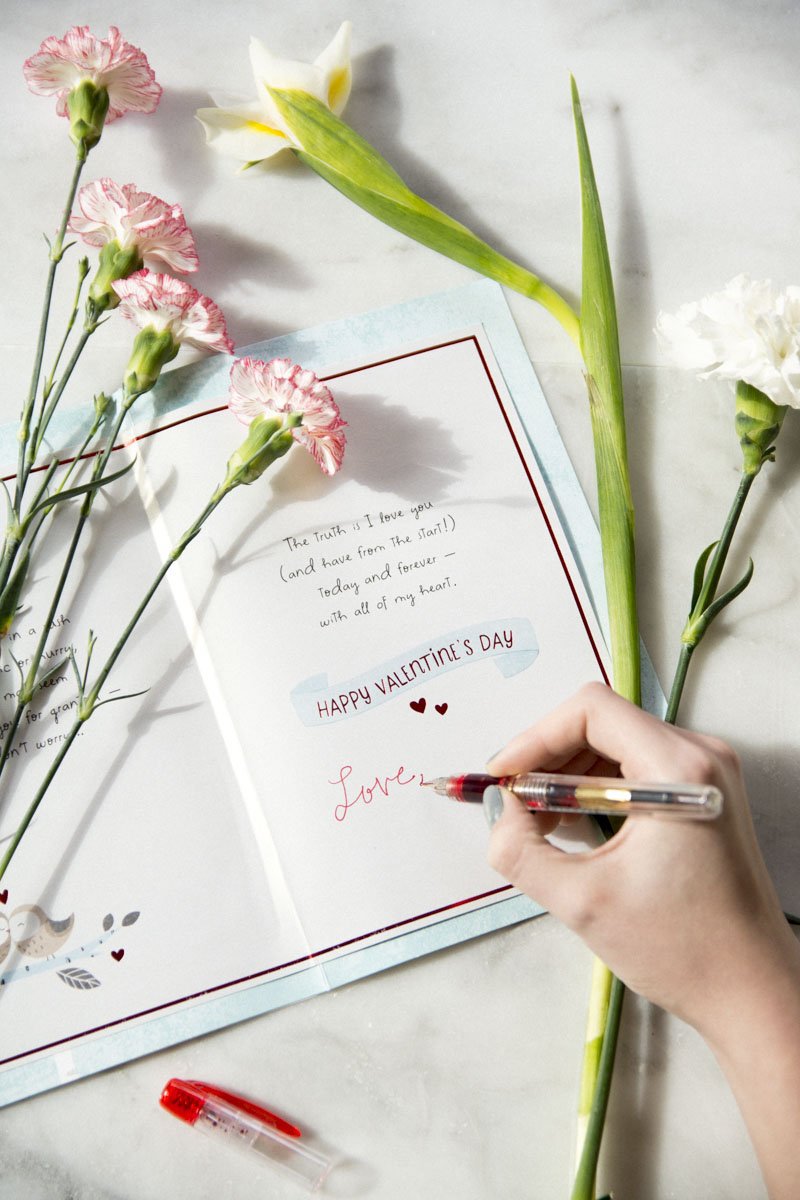 For my three flowers, I used two different kinds of carnations (one smaller pink-on-pink variation and a larger white one), and a white lily. While the carnations differed in color, they had similar shape and texture, with the lily providing some contrast to the mix with a hint of yellow in the center. The shades of pink were a pretty complement to the light blue and red American Greetings card!
These Cupid Messages M&M's are larger and have sweet messages on them, so you can say even more with your gift. From "I'm Urs" to "Ur Cute" and "Luv U", their are just as fun to read as they are to eat! Plus, their larger size makes them feel like a special treat.
I love how all of the colors came together in the arrangement, with the layers of pink and white in both the M&M's below and blooms above. Plus the bow adds a final touch that makes it feel all put-together. You can find these Cupid Messages M&M's and lots of American Greetings Valentine's Day cards at your local Walmart, just in time for the holiday! Do you have any special traditions for February 14th?