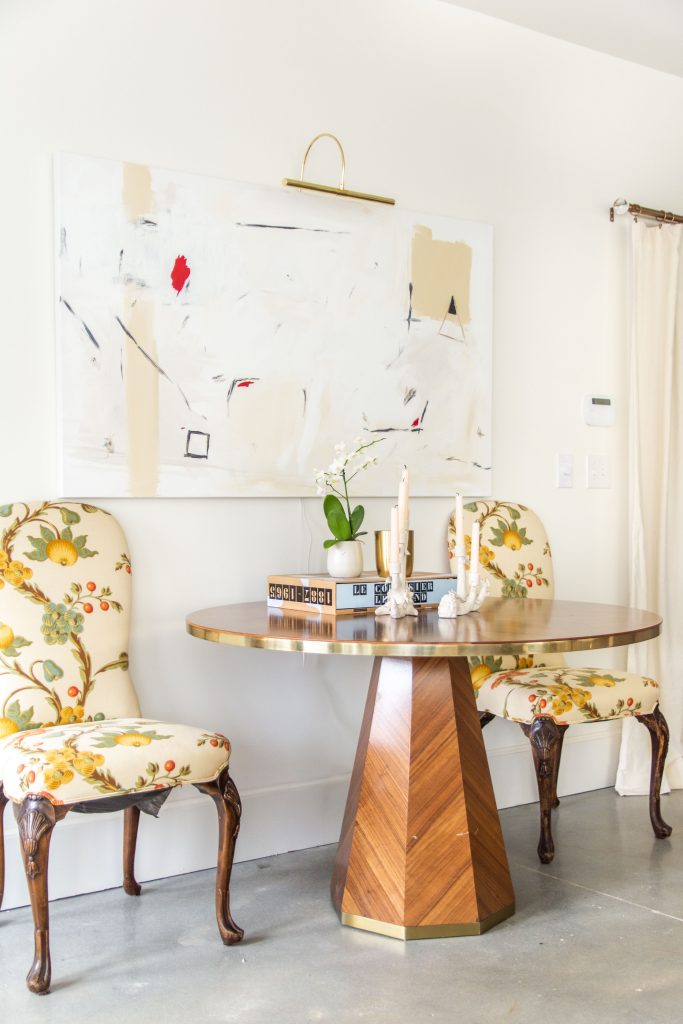 Last month my mom and I took the trek out to Augusta, GA for the Final Cut outlet, a hidden gem full of scratch-and-dent deals from the URBN family of brands (Urban Outfitters, Free People, Anthropologie). If you haven't heard of Final Cut don't be surprised – they only have two locations and no website, just Instagram and Facebook pages highlighting their inventory. They operate in big warehouse spaces and are mostly dedicated to Anthropologie home pieces that have been slightly broken, damaged, or returned, although you'll also find tables full of sample clothing from Anthro and Free People. You can also find a few pieces from the Urban Outfitters furniture collection, although the selection is predominately Anthropologie furniture. See inside the warehouse and the pieces I brought home below!

I can't remember how I first found out about Final Cut, but it's certainly a hidden gem! The amazing deals on Anthropologie furniture, lighting, rugs, and art make it a designer favorite. While the discounts are deep (and they run sales on top of the discounted prices), expect to find pieces missing hardware or with damaged surfaces. Most of the damage I saw was minor or could possibly be repaired with a little handiness, but you'll typically find multiples of the same piece so you can pick and choose from the selection (with the price reflecting condition).
[ezcol_1half]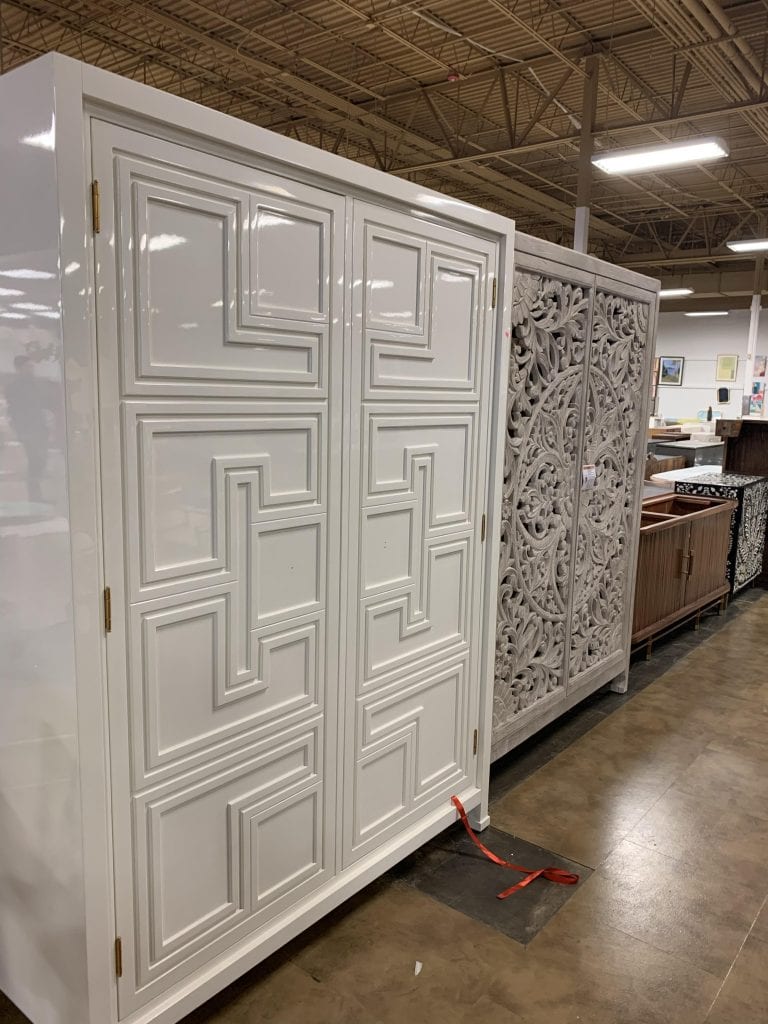 [/ezcol_1half] [ezcol_1half_end]

[/ezcol_1half_end]
[ezcol_1half]

[/ezcol_1half] [ezcol_1half_end]

[/ezcol_1half_end]
When it came to the upholstery there was not much damage – I suspect more of these are made-to-order pieces that were returned. I would definitely come back if I needed an armchair, dining chair, or sectional for a project!
I was looking for a piece to fill the blank wall closest to my front door that is a sort of entryway in my apartment. At first I looked at the armoires, but ended up falling in love with a dining table that could switch between an entryway table and a dining table when entertaining guests. It has a beautiful marquetry design in a star pattern on top.
This table is listed on Anthropologie's website for almost $900… I got mine for $300!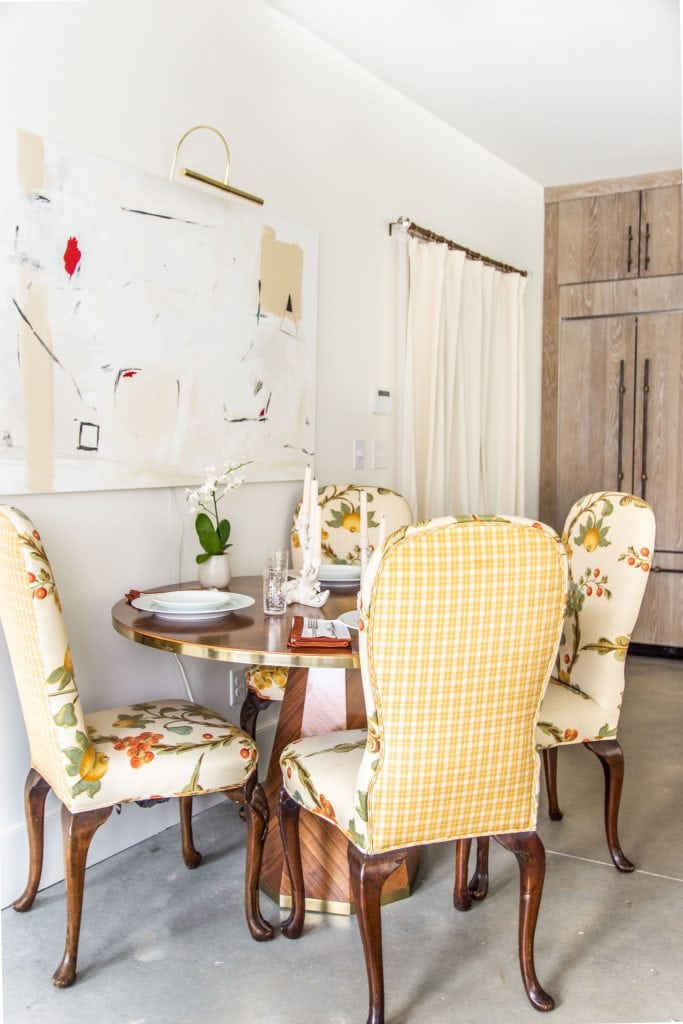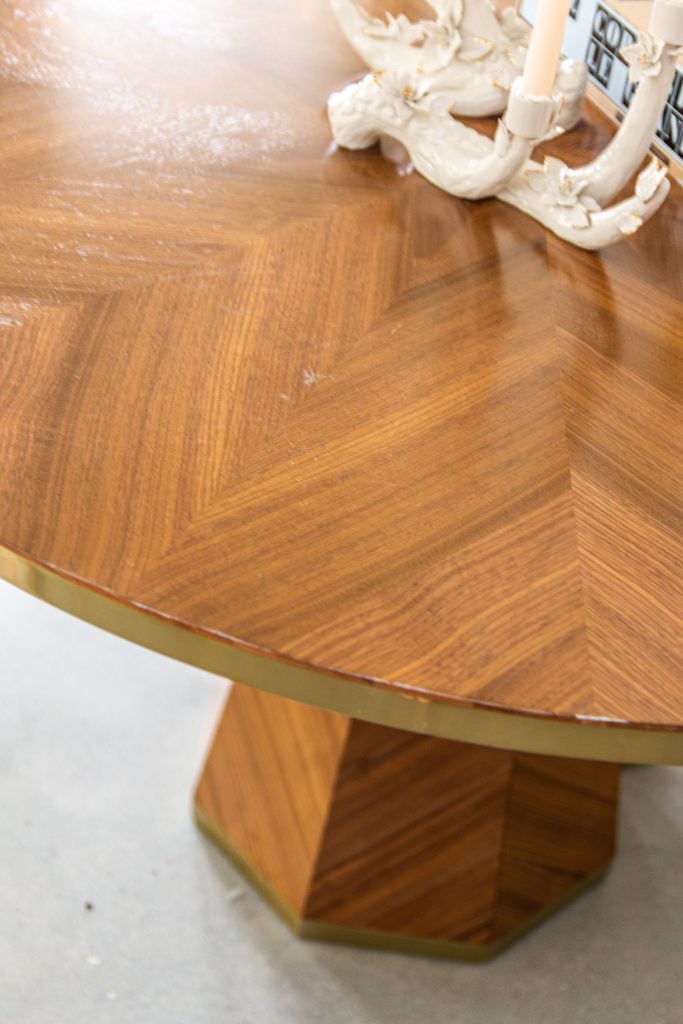 There are only a few light scratches on the top and sides, but nothing major. Plus, I would expect my dining table to have a few scratches in it at the end of the day anyway. It's a piece that should be loved and used!
The pretty candleholders were another find from Final Cut at $10 a piece. I absolutely love them on this table below my abstract painting I originally created for the Dove Hill dining room. To get the dining table home to Atlanta, I used uShip and got it delivered for under $100. I love my new table – it was certainly worth the drive to Augusta to this Anthropologie outlet!