Over fall break my family and I spent a relaxing weekend at Serenbe, a sustainable community just over a half hour from Atlanta. It's a new type of development pioneering an innovative relationship between the built environment and the land, right down to food sourced from its organic farm. You were briefly introduced to the Mado neighborhood of Serenbe last week with my tour of the Serenbe Designer Showhouse, but this entire community requires more than a short paragraph to communicate the innovation happening within its densely-nestled neighborhoods.
The New York Times calls Serenbe "a utopian experiment in New Urbanism being molded out of red Georgia clay, about 30 miles southwest of downtown Atlanta." The first house at Serenbe was built in 2004 and today the community is home to over 400 residents. Founded by Atlanta restauranteurs Steve and Marie Nygren, what started as a country escape for their family became a passion project to protect the Chattahoochee Hills from destructive development practices and urban sprawl. The community includes four neighborhoods, or hamlets, inspired by English villages, developed in omega forms fitted to the undulations of the land to allow minimal disturbance to the landscape. They each include complementary commercial centers focused on the elements of a well-lived life: arts for inspiration, agriculture for nourishment, health for wellbeing and education for awareness. The hamlets are connected by roads but even more accessible by footpaths winding through the forests and pastures surrounding each neighborhood center.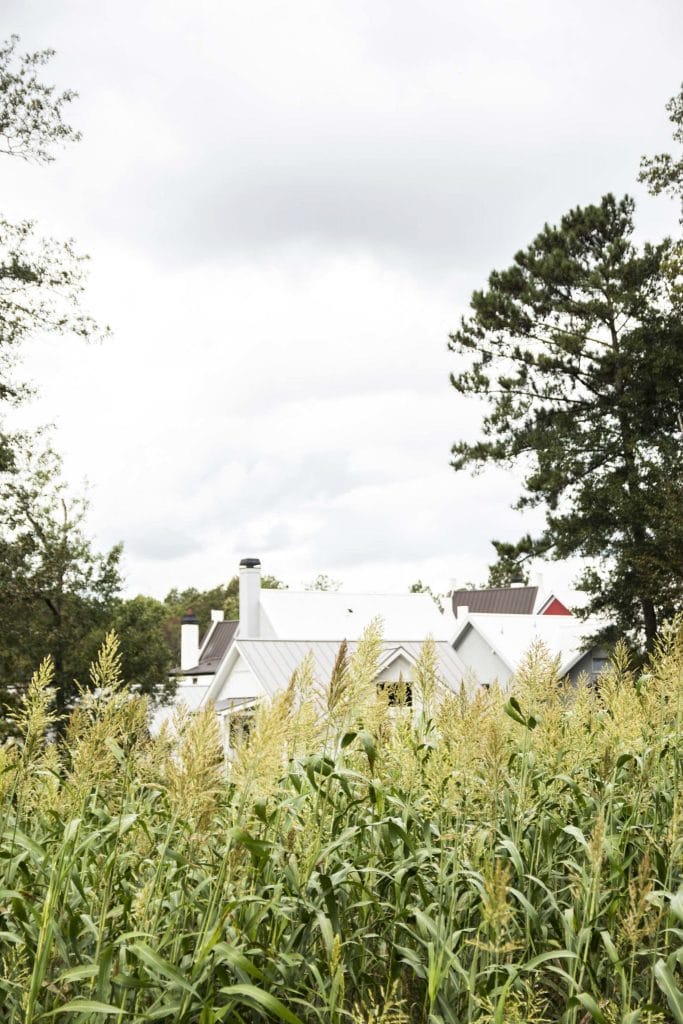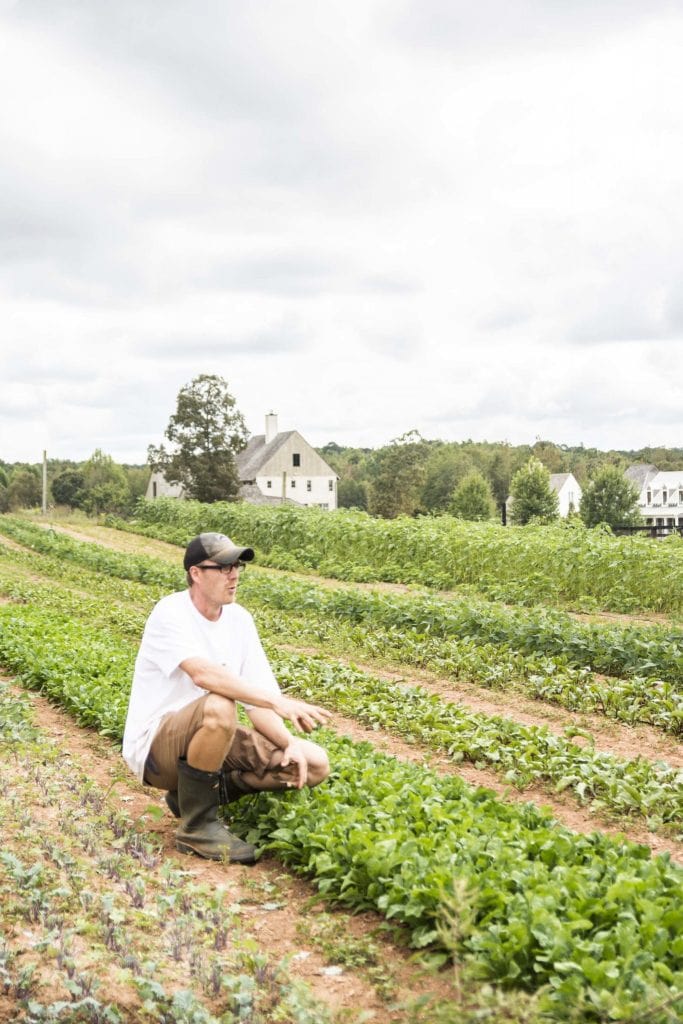 This map gives a sense of the overall layout of the area, but each hamlet has a distinct feel and style from the architecture to the landscaping. I have an amazing photo tour of my favorite homes in Serenbe to share later this week! They range from Arts & Crafts cottages in the Grange neighborhood running along the organic farm to Art Deco-inspired townhomes above the winding road of Selbourne hamlet, home to the first restaurant and retail destinations in Serenbe.
With such an amazing connection to local food, all of the restaurants at Serenbe have amazing seasonal menus, and every meal we enjoyed there was super memorable! We enjoyed a dinner at The Farmhouse, a true farm-to-table experience at the Inn at Serenbe, a delicious lunch at the Blue Eyed Daisy bakeshop, a local 'watering hole' of sorts, and a beautiful meal at The Hil with some amazing twists on Southern classics. We stayed at the Inn, but in one of their townhomes located in Selbourne so we were right above the Spa, yoga studio, and across from the local home boutique and consignment store. There was plenty to see right out the door when we were wandering the trails or exploring the beautiful neighborhoods.
There's a whole network of walking paths that connect the hamlets and you'll often stumble upon a pasture or wildflower meadow along these trails. Given the pattern of development, it's often easier to ditch your car and walk from place to place. The community also boasts incredible support of the arts, with an outdoor theater from Serenbe Playhouse, culinary workshops, music events, films and lectures, plus a robust Artist in Residence program featuring dinners and talks. While we were there, we were able to enjoy the amazing Sleepy Hollow Experience, an interactive Halloween play in which the audience moves from scene to scene with the actors, moving between sets constructed in the forest.
It's always fun to see what upcoming events are on their calendar and you can also peruse all of the Serenbe businesses and amenities on their community page. Whether you're a local Atlantan or not, consider finding a time to book a stay at the Inn for an escape to the Georgia countryside that will leave you feeling refreshed and inspired.
I know I will definitely be back soon to see their progress on the new Mado neighborhood, their multigenerational, health and well-being hamlet currently under construction (see this post for a fly-over rendering of the design). It has a unique Scandinavian aesthetic and distinct variety of housing that I can't wait to see come to life!

Serenbe generously hosted my lodging and meals during my stay, but all text, images, and opinions are all my own. Thank you for supporting the brands that keep Thou Swell running!