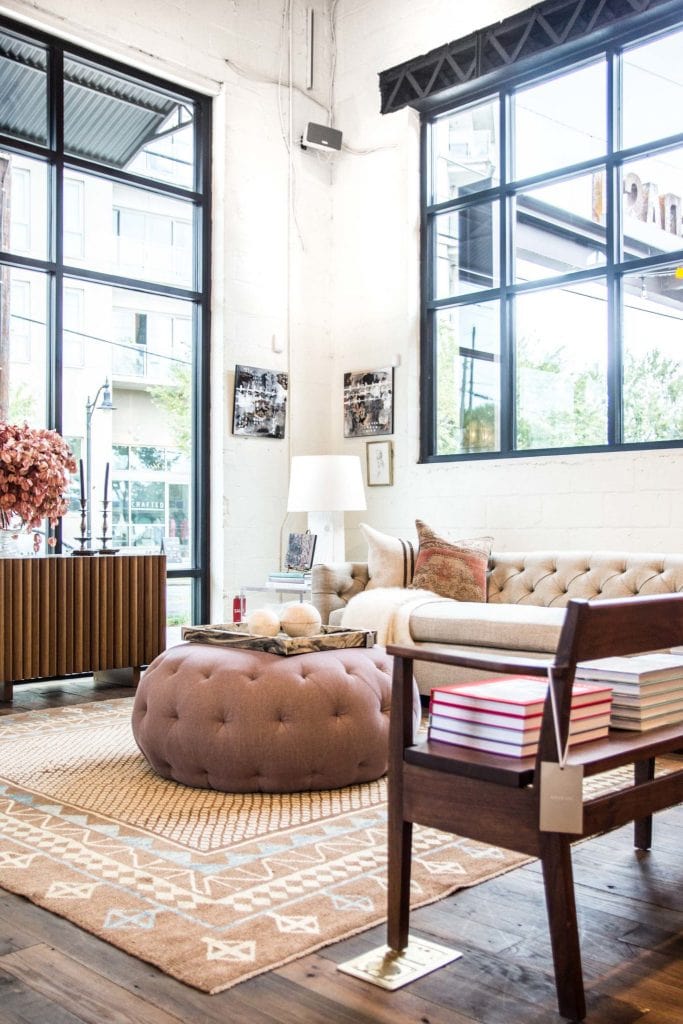 Over fall break I had the chance to visit Dixon Rye in Atlanta's Westside Provisions District and get to know the founder of the store, Bradley Odom. His resume is impressive, with experience at west elm and J. Crew before launching his shop, design firm, and original furniture line here in Atlanta. The store is in the old Westside Ironworks building so the space has an amazing industrial vibe that blends so perfectly with the new southern style in the well-curated selection. Bradley's style can be encapsulated in the belief that "raw and refined sit well side by side" and this sophisticated contrast, along with the exclusive European lines they carry, makes the store a treat to peruse.
I asked Bradley a few questions about the store, Atlanta, and his design work. Get to know him and see my favorite shots from this stunning store below!


Tell me about your experience working at west elm and how it informed Dixon Rye and your new furniture collection.
I learned so much during my tenure at West Elm. My biggest learnings were in regard to company culture and visionary leadership. I can't say that it "informed" Dixon Rye as it's a completely different aesthetic, however, when I left to start Dixon Rye, it was very important to me that I create a brand that educated the consumer on buying better quality pieces that could be passed down the way our grandparents did. I'm always conscious of "stuff" filling landfills in future generations and care a great deal about adding pieces that people will live with for a lifetime instead of short-term.
What's your favorite aspect of Atlanta's design community?
I love the close-knit design community in Atlanta. Everyone is so supportive of each other. I love that we celebrate each other's' accomplishments. Other store owners in Atlanta have been so helpful in guiding our success, as well as other interior designers who continue to support us through their projects, as well as wishing us well on ours.
Which piece in the store is your favorite right now? What kind of setting do you see it in?
I buy things I love, so that's a hard one. I'm always inspired by pieces like our Moroccan handmade pottery that are made by artisans who have perfected their craft. I'm also equally coveting the Dania sofa. It's a low back, tufted sofa that can work with most aesthetics. It happens to be upholstered in the most incredible Belgium linen that makes it even more chic. I also just returned from the Fall market and purchased new lighting which will be in the store by December. They are sure to be showstoppers!
Who is your typical interior design client?
Thus far each design client has been unique, but the thread that runs throughout tends to be someone who understands and appreciates our ability to juxtapose materials in such a way that feels innovative, yet not startling. Part of the beauty of owning a store is that your client has the ability to understand your aesthetic prior to choosing you as their designer. I also love being able to walk a potential client through Dixon Rye and help them understand the brand, as well as understanding their goals for their own home.
What are your plans for the future of Dixon Rye?
We always want to evolve. That sounds cliché, but I always want to offer an assortment that not only reflects my personal style but more importantly answers the needs of our customers. I'm most excited to expand into categories that aren't currently available in this market, as well as continuing to focus on my own collection.
What influenced your design aesthetic and entrepreneurial spirit?
I feel like my aesthetic is constantly evolving. What I love are things that are well made and innovative. I always wanted to create a brand and not just a store. That's why the entire experience is so important to me–from the packaging to the music to the people you engage with in Dixon Rye. It's the whole package! In regard to my entrepreneurial spirit, it's always been there. Even when I worked for large corporations, I sorta ran things as I wanted – within the constraints of corporate America, of course. But I was always thinking of new ideas and ways to drive my business.
Outside of your design work, what are your favorite hobbies?
The interesting thing is, I'm doing what I love! I took a huge risk two years ago and decided to follow my passion, which means that it absorbs most of my time. However, I love to travel. I love a quick weekend escape just to cleanse the palette if you will. I also really love the theater and I'm fortunate to live in a city that offers great plays on the regular. Another tidbit would be that I'm an Orange Theory fanatic–you can find me there most every day at 6am. It's how I start my day and it certainly helps me start my day out on the right track.
I loved getting to know Bradley and Dixon Rye better. If you find yourself in the Westside Provisions district of Atlanta, don't miss this beautiful store!