This post is sponsored by The Home Depot, but all text, images, and opinions are all my own. Thank you for supporting the brands that keep Thou Swell running!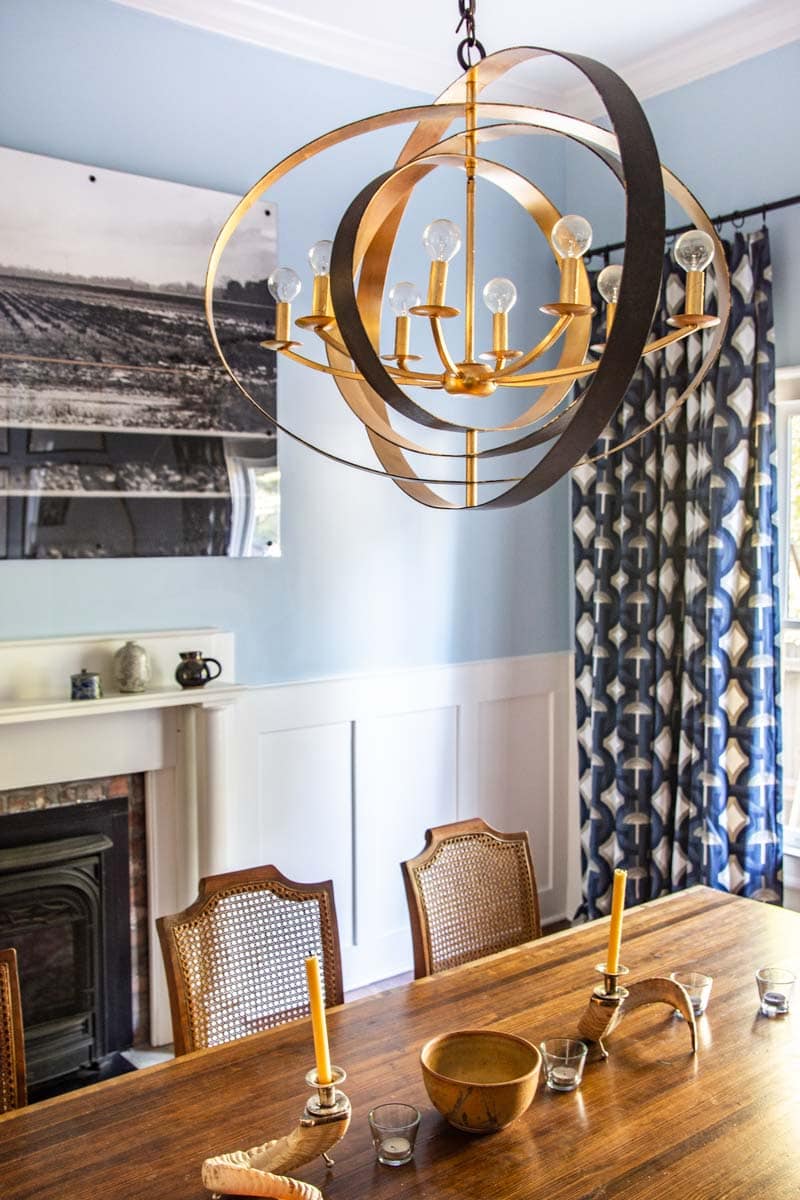 I have yet to introduce my dad's house in Capitol View here in Atlanta (you can tour his old Cabbagetown bungalow here), but I have an exciting makeover to share of his dining room with Home Depot and Behr paint. His house is a 1930's shotgun with super tall ceilings – they are nearly 12 feet tall here in the dining room, and so there was a lot of wall to contend with. When Home Depot invited me to paint the room, I realized it was a great opportunity to rethink the architecture of the room to make it a more substantial space. And with the Buy-Online-Pickup-In-store options, it's easier than ever to get started on your next paint project. See how I transformed it with flat-panel wainscoting and a fresh light blue below!

Before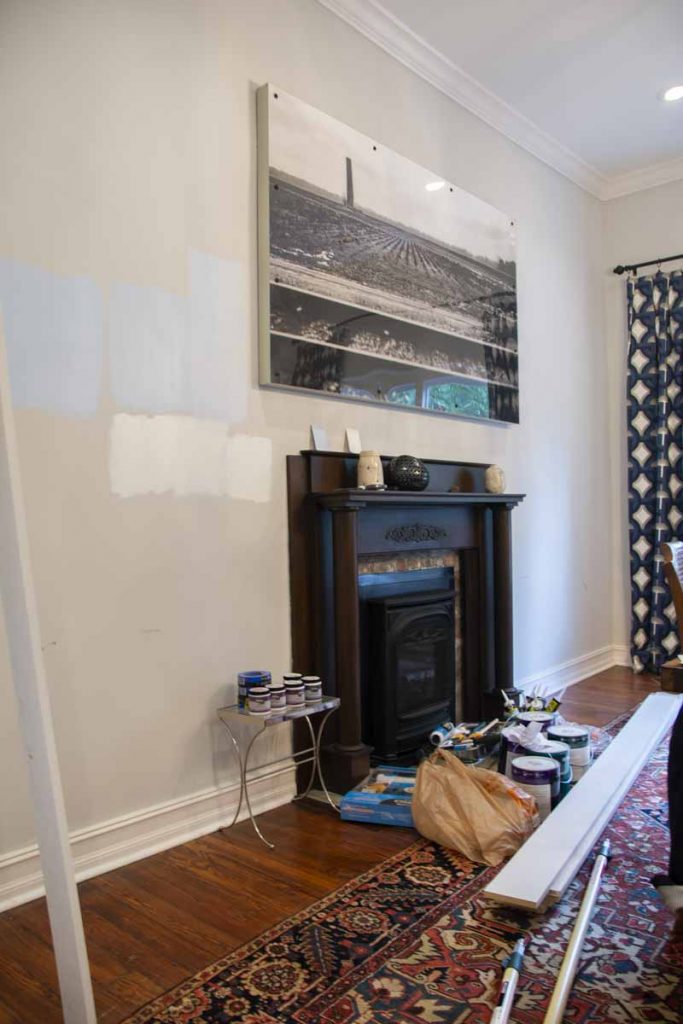 After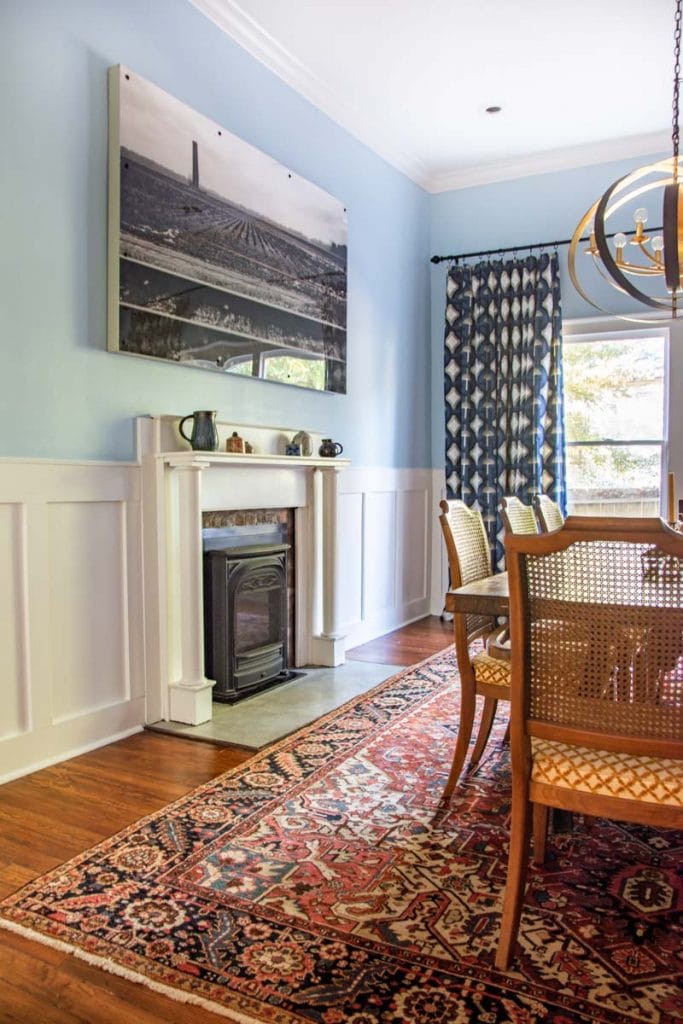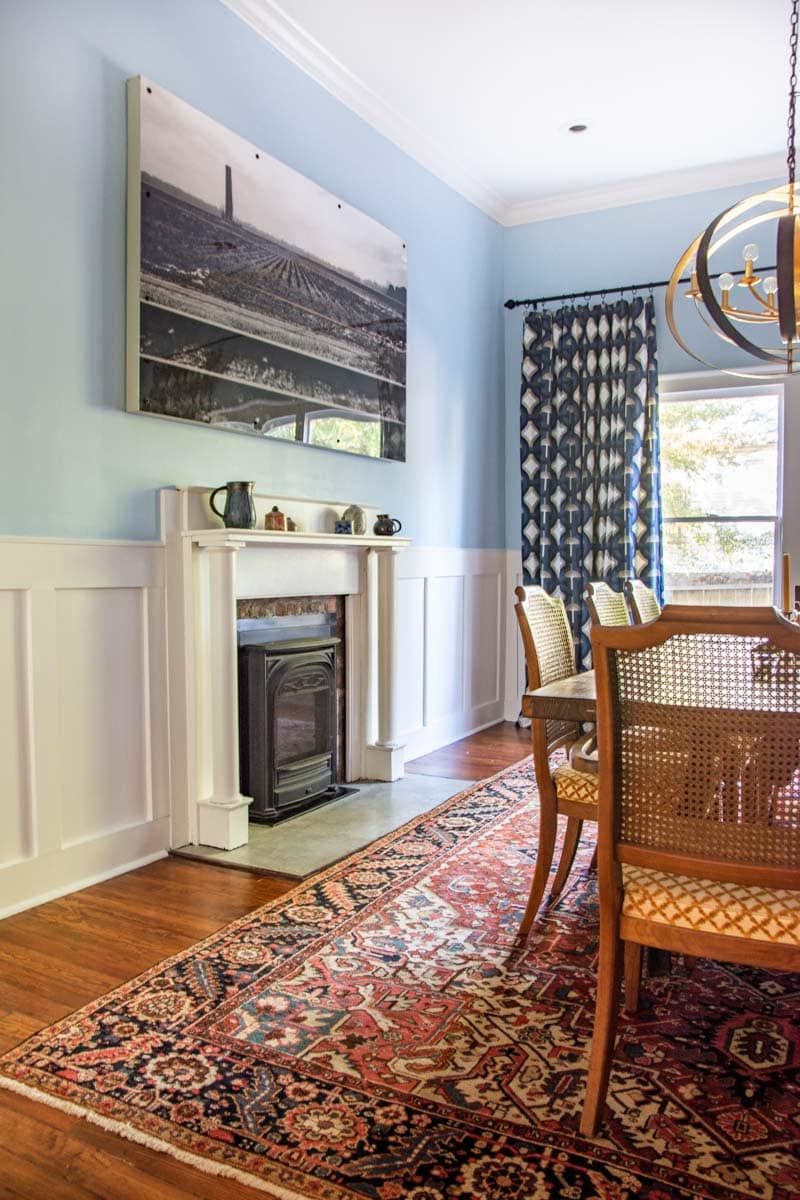 Last time I painted my dad's dining room I went with a dramatic, high-gloss navy. This time around, I wanted to bring a breath of fresh air to the room with a color that wouldn't overwhelm the walls. I still wanted to go with a blue because it's a perfect pairing for my dad's oriental rug, so I scoped out the light blue paint chips and picked up a few samples to test out on the wall. I didn't want the blue to read grey in daylight since the sun never shines directly through the north-facing windows, so I went in a light, but pigmented direction with the fresh Rain Dance. It reminds me of haint blue on Southern porch ceilings, and the color of the summer sky. For the moulding, I looked for a clean white with warm undertones that wouldn't get too cold with the cool blue above. Sleek White was perfect and provided just enough warmth without looking creamy.
For the walls, I opted for an eggshell finish that wouldn't be too matte but would avoid a harsh glare. With the tall walls, any shine would be accentuated, so this finish provided a nice subtle glow. For the paneling and trim in the room, I chose a semi-gloss finish. Shine is traditional for any trim, but I didn't want too harsh of a contrast between the wall and trim, so I chose the subtler option between semi- and hi-gloss. Don't get me wrong – I LOVE a gloss – just read this post all about the high gloss walls in Dove Hill Project!
To ground the room and help break up the tall walls, I started thinking about the perfect moulding for the space. Wainscoting is traditional in a dining room, but I wanted to make sure whatever we chose was appropriate to style of the rest of the house. Picture frame moulding would have been too ornate and formal, and beadboard is too casual, so the flat-panel was the right solution for the space. I divided the wall into thirds and considered the fireplace mantel height to determine a 45 inch height for the wainscoting.
The flat panels can be built with plywood behind them, but we opted to apply the panels directly to the drywall since the walls weren't too textured. I found 1×6 boards for the top and bottom, and 1×4 stiles running vertically along the wall. We also added cove moulding trim on top and a quarter round at the bottom to finish it off.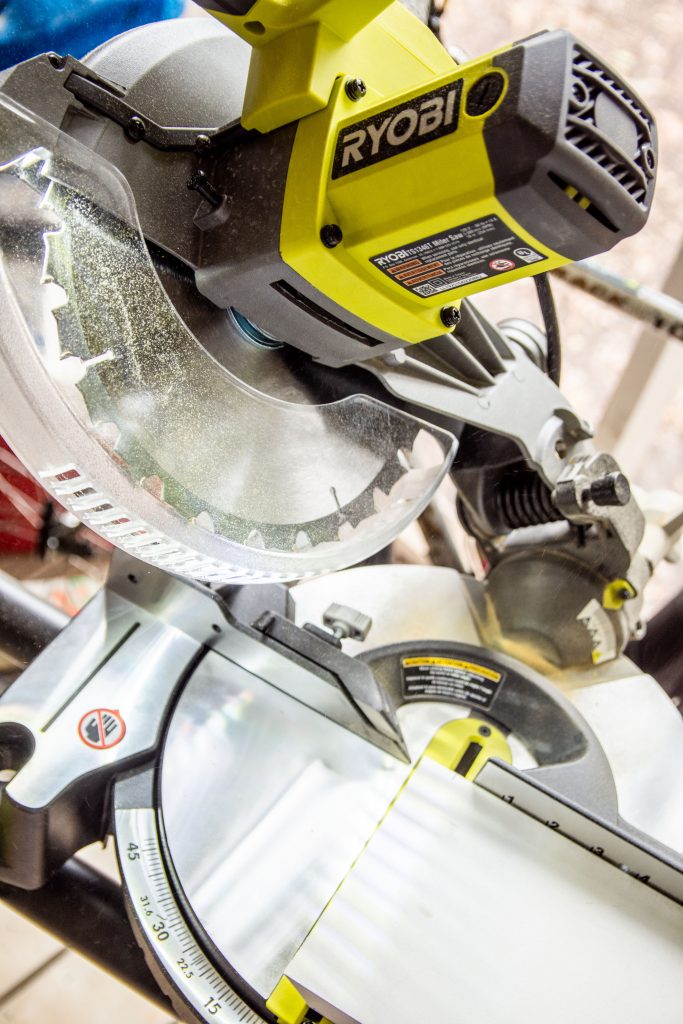 To make trimming the boards SO much easier and make the 45 degree cuts for the corners of the room, we used a Ryobi compound miter saw. It was my first time using a miter saw, and I can't imagine doing a project like this without one!
[ezcol_1half]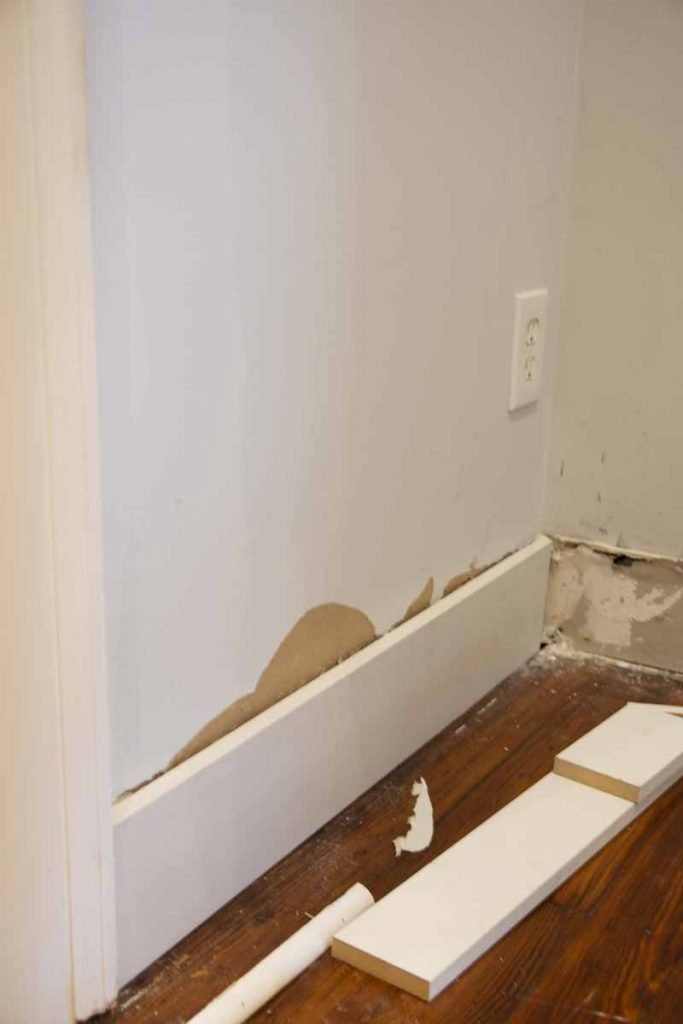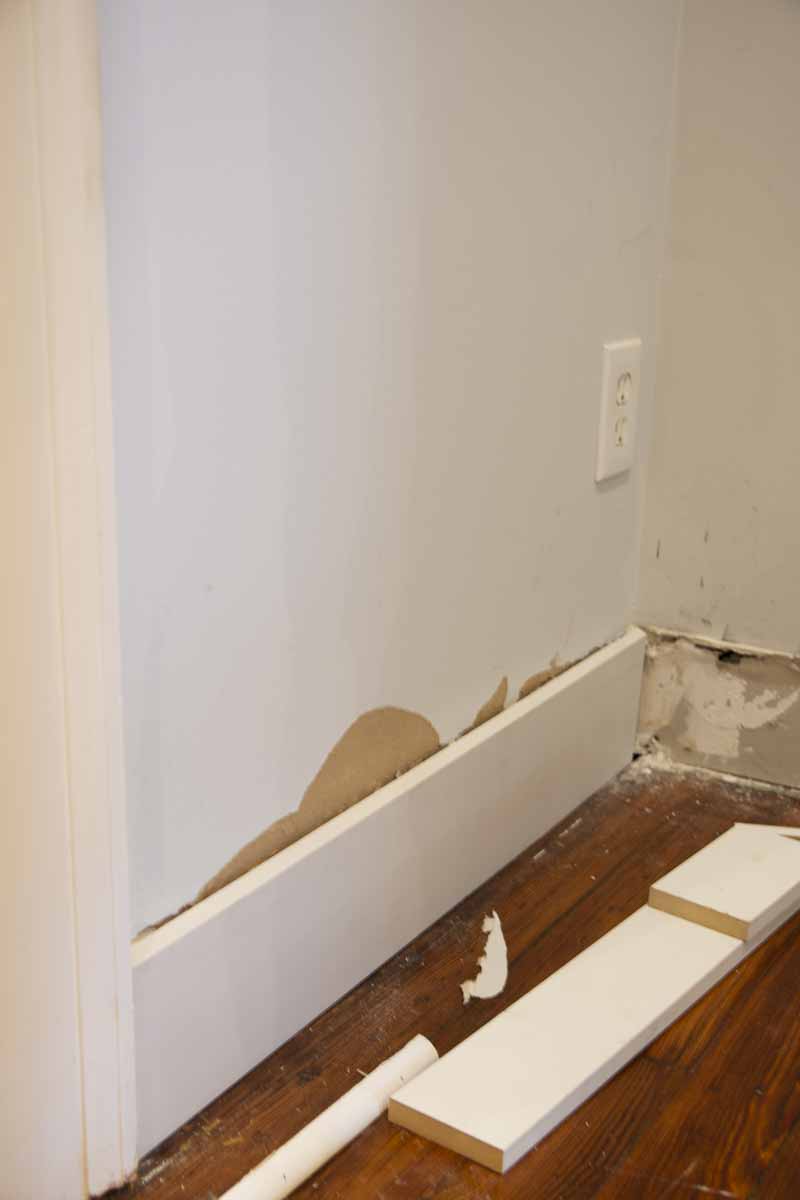 [/ezcol_1half] [ezcol_1half_end]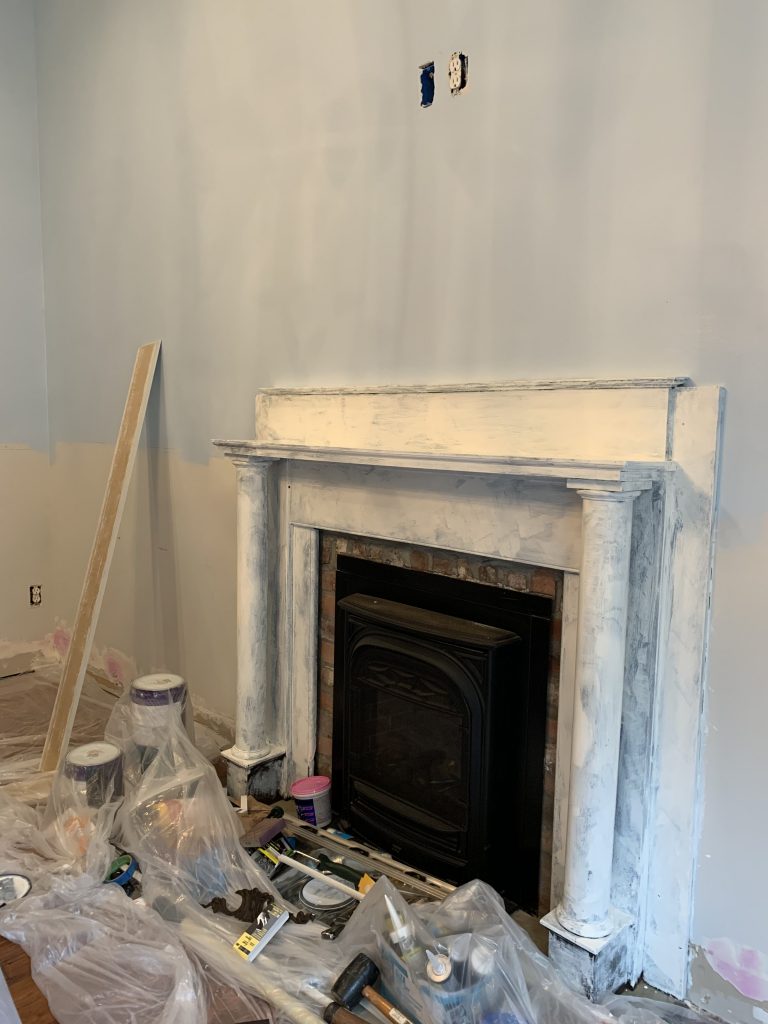 [/ezcol_1half_end]
We used a combination of construction adhesive and finishing nails (when there was a stud to nail into) for the paneling and caulked everything after to account for things like curved walls and uneven floors that you'll inevitably find in old houses.
[ezcol_1half]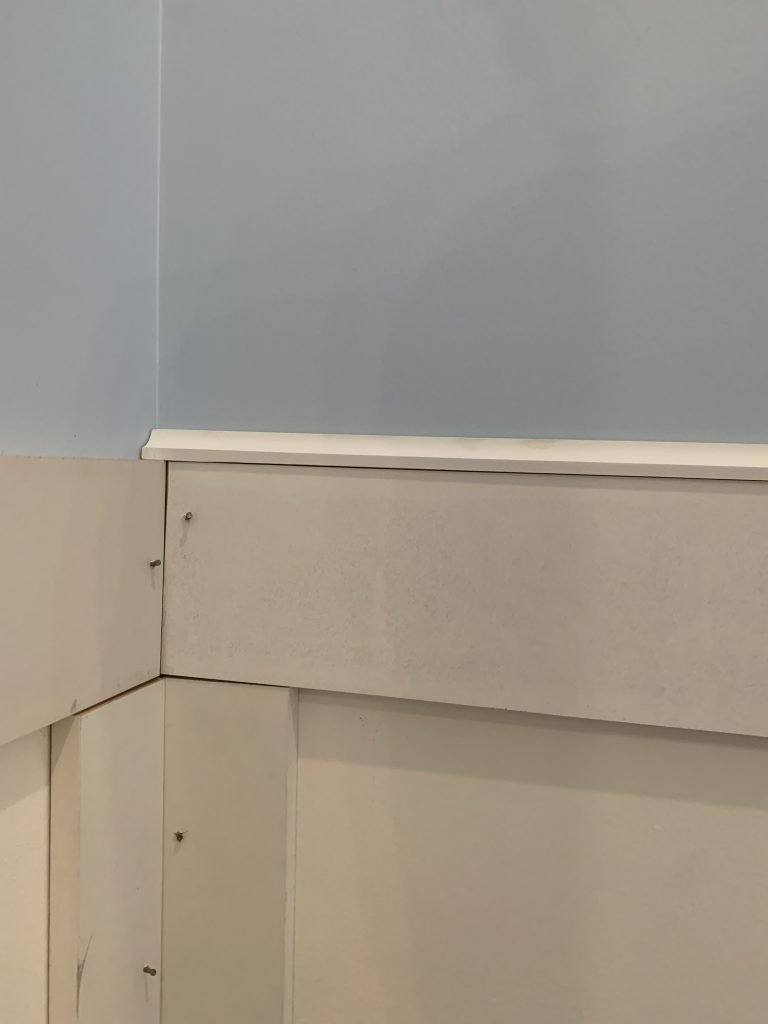 [/ezcol_1half] [ezcol_1half_end]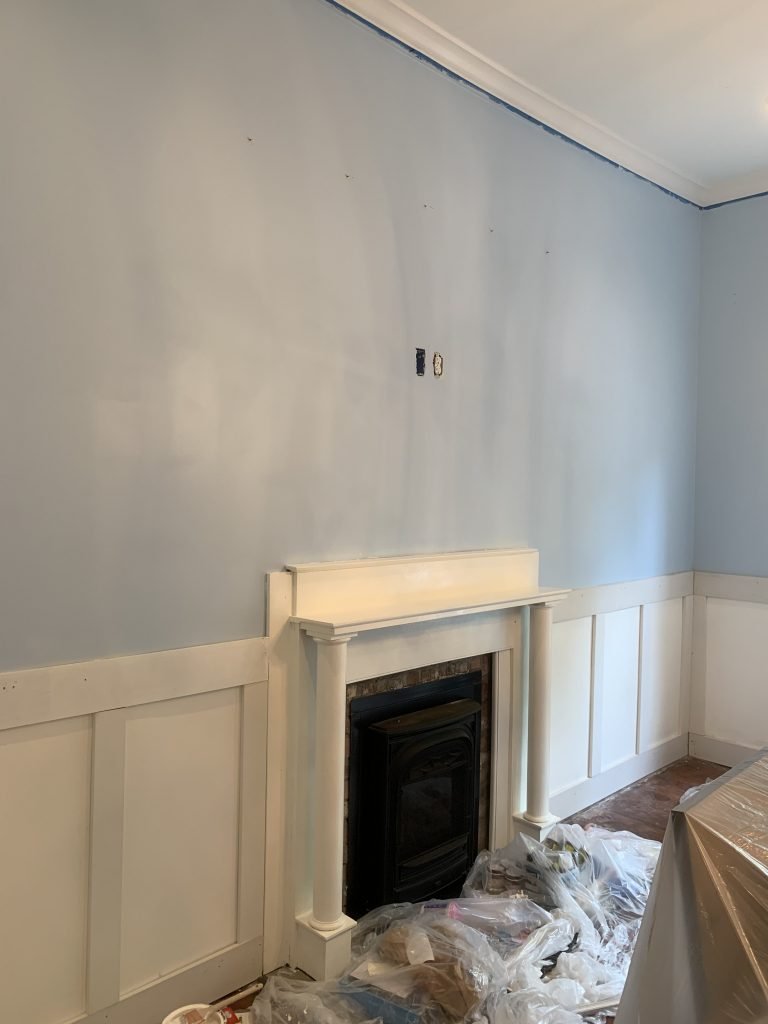 [/ezcol_1half_end]
One of my favorite parts of the transformation was painting the dark fireplace white. I also removed the decorative trim that had been added to keep the lines of the mantel clean and simple, corresponding to the design of the paneling on either side. It all ended up looking seamless and a great match for the house's style and history!
I love how the blue pairs beautifully with the curtains and the gold accents in the room. It feels like a proper dining room now! If you're thinking about finding a new paint color for a room in your own home, make sure to check out the new Project Color app to be able to preview colors without even leaving the house! Home Depot has also relaunched their online paint shopping experience with interactive features, color trends, and top palettes to help you find the perfect new hue.
There are a few more touches I'm planning on adding to this room before I share a FULL reveal, but for now I hope you enjoy this first look into Belmont Ave Project!