This post is sponsored by Behr, but all text, images, and opinions are all my own. Thank you for supporting the brands that keep Thou Swell running!
(Photography by Kevin O'Gara)
As you might remember from the before pictures I shared of Dove Hill, there was a lot of beige on the walls of the townhouse. Besides the beautiful blue I envisioned for the dining room, I knew I wanted to give the house a fresh blank slate with the perfect shade of white. I also wanted to bring as much light and luminosity to the rooms as possible, and with the great morning light the house gets, I knew a little shine would go a long way. I turned to the Behr selection of whites and a hi-gloss finish for the walls in our living spaces. Find out my guide to the perfect finish for every surface and room, plus the amazing staircase transformation in our entryway below!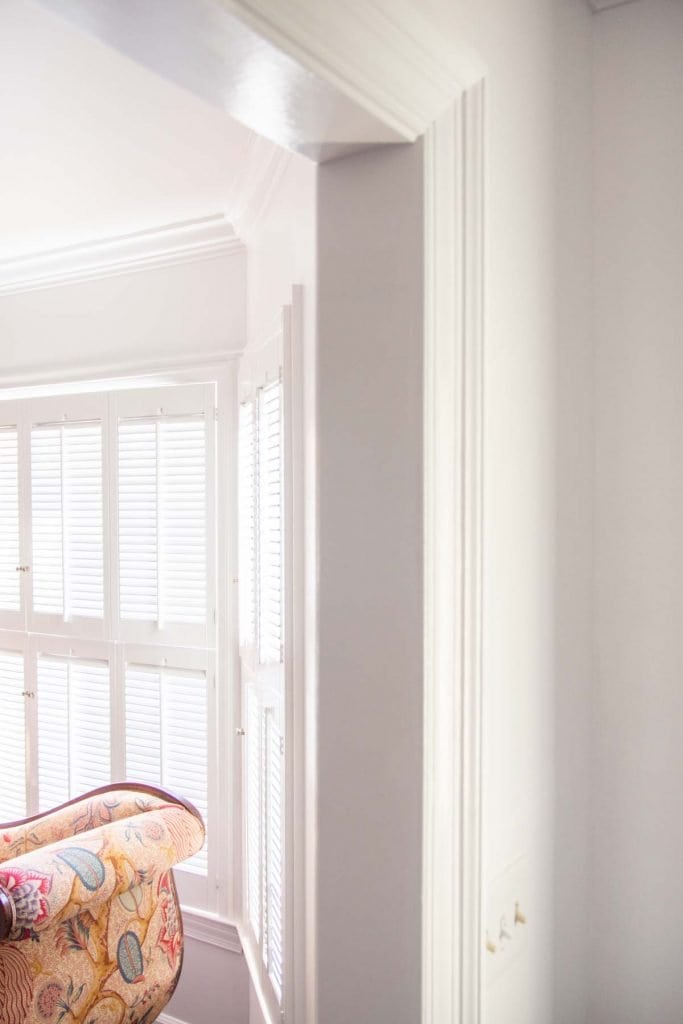 One of the important things to remember with hi-gloss enamel paint is the difference between dark and light colors. When you think of a high-gloss finish, you might think of something like this dining room I painted in a dark blue. In that case, I really went all-out with the drama. The combination of dark colors and a high gloss finish shows a stronger difference between the highlights and low-lights, while a light color is going to give you a less obvious shine, given that there isn't a huge difference between the highlights and the color itself. With white paint, this gives you a subtle glow, bringing more light and a luminosity to your space.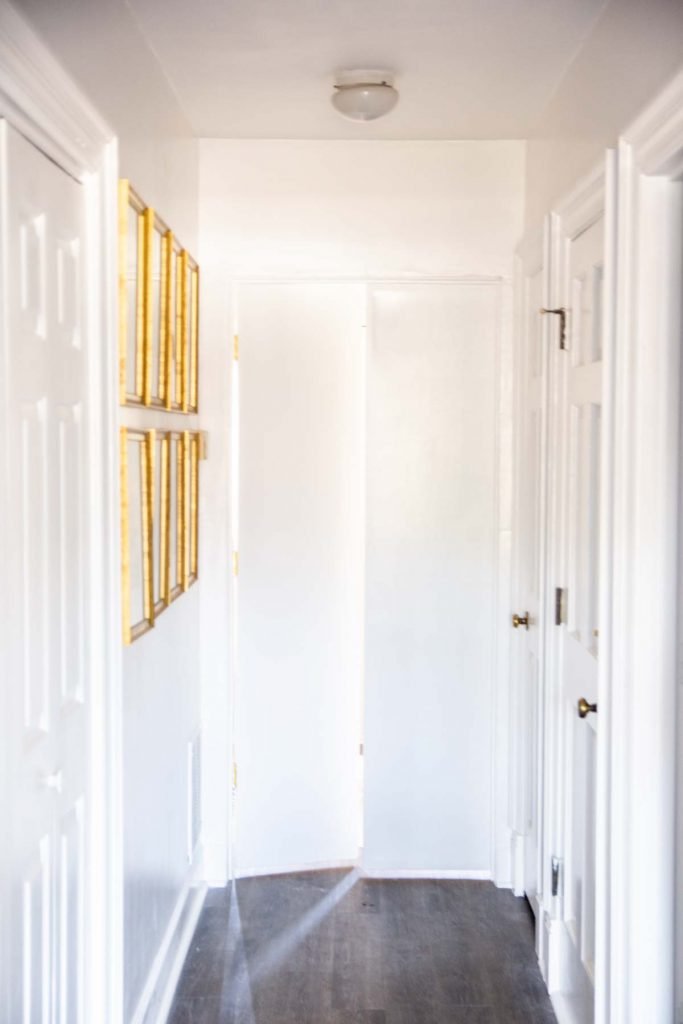 The perfect white paint we settled on was Bit of Sugar, which we found wasn't too warm or too cool with minimal undertones. In the hallway above, you can really get a sense of the finish as this hallway carries the light from the kitchen all the way down to the end.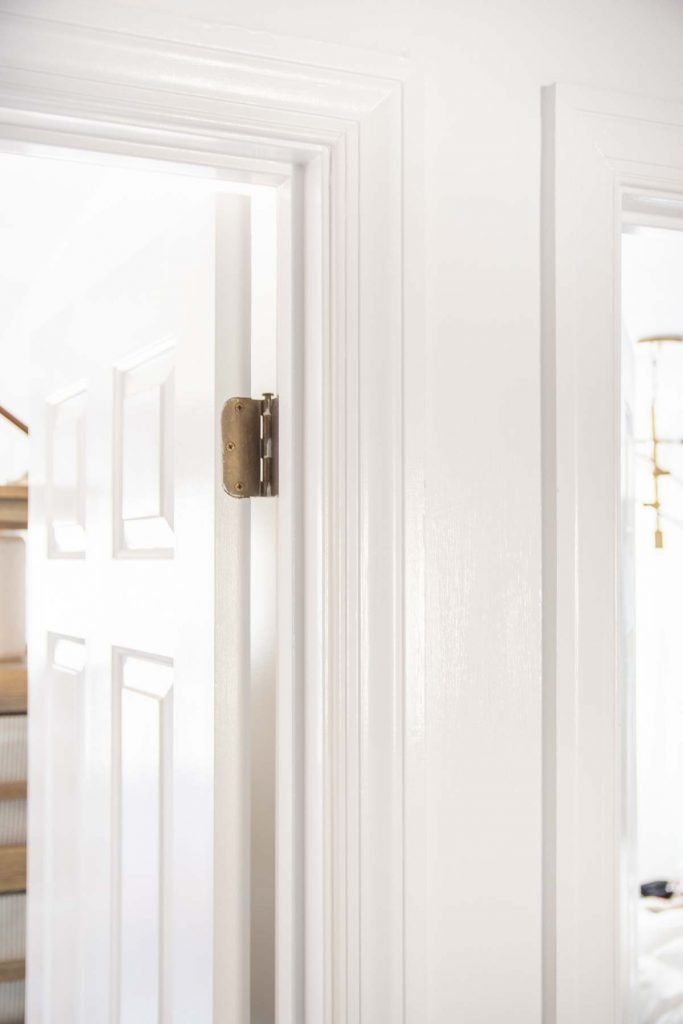 Trim is traditionally painted in high-gloss, and since there's more texture on molding it shows off the finish really nicely! I carried the high-gloss up the stairs from the entryway to the bedroom hallway, but in the bedrooms I went with a satin finish for something softer. In the rest of the house, the ceilings are flat, to reflect as little light as possible as to not draw attention to the ceiling height. Ceilings are typically painted in the flattest finish to prevent them from being visually pulled down from light reflecting across them.
For the staircase in the entryway, I chose Behr's Peppery color in their porch and patio floor paint for the stair treads in a low-lustre enamel to match the metal balusters we added.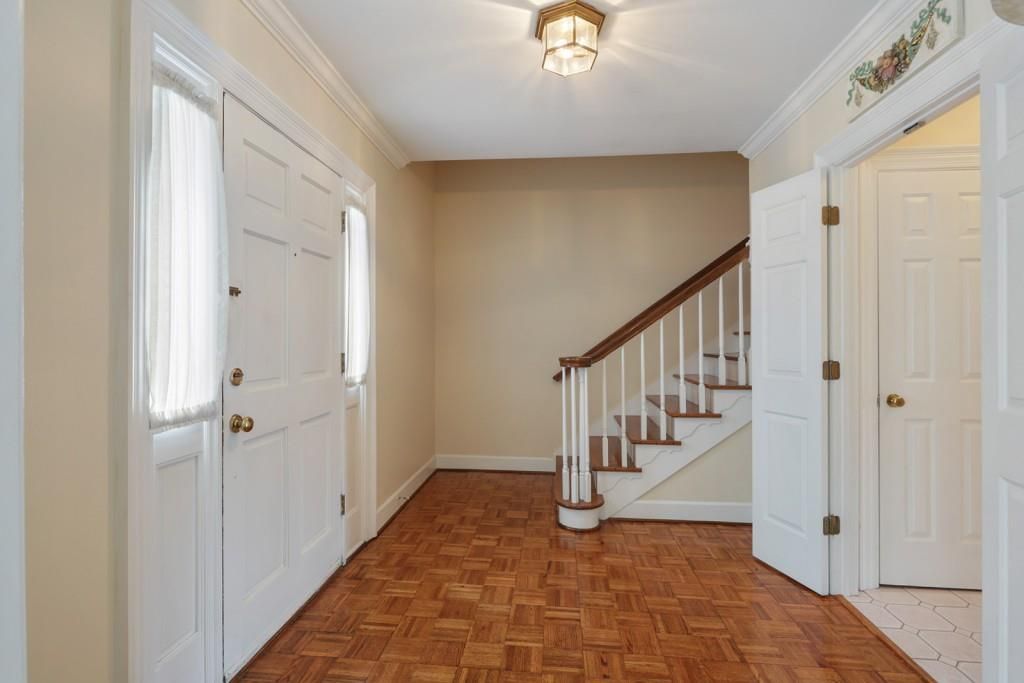 How exciting is that transformation! I can't wait to complete the entryway with a new light fixture and mural across the wall with the flush double-doors we added.