In October we closed on a townhouse in Buckhead and I couldn't be more excited to finally introduce the project to you today! It's already been a huge learning experience, from house hunting to going through the buying process, but I couldn't be more thrilled for what's to come and sharing every decision along the way here on the blog. This project actually had an early debut on Instagram this past weekend, so if you missed the post check it out here and head to my profile for the Highlight featuring a walk-through of the house for a glimpse of how things are coming along. As promised, I have all the before pictures below (and they're sooo good). It's absolutely amazing having this blank slate and it's also my very first project involving any sort of renovations, so although we're making pretty small changes, it's still been fun for me to play with the house beyond simply decorating.

While this is a project I'm undertaking with my mom (she'll be moving from her current house into the townhouse), my dad is actually moving this month as well so I am preparing to have both homes published with their final home tours featuring all the design projects I've tackled over the past four years. For the townhouse, I'm really channeling my mom's style and we're paring down her furniture to her very favorite pieces – and then filling in with new where we need to. I've already redesigned the master bedroom with Home Depot for a project that I can't wait to share soon!
For now, I've got some great before pictures (lots of old-lady touches and outdated design) and a summary for each room with the preliminary design changes I'm making in the house. So far we've made decisions on flooring and paint colors which I will share in more detail in separate posts, but there's so much more to come from furniture to drapery that will be transformative for this home. Now let's dive into those before pictures…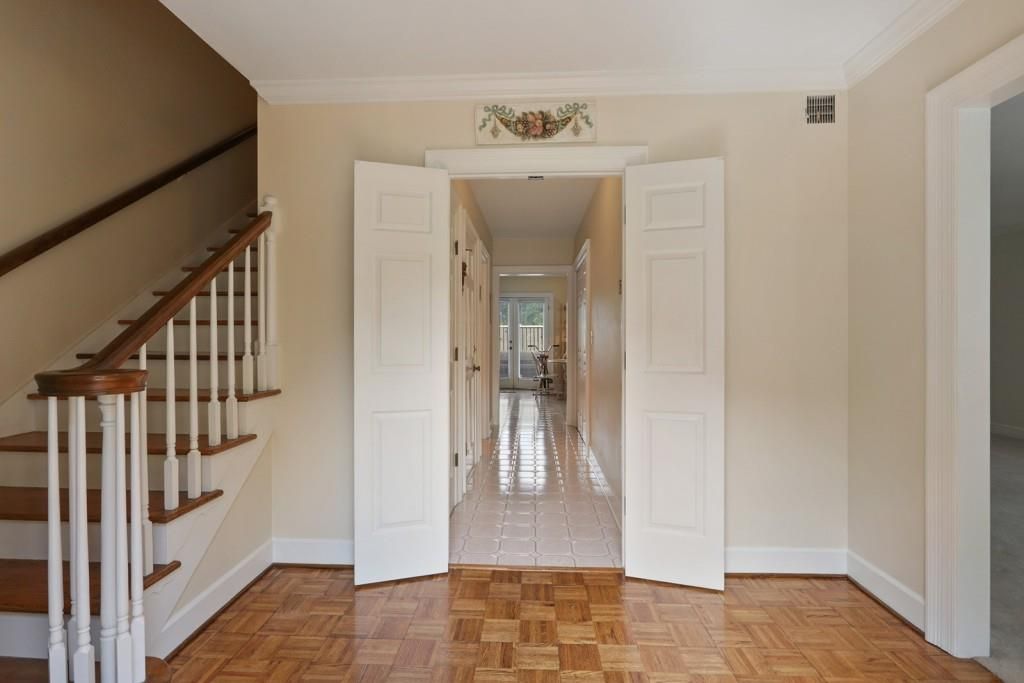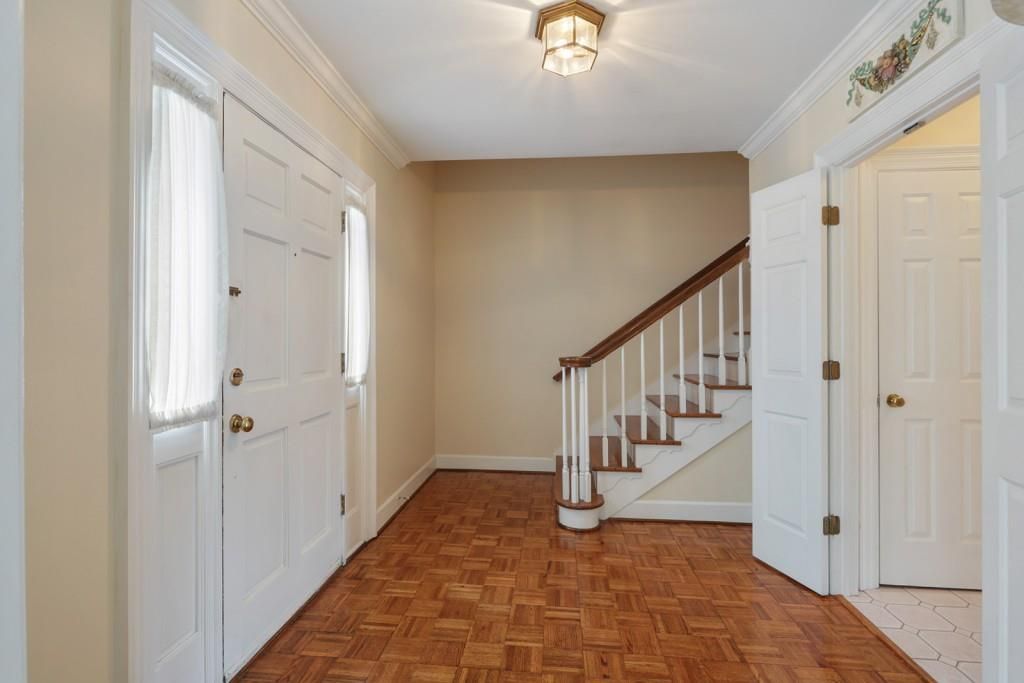 ENTRYWAY
I love that there is a dedicated entryway. It leads down a hall to the kitchen straight ahead, and into the living room through an opening on the right. We don't want a view straight into the kitchen when you walk in, so we're planning on replacing the double doors with flat swinging doors flush with the wall so that the entire wall can be covered with a mural that will hide them and create more emphasis on moving through to the living room. In this room: stair treads will be painted, balusters replaced, walls painted high-gloss white, doors replaced, mural added, and I'm on the hunt for the perfect chic flush-mount for lighting.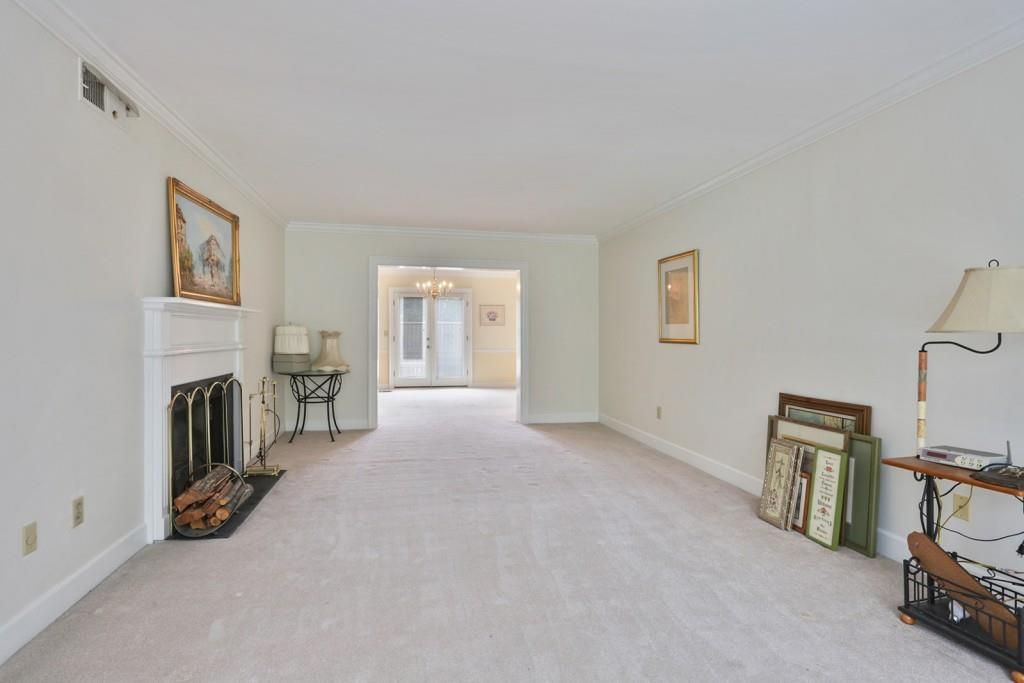 LIVING ROOM
The living room is a great size and features a wood-burning fireplace which we're super excited about. Strangely, both the living room and dining room were carpeted (with no hardwood underneath) so that was the very first thing to go in the house! Not shown in the view above is a pretty bay window at the front of the room, which I cannot wait to hang with custom drapery. In this room: high-gloss white on the walls, six can lights added along the perimeter, mix of old and new furniture, custom drapery in the window.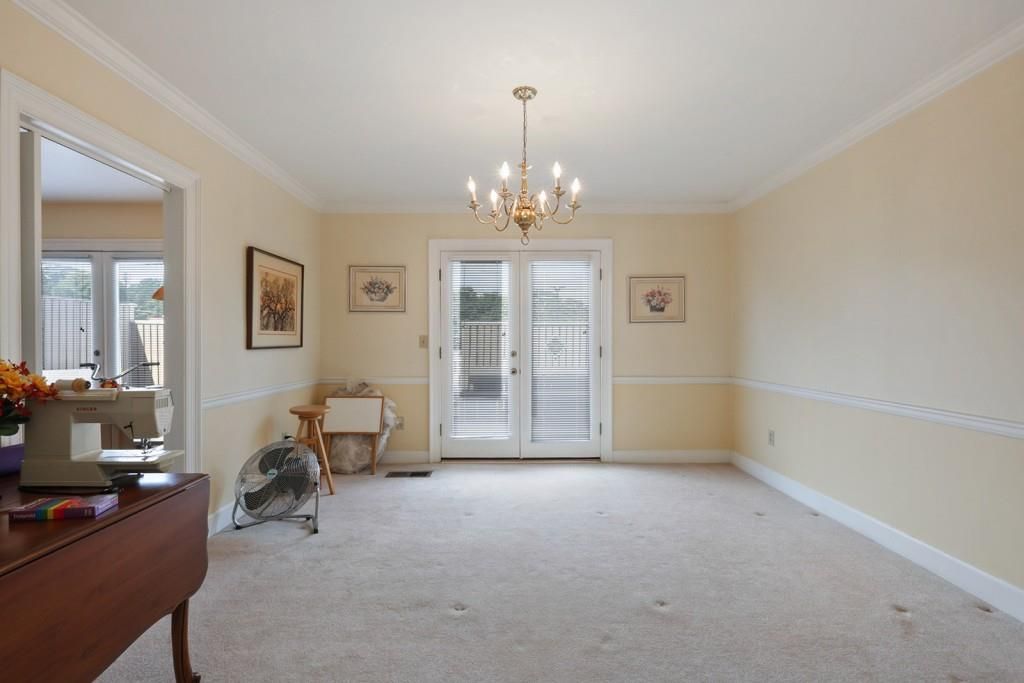 DINING ROOM
I'm excited about the dining room not only because I love dedicated dining rooms (versus open-plan living areas), but because this room is going to have the most fabulous color on the walls! I am working with Clare paint to bring a beautiful pale blue to the walls that is going to look so fabulous with my mom's dining chairs. As you can see above, the dining room sits at the end of the living room and through a set of doors to the kitchen. We're replacing these doors as well with swinging ones for moving easily in and out of the room. In this room: pale blue paint for the walls, new light fixture, new flooring, custom drapery, and eventually some molding would be nice.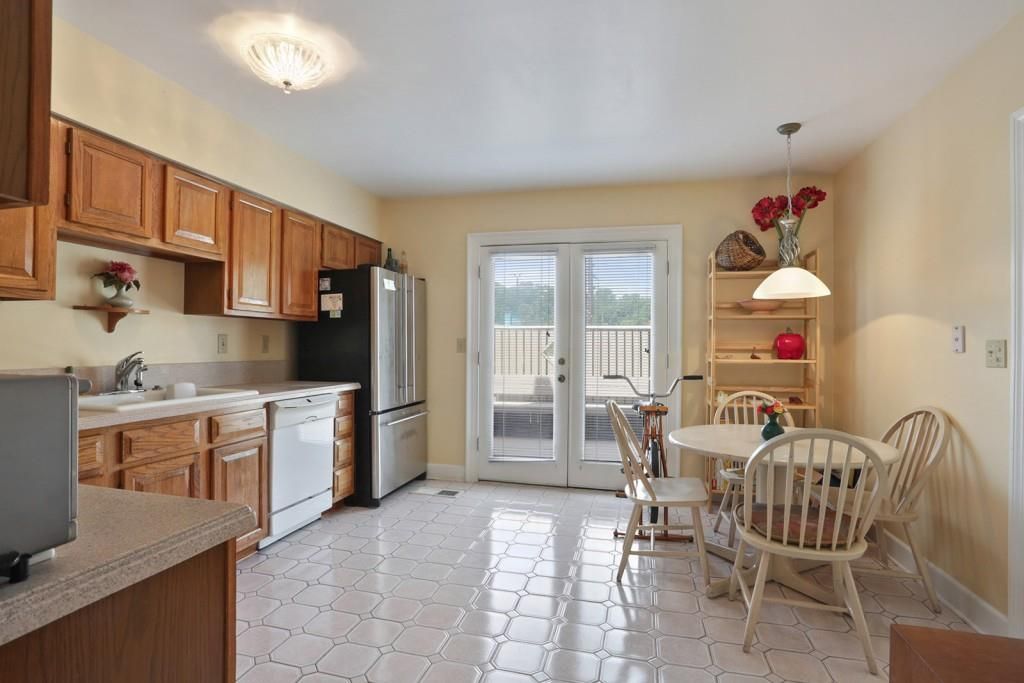 KITCHEN
You may be surprised but I was actually so happy to see how dated the kitchen was! As of now we're not planning on completely renovating the space, so I'm working with the current configuration but updating just about every finish and doing everything I can topically to transform it. I think it's gonna be one of the most dramatic before and afters in this house! In this room: white paint on walls and upper-cabinets, warm grey on lower cabinets, new appliances, sink, faucet and cabinet hardware, a pretty chandelier for the middle of the room, breakfast nook in the corner, a free-standing island in the center, and new flooring.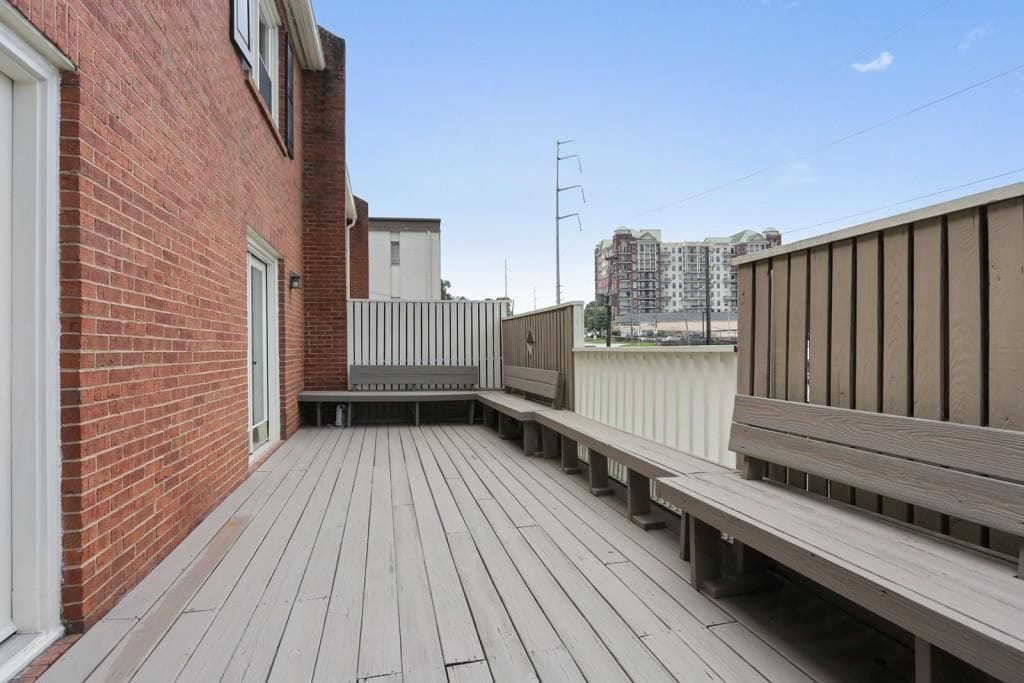 DECK
Both the kitchen and dining room lead out to a deck at the back of the house, which actually needs some structural repairs before I can really start designing out here. So far, I'm imaging repainting with a less beige grey or even charcoal, bringing lots of plants, and defining one end for dining and one end for sitting. We're also considering bringing over the fountain from my mom's patio so it really feels like an oasis!
MASTER BEDROOM
Upstairs the house has three bedrooms and the first one to get a makeover is my mom's bedroom, which was the only room in her house I never redesigned! It's finally getting a fresh new scheme and you might even find some sneak peeks of the project up on the Dove Hill Highlight on my Instagram
profile
. The bedrooms will all be painted white upstairs for now, and the carpeting in all these rooms will also be replaced with the same flooring as downstairs. In the bathroom, all I've decided so far is that the built-in sink from the vanity room is coming out and getting replaced with a desk for makeup and a mirror.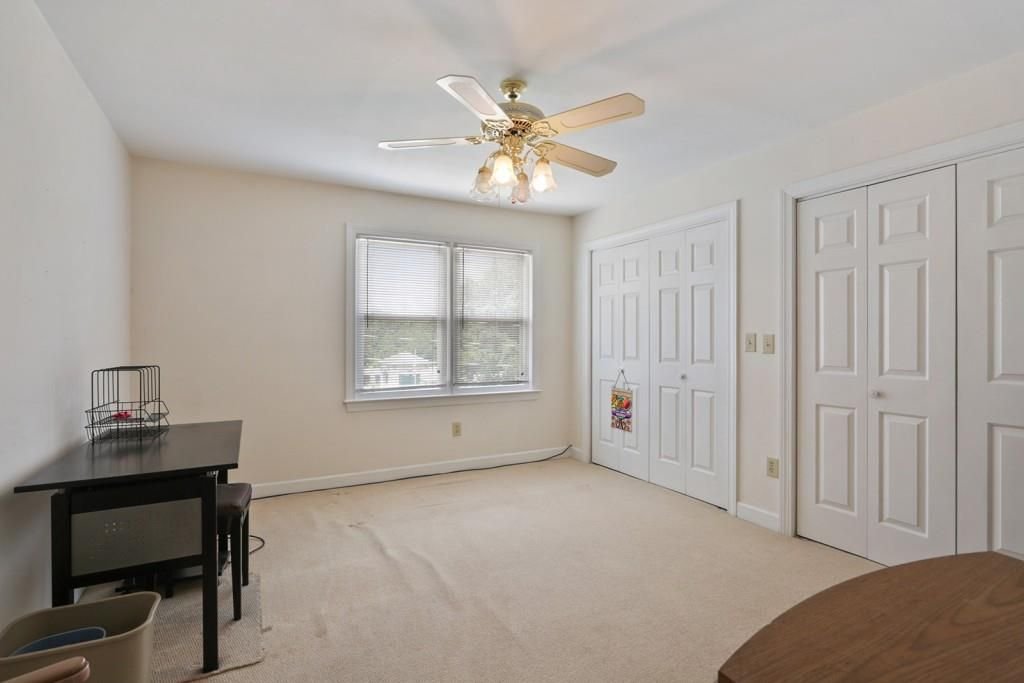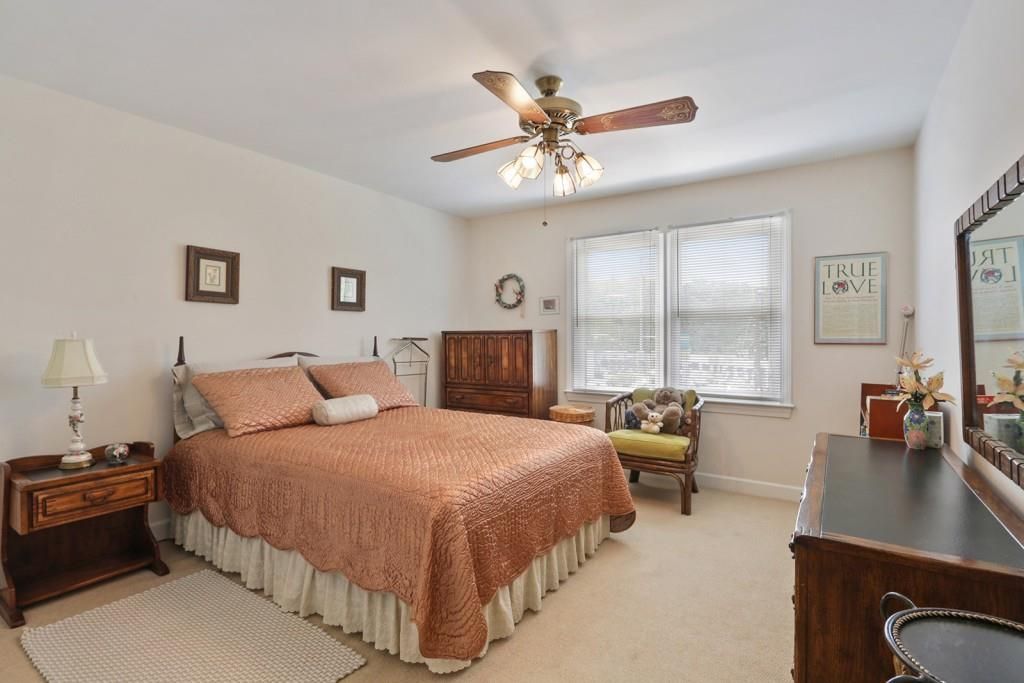 GUEST BEDROOMS
Strangely it looks like the former owner of the house lived in one of the guest bedrooms and not the master! These two rooms are also getting a fresh coat of paint and some pretty curtains, and the carpeting is also out of there. My little sister Grace has requested my
headboard
for one of the rooms so one will be more neutral with a pared-down design, and the other will feature Julia's pretty green velvet
headboard
and the blue and green curtains from the the old
guest room
.
The first major change in ALL of the rooms was the flooring, so I'm excited to share the new flooring I found at Floor & Decor in tomorrow's blog post. Check back to see how it looks!