This is a sponsored conversation written by me on behalf of Floor & Decor. The opinions and text are all my own.
As you saw in the before pictures, the living spaces on the bottom floor of the Dove Hill project and the entire upstairs were carpeted, so the very first design decision to be made was the new flooring. Since we had to cover most of the house, I needed to find something that fit into my design vision but did not break the budget. I immediately thought of Floor & Decor with their huge selection of flooring, from hardwood to vinyl, and started exploring the options. Originally we dreamt of hardwood floors, but it was cost prohibitive considering the labor expenses.
I headed to my local Floor & Decor store and started looking at luxury vinyl plank options – an option that has really become so much more advanced with new technology. Installation costs with LVP are much lower (even easy enough to do-it-yourself) and it's typically waterproof or water resistant so you can lay it through to kitchens and bathrooms without a problem. See what flooring I chose below!


(NuCore Grey Blonde Luxury Vinyl Plank)
My first vision for the flooring was this beautiful option from NuCore – wide planks and a pale neutral wood for a Scandinavian-inspired look. I knew that this would set a bright, neutral palette for the house that would help balance some of the darker heirloom pieces my mom will bring into the house. Unfortunately, this option was out of our price range so I decided to save the light look for a future project!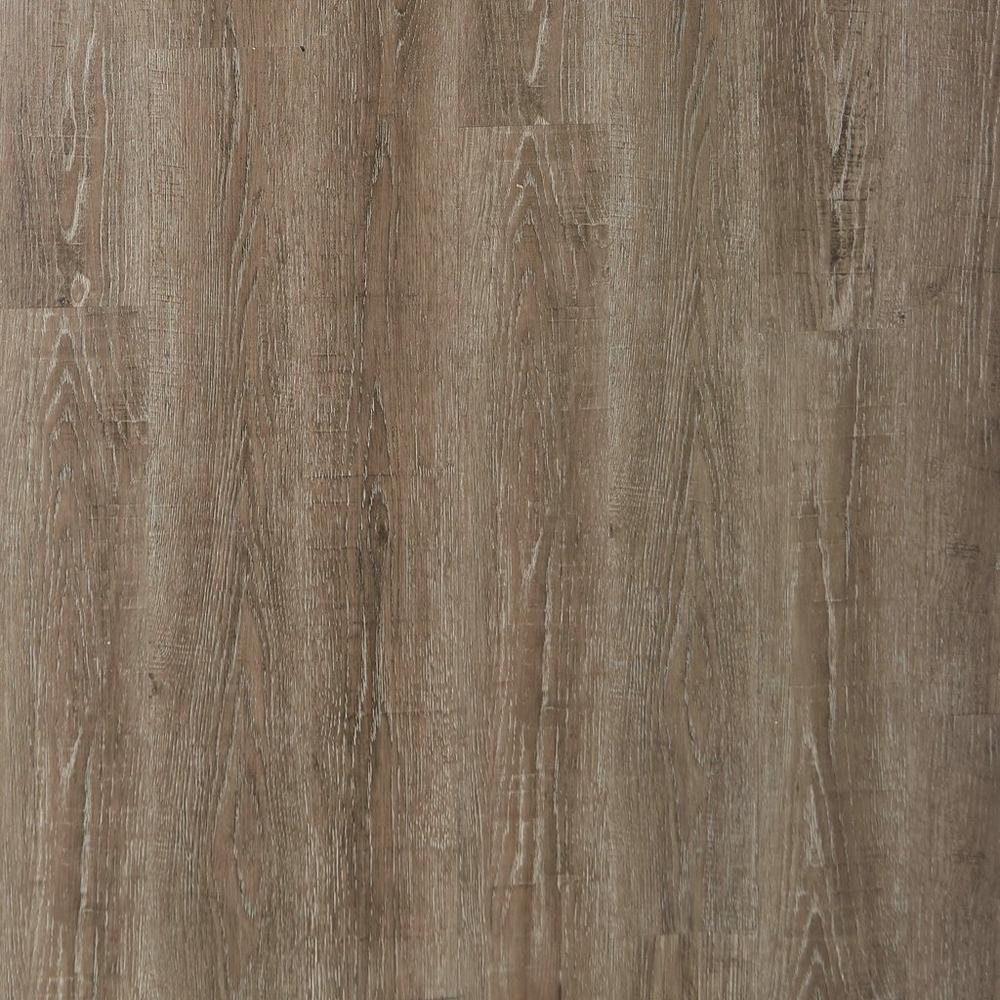 (Duralux Weathered Charcoal Luxury Vinyl Plank)
After scouring through the luxury vinyl plank selection, I found a neutral brown from Duralux without too much variation or texture, and just the right touch of grey to make it feel contemporary. The darker colorway will provide a beautiful contrast to the bright white on the walls in most rooms, and it's waterproof so we can lay it down in the bathrooms and kitchen without worrying about splashes or spills.
My mom started laying down the flooring herself, and while it definitely do-able for a room or two, covering the whole house was quite a feat so we decided to outsource with our contractor. He was super efficient in laying it all down, and I LOVE how it looks all over the house. I cannot wait to share more photos of the flooring in each room, but for now I have some sneak peeks from the bedrooms where they're finishing up the painting!
With our beautiful new floors and the fresh white paint, the townhouse already feels so updated! Find a Floor & Decor store near you here, and you can even schedule a free design consultation if you don't know where to begin.
For more inspiration, visit the Get Floored blog and the Floor & Decor inspiration center.