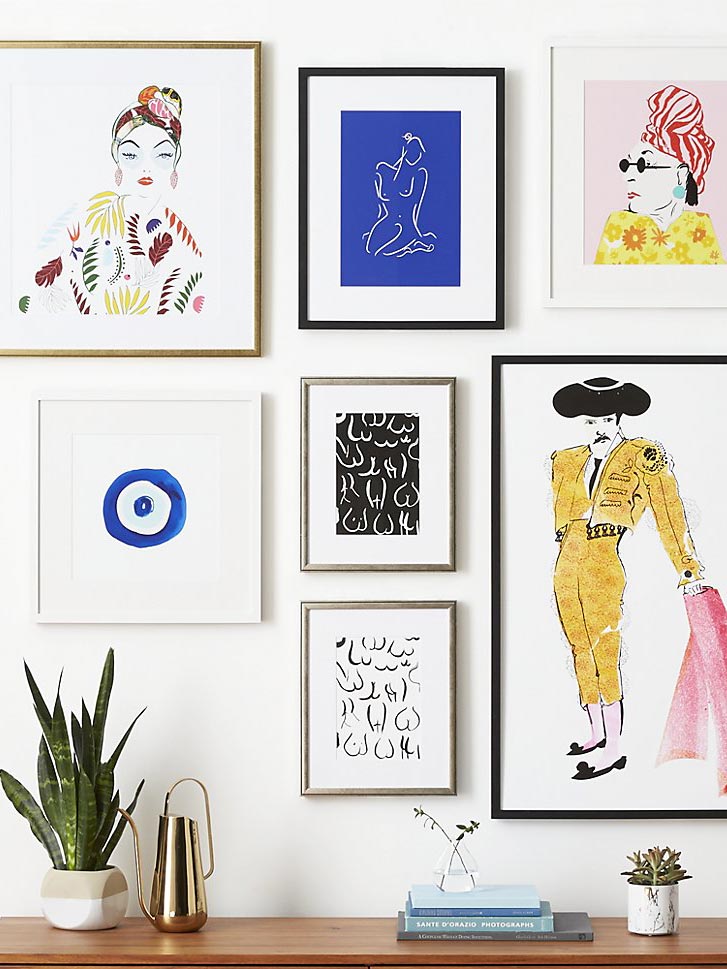 (Art by Kate Worum)
A special collaboration launched this week between Framebridge and CB2, featuring five contemporary artists from photographers to painters for an exclusive print gallery full of lively modern pieces. Many of the artists I was already familiar with (and whose work I love), but it was fun being introduced to a couple new faces and seeing their work together as an expansion on CB2's art selection. Framebridge clued me in on this exciting partnership a few weeks ago, and I've been so excited to share it all with you now! I also got the chance to choose one print to style myself, so stay tuned to my Instagram to find out which piece I chose (hint hint: it's one of Benjamin Grant's mesmerizing aerials). Click through to see all of the artists in the collaboration and shop my favorite pieces.
SHOP THE LOOK

Kate Worum's whimsical prints feature portraits and body parts, like this light hearted bums print in black, which "celebrates the diverse nature of the human booty, from grandpa to bubble butts."
I love the carefree, coastal vibes from Amber Vittoria's collection – especially the shades of warm pink in her Bass Harbor piece inspired by a trip to Maine's coastline.
I've been following Nicole Cohen on Instagram for a couple of years now and I love the moody mystery in her photography. An unexpected horizon makes her Sunset print a favorite.
Leslee Mitchell is another photographer, but she's based in Nashville and brings a Southern spin to her work. I love the vivid colors and soft light in her pieces, and especially the vast ocean view in Beach Life.
And last but certainly not least, Benjamin Grant of Daily Overview stitches together aerial photography to highlight the stunning patterns of nature and civilization on earth and "to create a composition that references abstract art, but is actually a real image of the planet's surface." Find out which of his pieces I chose on my Instagram!
Do any of these collection catch your eye?

This post is sponsored by Framebridge but all text, images, and opinions are all my own! Thank you for supporting the brands that keep Thou Swell running.