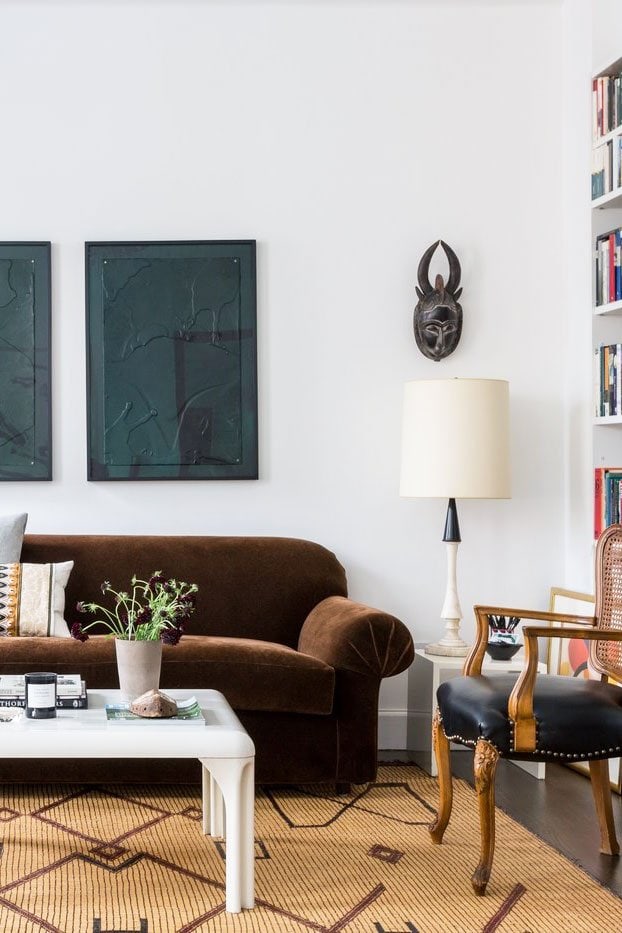 (via Architectural Digest, photography by Fran Parente)
In the elegant, curated apartment of designer Patrick McGrath and architect Reinaldo Leandro (of Ashe+Leandro), a simple approach to decorating places an emphasis on the couple's collection of original art, storied furniture, and worldly decor. Eight south-facing windows with downtown views also take center-stage in this flat, pairing perfectly with its crisp, pared-down aesthetic. McGrath brought all their favorite objects and pieces to the new apartment, editing down to a dramatic mix, from the brown mohair velvet sofa to the Moroccan Tuareg rug in the living room above. Click below to continue the tour.
SHOP THE LOOK

McGrath added black curtains to the entrance to the apartment to block the view of the doorway. I love using curtains to soften and redefine a living space – like in my dining room makeover! A black marble-topped Saarinen table sets up a black and white motif with the small diptych on the wall beyond. And if you're stuck with a flush mount in your apartment, this crystal number is an elegant upgrade!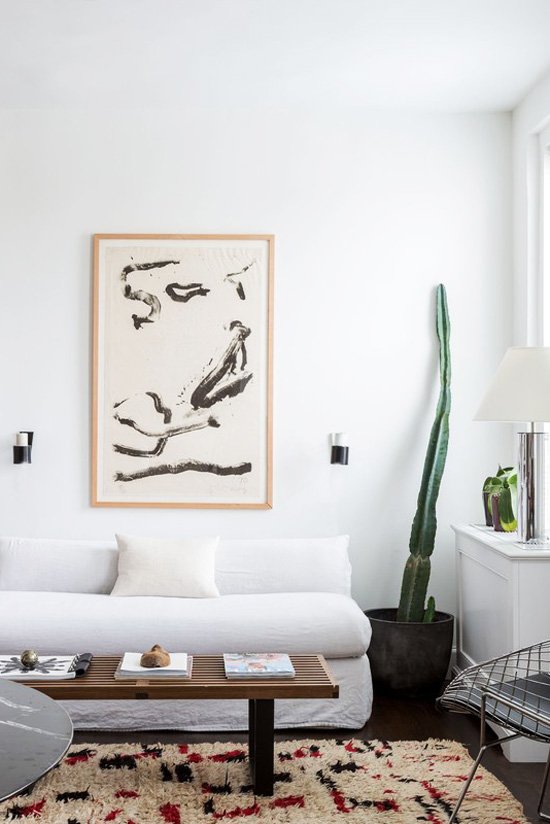 An Italian linen remnant was used for this simple white settee, with a tall cactus imitating the careful brushstrokes on the de Kooning lithograph above.
Two powerful bursts of color are brought to the apartment with Alexander Calder prints in the living room and bedroom. While the prints are some of McGrath's favorite pieces, he left it casually leaning above the French marble and bronze console above – he says "it can be kind of funny to not treat the art so seriously."
This vignette illustrates McGrath's edited style well: something old, something new, and some funky art. The beautiful vintage dresser is topped by a charismatic Snoopy lamp in black and white. How do you like this curated downtown apartment?